Mirth-Making Heroes
There are folks who think of "Celtic" music as a gently soothing, slightly ethereal style, heavy on the harps and tin whistles. They haven't heard At the Racket, a fun-loving bunch who prefer their jigs and reels on the saxophone and tenor banjo. This "racket" is actually the sort of whoop-it-up band you might have heard at a Saturday night dance in County Sligo half a century ago. On Mirth-Making Heroes Séamus O'Donnell and John Catty, backed by pianist Brian McGrath and guitarist Garry O'Briain, leaven the sax-and-banjo duets with tunes on the more conventional flute and fiddle, and with lovely Victorian-era songs such as "Little Bridget Flynn" and "A Chuisle Mo Chroí" from singers O'Donnell and Dooley. (Racket Records).
An Historic Recording of Irish Traditional Music from County Clare and East Galway
The 1959 LP All-Ireland Champions-Violin was one of the most famous and influential recordings in the history of Irish traditional music. The reputation of this disc by fiddlers Paddy Canny and P.J. Hayes, with help from flute player Peadar O'Loughlin and pianist Bridle Lafferty, survived through decades in which it was out of print. This long-overdue CD reissue changes the original title and track sequence, but not the glorious music, which to many listeners epitomizes the traditional style of east County Clare. The late P.J. Hayes was the long-time leader of the famed Tulla Ceili Band and the father of contemporary Irish fiddle star Martin Hayes, who contributes a thoughtful introductory essay to this new edition of a timeless classic. (Shanachie).
Memories From the Holla
It's hard to make the button accordion and tenor banjo sound sweet and lyrical, but that's exactly what this father-and-daughter duo manage to do on their debut recording. Accordionist Peter Carberry is a Longford native who lived and worked for many years in England, where his daughter Angelina Carberry was born. Now resident in Galway City, they play their repertoire of rare and tasty tunes at a moderate pace and with a gentle rhythmic pulse.
Guitarist John Blake's low-key accompaniment is a perfect match for the Carberrys' old-time musical sensibility. (HRC)
Selkie
The "selkie," whose legend is known from Galway to Norway, swims as a seal at sea but sheds that skin to walk as a human on land. The Conneelys of Connemara are reputed to have the blood of the selkies in their veins, and there is certainly something magical about their music. Fiddler Mick Conneely, the son and grandson of renowned fiddlers, grew up in England but now lives in the County Mayo Gaeltacht (Irish-speaking district). Mick's smashing solo debut disc, which includes superb bouzouki backing from Niall … Callanáin, shows off his powerful tone and virtuosic command of the bow. A guest fiddle solo from Mick Conneely, Sr. is an added treat (Cló lar-Chonnachta).
In Good Company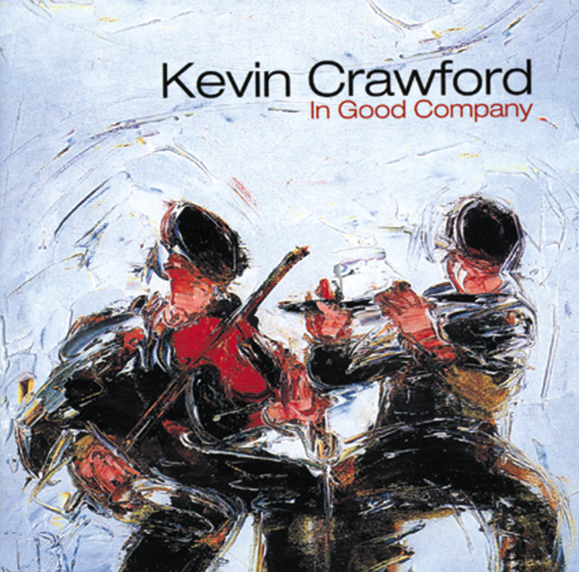 For many Irish music lovers, no instrumental combination beats the sound of flute and fiddle. Kevin Crawford, a member of the band Lúnasa, obviously agrees, as his second "solo" disc turned out to be an album of duets with nine of Ireland's greatest fiddlers. These guest musicians include Donegal great Tommy Peoples, Clare standout Martin Hayes, De Danann's Frankie Gavin and the up-and-coming fiddle star Mick Conneely. Adding lovely guitar and piano backing and some tasty bodhrán percussion, Kevin came up with one of the most beautiful Irish duet recordings of recent years. (Green Linnet).
My Name is Napoleon Bonaparte
"God send the French without delay," was the prayer of Irish nationalists seeking aid from Napoleon in their straggle for independence in the late 18th and early 19th centuries. The French emperor instead turned his attention east to Egypt and, fatally, Russia but left an impressive musical legacy in Ireland without ever setting foot on the island. Renowned Dublin singer and song collector Frank Harte has selected 26 of the many Irish ballads about Napoleon and the Irishmen who fought on both sides of the Napoleonic wars. The two-CD collection also includes sensitive accompaniment on many tracks from bouzouki and guitar ace Dónal Lunny, as well as extensive historical and musical liner notes by Harte himself. (Hummingbird).
Master Cape Breton Fiddler
Settled largely by Gaelic-speaking Catholic Scots in the early 19th century, Cape Breton Island in Nova Scotia boasts the highest per capita number of great fiddlers in the Celtic world. Cape Breton fiddlers have a unique, hard-driving style and a repertoire that mixes Irish jigs, reels and hornpipes with Caledonian airs, marches and strathspeys. Jerry Holland is one of the most technically accomplished, listenable and original fiddlers on the island, one whose compositions have been widely recorded by Irish musicians. This long-unavailable 1982 recording, now reissued on CD, is an all-time Cape Breton classic. With backing from guitarist Dave MacIsaac and pianist Hilda Chiasson, Jerry plays tune medleys that start slowly, then build in intensity and quicken in tempo to climax in a string of fast-paced reels. (Fiddlesticks Music).
The Merry Sisters of Fate
The "world music" bins at your local record store are littered with albums by groups who've tried to make Irish traditional music a little hipper and more modern but managed only to obliterate the music's melodic beauty with heavy-handed bass and drums. Lúnasa, now on their third album, succeed where so many have failed because their instrumental virtuosity is matched by soulful musicality and impeccably good taste. Fiddler Seán Smyth, uilleann piper Cillian Vallely and flute/bodhrán player Kevin Crawford (all of whom double on the tin whistle) are among the best traditional players of their generation. With upright bassist Trevor Hutchinson and guitarist Donagh Hennessy, they are also master arrangers who know just how to vary the tempos and instrumental combinations for maximum impact. (Green Linnet). ♦