Mark O'Meara, golf's mister nice guy, is interviewed by John Kernaghan.
Some men are defined by how they win, some by their bearing in defeat. For Mark O'Meara, golf's great grandson of Ireland, his composure on a day of personal loss but team triumph fleshes out a portrait of classical sportsman.
The scene at the 17th green on the last day of the Ryder Cup competition at Brookline, Massachusetts was chaotic and at best unfortunate. Justin Leonard of the U.S. team had just snaked in a 45-foot putt that capped one of the great comebacks in sports history.
The American team had apparently overcome an almost insurmountable European lead, and unbridled emotion seized Leonard and some members of the U.S. team.
They stormed the green in celebration, tramping across the line of Spain's Jose Maria Olazabal, all but forgotten and still sizing up a 25-foot putt that could extend the competition.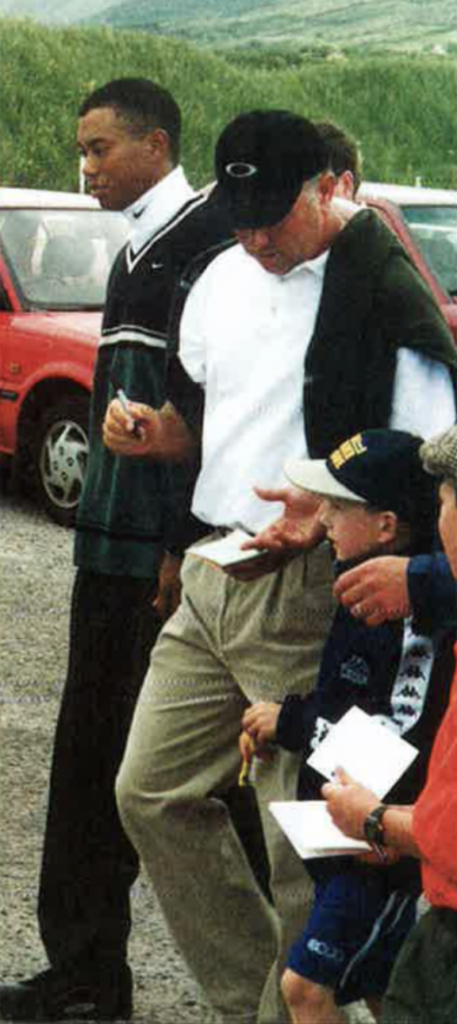 O'Meara was a spectator by this point, losing in match play that day to Ireland's Padraig Harrington. But what he saw was wrong. It offended the spirit in which the game is played.
Observers noted that O'Meara hurried on to the green to urge the celebrants to curtail the party, get off and show some respect for Olazabal and his European teammates.
The Spaniard missed his putt, the victory celebration was on again, and O'Meara had confirmed again why is considered a class act and why he is the friend and confidant of some of the glitterati of sports, Tiger Woods, Wayne Gretzky and Ken Griffey Jr.
O'Meara is the less famous in an unlikely pairing in golf and life with Woods, who is almost 20 years younger. They are neighbors in the exclusive enclave of Isleworth near Orlando, fast friends and strange soulmates who sound in casual conversation like fondly jousting college buddies.
As Woods screamed into prominence like a four-wood at ten paces, O'Meara had stolidly made his way to the top of the golf world across 18 years of plodding apprenticeship, almost a case of the tortoise and hare arriving together.
Though he had won 21 tournaments in his career, suddenly, in 1998, golf s everyman emerged from a guy few fans would recognize to the winner of the world of golf's two most coveted championships, the Masters and the British Open.
O'Meara became, at 41, the oldest man to win two major titles in one year and he came awfully close to matching the legendary Ben Hogan's three majors in a year when he came up short in the final round of the PGA Championship.
He was named PGA Tour Player of the Year for 1998.
"Last year was definitely a dream year," O'Meara told Irish America. "To win the Masters in dramatic fashion, to stand on the 72nd hole and hole in a pretty neat putt, to finally break through and win my first major championship, to have my family, my wife Alicia and my two children there was a dream come true."
He credits the win in the Open at least in part to the preparation he had with Woods in Ireland the week prior to the event, a visit in which he fell in love with his ancestral homeland.
"Then to go on and win the British Open, which to me is by far one of the finest championships in the world. It is the Open championship of the world. To have my name on the Claret jug, engraved with the greats who have won that championship, is something I'll never forget."
And he'll scarcely forget Ireland.
"I've played golf courses all over the world and I can't tell you how much I enjoyed playing golf in Ireland. Not only because my ancestors came over from Ireland but just the hospitality the Irish people have shown us, the friendliness they show foreigners or strangers and just their great humor about life is awesome."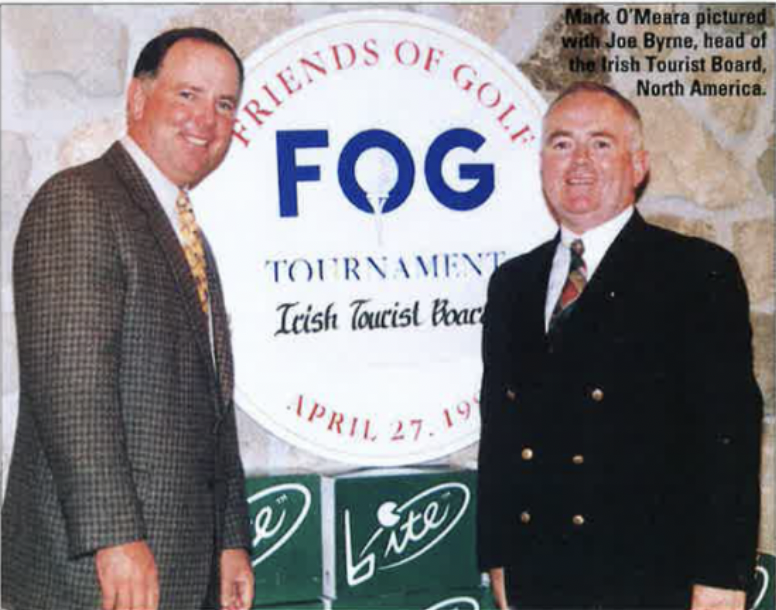 A marvelous place to visit, surely, but in the serious matter of ramping up for the British Open, challenging, representative courses are a must for O'Meara and Woods.
"The golf courses in Ireland are just tremendous, the history of the golf courses, just the whole atmosphere of playing golf is special, as it has been in Scotland, but just as much so in Ireland.
"I've had the opportunity to design a golf course just outside of Dublin on the Carton property, so I'm excited about that, excited about spending more time in Ireland and having a course with my name on it, which is pretty Irish."
The Carton Demesne, a 1,070-acre leisure center development in Kildare with a 12th century pedigree, is about 12 miles from Dublin. It will include two championship 18-hole courses, one of which O'Meara will design as a stop on the PGA European Tour.
But the visits of O'Meara and Woods to Waterville House in Killarney have become the stuff of local legend.
This past July they played several rounds at Waterville and were asked by Woods' caddy Fluff to pay a visit to Patrick Fogarty, a young man who had caddied at the club and who lost both legs in a horrible Christmas Eve accident. The wall of a dance hall collapsed, pinning Patrick and his brother, who died.
"When the young fellow came home from hospital, who was waiting for him in his living room other than Mark, Tiger and Payne Stewart," recalled Waterville's managing director Jay Connolly.
O'Meara says Woods loved his Irish experience because there was adulation but not the oppressive kind he finds most places he goes.
"Tiger liked it so much he came back again this year. I brought him over two years ago and he had a ball. A lot of people brought their young families out to watch him golf. That was nice and he enjoyed the experience very much. He came back this year and I think it's pretty much something he's going to want to do every year if it's possible. He likes the Irish people, he felt really welcome.
"It was neat because it's not often they'd see someone like Tiger. People brought their toddlers out just to see Tiger or have Tiger wave to them. You know he's just a human being. So are the Irish people."
O'Meara, Woods, David Duval, Stewart and Australian golfer Stuart Appleby were all made honorary members of Waterville during their stay in July. "Quite a heady group," summed up Connolly.
Said O'Meara: "We stayed at Waterville House and played Waterville a few times and fished there in the stream. Jay and Michael, who runs the house, were very, very nice to us. We just had so much fun."
Except the fish are still winning at the spot called Butler's Pool.
"You know what, I'm still looking for my first salmon in that river," laughed O'Meara. "I spent many hours there and they keep telling me they come out of the Atlantic and up into the lakes but I've yet to land one. Sooner or later I will, though."
He said that before asking for autographs, people wanted to know about his name. "The question they ask me is `Why do those TV commentators pronounce your name O'Meara with the accent on the e when we pronounce it here with the a?' Well, when I'm in Ireland I usually call myself Mark O'Meara like O'Mara and when I'm in the U.S. it's usually Mark O'Meara with the e accent."
He said his father has taken the lead in researching the family background. "I've taken my dad over a few times. I played in the Irish Open in the mid-80s and my father has visited on his own. He's looked into where his grandfather came over from. His grandparents both came from Ireland. His father was an O'Meara and his mother was an O'Leary. His grandparents were from down around the Kerry area."
Though he plans several more visits, for business and pleasure, O'Meara says taking up part-time residence is unlikely.
"I'm kind of a warm-weather person [he was born in North Carolina and grew up in California]. I've done so much traveling over the past 19 years that, as my career winds down I'd like to spend more time at home with my daughter Michelle, who's 12, and my son Shaun, who's 10. There are pluses and minuses to everything you do, but they miss their dad and that has been a sacrifice. But we've lived a pretty nice lifestyle."
On the day Irish America visited with O'Meara, he was playing in the Canadian Open near Toronto and had just finished the third round. As he came off the course, scores converged on him for autographs and interviews. No one could know from his demeanor that the low backbeat of a migraine was drumming at the back of his eyeballs, that the man felt wretched.
He signed autographs and did two quick radio interviews, then went up the TV booth to do some live commentary as the leaders came in. From that, he led a conga line of autograph-seekers all the way to the clubhouse, managing to sign many in transit.
"Nobody is asking for your autograph when you're not doing so well. I try to oblige everyone as much as possible but it gets to the point where you sometimes can't do everybody, but I try to make sure I let fans know I appreciate their support and their love of the game. That's what makes it all possible for me to play."
But he says the attention he receives is small alongside the scrutiny Woods must deal with.
"Tiger is under immense pressure all the time because he is under everybody's microscope. But I think he's handled it extremely well. Our friendship has been one where I've been kind of a big brother from the standpoint if he gets in an unfortunate situation or doesn't feel right about something he'll talk to me about it.
"We discuss those things privately but I'm very proud of the way he's played. I think what he's done in 1999 is just the tip of the iceberg. I believe he's going to do this for a long time to come, win a lot of major championships and tournaments before his career is over."
Woods credits O'Meara with inspiring him and teaching him how to deal with the demands of superstardom.
"Mark more than anything has pretty much just gotten from me a new enthusiasm for the game," he told Golf Digest. "Take it and run with it. I think of the things he's taught me off the golf course, how to conduct myself as a person. From a golf standpoint, he's taught me the shots, hanging in there, dealing with the press."
O'Meara says Woods pushed him to the double majors in 1998 without really thinking about it.
"If he hadn't moved in [to Isleworth], I'm not so sure I would have won the Masters and the British Open. The youth, the enthusiasm he carries and his competitiveness maybe just made it burn a little bit more inside me."
The pair banter about their habits, O'Meara ribbing Woods in a Golf Digest interview about turning him into a neat freak.
"I remember he had a new car and hadn't washed it in a year or whatever. I said `bring that car over here. I'll wash it. I'll wax it.' So now I've got him totally trained."
Replied Woods: "Now I'm a neat freak and I need to have my cars clean."
O'Meara also has a special relationship with Gretzky, pro hockey's all-time top scorer.
"Wayne Gretzky is the constant, true professional athlete. I've gotten to know Wayne over the past 10-12 years and he's become a friend. He calls me a lot. I call him. Just from talking to him and Janet I had a sense at the All-Star Game in Tampa that it might be the last year for him.
"When I found out it looked like New York would be his last game I talked to him on the phone prior and took my family up to New York. I wanted my children to see something very special, and when we got to see Wayne in his final game, it gave me goosebumps. It was awesome. He was awesome with the media. He brought us back to he locker-room and we met everybody. He gave my son an autographed stick and I said `Hey son, he's already given you about four sticks, let me have that one.' He said, `No way, dad, forget it, it's mine.'
"It's been a special relationship. He called me after I won the Masters; he called me after I won the British Open. And he called after the Masters this spring to tell me he thought I was pretty good and handled myself well as defending champ. That's the kind of class person he is.
"I don't consider myself a great player, I'm a very good player and I've done more than I would ever expect. But a Wayne Gretzky or a Tiger Woods, they are very, very special. Ken Griffey Jr. also is a close friend. Some of these star quality athletes I've only been able to meet because golf is such a special game. All these people in the sports world, the political and entertainment world, they all like to gravitate towards golf. And golf is something I do for a living. We've just struck up friendships."
The friendship and partnership with Woods continues and the two i will next hook up as members of the U.S. team in the World Cup of Golf in Kuala Lumpur, November 18-21.
O'Meara is hoping some of the magic of '98 will return.
"I hope I am playing well. Tiger will play well. Every time he tees it up he wants to win. He has the talent to win. I think I can still play pretty well needless to say, I don't have the talent Tiger Woods has and I certainly don't have the same game. I'll try to keep up with him or he can carry me on to victory, one of the two.
"This year has been a bit lackluster but it hasn't been from lack of effort. I've had a pretty good stretch from '85' til '99. I'm 42 and hey, sometimes that's just the way it goes. Sometimes you have a bit of a down period. Right now I'm not playing like I'd like to, but I'll keep trying and hopefully I'll break through at the end of the year."