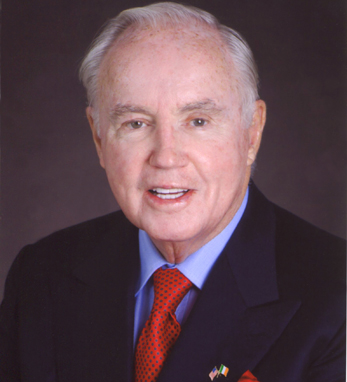 Brian P. Burns
Brian P. Burns, grandson of an Irish immigrant, is a nationally regarded business executive, attorney and philanthropist. He is the chairman of BF Enterprises, Inc., a publicly owned real estate holding and development company.
The fifth of seven children born to John J. Burns and his wife, Alice, Brian traces his roots to County Kerry and is a graduate of The College of the Holy Cross and, at the age of 23, Harvard Law School.
In 1963, Brian was named the youngest director of the American Irish Foundation, which was established that year by then-President John F. Kennedy and Ireland's President Eamon de Valera. As director, Brian had some major achievements. He was the leading fundraiser behind the effort to restore the world famous Marsh's Library at St. Patrick's Close in Dublin, the oldest public library in Ireland. He also founded an American Law Library at University College, Cork in honor of his late father, the Hon. John J. Burns.
Determined to increase the efficacy of the American Irish Foundation despite these successes, in the mid 1980s, Burns devised a plan to merge the American Ireland Foundation with the newly minted Ireland Fund, formed by Dan Rooney of the Pittsburgh Steelers, and Tony O'Reilly, the Irish-born businessman who would become chairman of Heinz.
On March 17, 1986 the two organizations became The American Ireland Fund, and the merger was celebrated at the residence of the Irish Ambassador in Washington, D.C. with Ronald Reagan presiding over the signing ceremony. To date, The American Ireland Fund has raised over $430 million for projects that promote peace, culture and charity throughout the island of Ireland. Brian remains a lifetime trustee of the organization.
Additionally, Brian has established or donated significantly to many cultural and scholastic institutions. In 1986 he founded The Honorable John J. Burns Library of Rare Books and Special Collections at Boston College in memory of his father who was a prolific lawyer and Joseph P. Kennedy's attorney and closest advisor. (In fact, Brian served as a key trustee to the Joseph P. Kennedy Trust from 1998-2010, and was one of the few non-family contributors to David Nasaw's sweeping new biography of Joseph P. Kennedy, The Patriarch.)
Works from his renowned personal collection of Irish art have been exhibited at Dublin's Hugh Lane Gallery, the Kennedy Center in Washington, D.C., the Yale Center of British Art in New Haven, Connecticut, and the Phoenix Art Museum in Arizona. He was a principal benefactor of the first Irish Famine memorial in Cambridge, Massachusetts, which was dedicated in July, 1997 by former Irish President Mary Robinson and in 2012 donated a key famine-era painting from his collection to Quinnipiac University's Ireland's Great Hunger Museum in Connecticut.