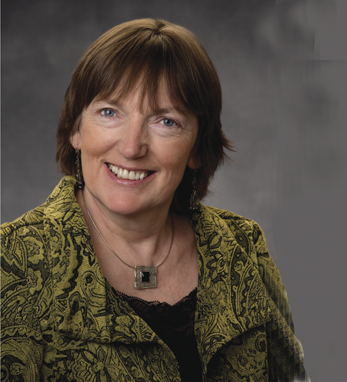 Christine Kinealy
World-renowned Irish historian and prolific author, Professor Christine Kinealy is founding director of the Ireland's Great Hunger Institute at Quinnipiac University, a scholarly resource for the study of the Great Hunger. She has also been appointed professor of history at Quinnipiac.
While Kinealy is an authority on Irish history, she was raised in Liverpool and never learned Irish history in school. She says of her youth, "Irish people living in Britain lived under the tremendous strain of trying to remain invisible." It was not until she began her Ph.D. at Trinity College that the voices of Irish history denied in her youth were heard.
Beginning with her Ph.D dissertation at Trinity College on the Irish workhouse system and continuing with her breakthrough book This Great Calamity: The Irish Famine 1845-52 (Irish Post Book of the Year 1995), Kinealy has been an influential authority on Ireland. Her most recent book, Charity and the Great Hunger in Ireland: The Kindness of Strangers (2014), sheds a groundbreaking light on some of the many donations that were made to Ireland during the Famine.
As founding director of Ireland's Great Hunger Institute, she is responsible for developing new scholarship about this tragic period in Ireland's history. Her 2014 public programs at IGHI include a significant new exhibition, The Lady Sligo Papers (April), and hosting the XX Ulster American Heritage Symposium (June), the first time this prestigious event has been held in a northern US state.
Of her Irish heritage, Kinealy says: "The Kinealys (and our family spelled it in many ways – my grandparents on this side were illiterate) were from Tipperary; and on my mum's side, Mayo – Ballycastle and Castlebar. I love Tipperary, but when I return to Mayo, which is often, I feel I am home. Both my parents are now dead – I was the youngest child and, typically, now regret not asking more questions when they were around."
Her daughter Siobhan was born in Dublin and is currently a law student at Rutgers University in Newark, New Jersey. Her son Ciaran was born in Belfast and currently lives in New York with his wife.