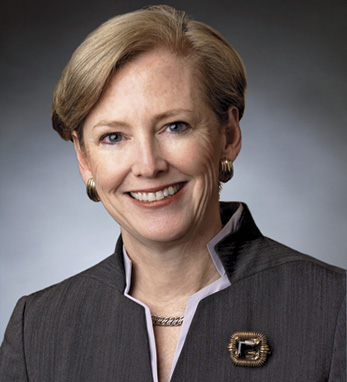 Ellen Kullman
Ellen Kullman is chair of the board and chief executive officer of DuPont.  She was previously president through Dec. 31, 2008.  Prior to that, she served as executive vice president and a member of the company's office of the chief executive.
A native of Wilmington, Delaware, Ellen began her career at DuPont in 1988 as a marketing manager.
She is a member of the U.S.-India CEO Forum, the Business Council, and the executive committee of SCI-America.  She is co-chair of the National Academy of Engineering Committee on Changing the Conversation: From Research to Action. Ellen is on the board of trustees of Tufts University and serves on the board of overseers at Tufts University School of Engineering.
Prior to joining DuPont, Ellen worked for General Electric. She holds a BS degree in mechanical engineering from Tufts and a masters degree in management from Northwestern. Ellen is a third-generation Irish American whose mother's family came from Nenagh, Tipperary.