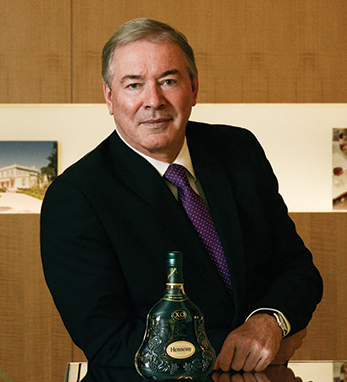 Jim Clerkin
With over 40 years of experience in the beer, wine, and spirits industry, Jim Clerkin became president and CEO of Moët Hennessy North America in November 2015, having served as president and CEO of Moët Hennessy U.S.A. since 2010. Clerkin began his career in Ireland, where he rose through the ranks at Guinness, eventually becoming a member of the board of directors. He joined Moët Hennessy in 2008 to take on a new role as executive vice president and COO with responsibility for global brands such as Hennessy Cognac, Moët & Chandon, Dom Perignon, Veuve Clicquot, Grand Marnier, and Belvedere.
In his current role, Clerkin helms the U.S. markets in addition to the growth markets of Canada and Mexico, which combined contribute to a volume of nearly six million cases annually.
Clerkin, who served as the Business 100 keynote speaker in 2015, was born in Rostrevor, County Down, and has been involved with a number of charities including Co-operation Ireland, where he serves as chairman. He is the proud father of four children and resides in Manhattan.