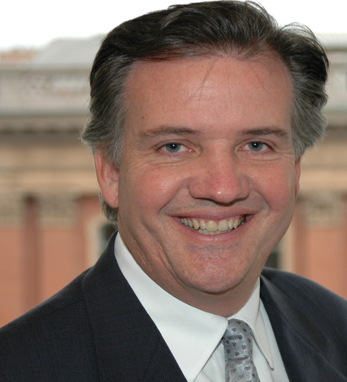 Michael Muldowney
As Executive Vice President and Chief Financial Officer of Houghton Mifflin Harcourt Publishing Company, Michael Muldowney oversees the world's largest K-12 educational publisher and its parent company, Dublin-based Education Media and Publishing Group Ltd. The recipient of the largest grant ever to be issued by Enterprise Ireland, Houghton Mifflin now has the funds to expand its digital product research and development center in Dublin. The company expects to create up to 400 new research and development technology jobs in the Dublin area over the next five years.
A graduate of St. Ambrose University, Muldowney received his B.A in accounting. He is an active trustee in a number of non-profit organizations including the Adopt-a-Student Foundation; a Boston-based inner city Catholic high school serving economically disadvantaged youth.
In the early 1920s all four of Muldowney's grandparents emigrated to Chicago, making him a second-generation Irish-American. On his father's side his grandparents hailed from Foxford, County Mayo and his maternal grandfather and grandmother were from Ennis and Mayo, respectively.
Muldowney lives with his wife Daniela and their three sons in Dover, MA.