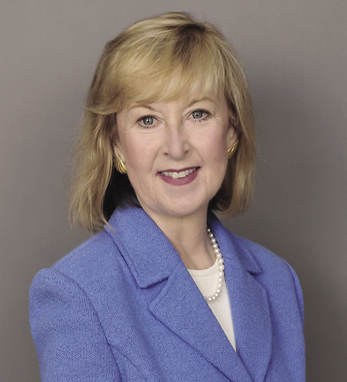 Rosemary Berkery
Rosemary Berkery is the vice chairman of UBS Wealth Management Americas and chairman of UBS Bank USA. Prior to joining UBS, she had a 25-year career with Merrill Lynch, serving in a variety of roles including vice chairman and executive vice president. She received her B.A. in English from the College of Mount St. Vincent, later earning a J.D. from St. John's University.
Rosemary is a native of Belle Harbor, NY and is third-generation with ancestors from Cork and Clare on both parents' sides. A proud Irish American, Rosemary says of her heritage, "it is one that is rich in a culture that deeply values friendship, one's inner strength and integrity, and a gift for language and laughter."
Berkery is also a noted philanthropist and serves on a number of boards including: the boards of trustees of Catholic Charities of the Archdiocese of New York, the School of American Ballet, the College of Mount Saint Vincent, and the board of advisors for Georgetown College. Her many honors include being named one of Fortune's "Five Women to Watch," the "Top 100 Professional Women in New York" by Crain's New York Business, and the YMCA's "100 Top Women Achievers."
Rosemary and her husband Bob have one son, Bobby.