Hall of Fame – 2014Uncategorized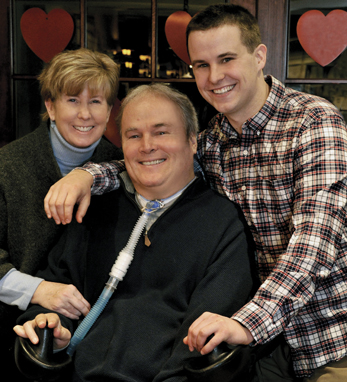 The McDonald Family
A gunshot changed Steven McDonald's life forever.  As a young NYPD detective he was shot on July 12, 1986 when questioning a 15-year old about possible bicycle thefts. The shooting left him a quadriplegic. But with the help of family and friends, notably his wife Patti who was pregnant with their son Conor at the time, he turned tragedy into inspiration and went on to become a noted public speaker, notably on behalf of the NYPD, peace initiatives in Northern Ireland, the U.S. Navy (he was a hospital corpsman) and speaking with students about violence and forgiveness.
In 1998, as Northern Ireland was experiencing the worst sectarian violence in years, Steven spoke in both Protestant and Catholic neighborhoods and returned the following year with his message of "Faith and Forgiveness."
"I spent part of four summers up in the North, and people there helped me more in my situation than I've helped them," he says. "We went in 1998, '99, and 2000 and we went back in 2008."
His wife of over twenty-seven years, Patricia Ann McDonald, was elected Mayor of Malverne on Long Island in March 2007 and his son, Conor McDonald, joined the NYPD in 2010.
Both Patti Ann and Steven grew up on Long Island – Patti in Malverne, where her father taught English at a local high school, Steven in nearby Rockville Centre. He was one of eight children and both his father and maternal grandfather were New York City cops. After a stint in the Navy, he followed in their path and joined the NYPD.
As a cop, Conor says it's tough to deal with a lot of things but that he's lucky to have had people ahead of him who taught him the right way. "You do your best to protect and serve. I work with men and women who take that seriously. There's a lot of people who need help. That's why you have your first responders; you have the NYPD and the FDNY. You have your EMS – some of the hardest working guys in the city."
"We are in this together, as a family," Steven said speaking on the phone to Irish America. And we are proud to honor the McDonalds as the first family to be inducted into the Irish America Hall of Fame.