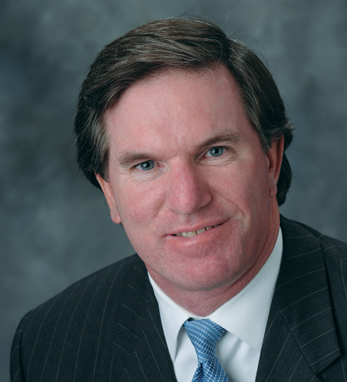 Thomas Meagher
Thomas Meagher is the Managing Director of Grosvenor Capital Management LP, a forerunner in the hedge fund industry.  Meagher joined Grosvenor in 2001 and is responsible for the firm's business development.
Prior to joining the firm, Meagher had almost twenty years of business experience, starting with a job as the deputy director for the Illinois Housing Development Authority.  He is a member of the Economic Club of Chicago and serves on the boards of Old St. Patrick's Church of Chicago and the International Board of Visitors from his alma mater, Texas Christian University, where he received his Bachelor of Business Administration in Marketing/Management.
A third-generation Irish-American, Meagher traces his paternal roots to County Limerick.  Constantly in touch with his Irish heritage, he is the regional chairman of the American Ireland Fund in Chicago. When asked what his Irish heritage means to him, he replied, "Always having your feet firmly planted on the ground and maintaining one's humility."  He and his wife, Diane, live in Chicago.