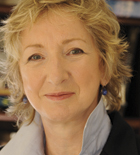 Patricia Harty
Co-Founder and Editor-in-Chief
Patricia Harty founded Irish America magazine along with publisher Niall O'Dowd in October 1985.  Among Harty's many interviews in the past 32 years are Nobel Prize-winning poet Seamus Heaney, Wall Street guru Peter Lynch, best-selling author Pat Conroy, Hollywood legend Gregory Peck, corporate titan Jack Welch and Ford Motor Executive Chairman William Clay Ford.
In 2017, Patricia received the Presidential Distinguished Service Award for the Irish Abroad from President of Ireland Michael D. Higgins. On October 19, 2015, the 30th anniversary of Irish America, she was presented the Eugene O'Neill award by the Irish American Writers & Artists Association. In 2009, Patricia received the Ambassador Award from the St. Patrick's Committee of Holyoke, Massachusetts for her work "to promote the relationship between the people of the Republic of Ireland and the people of the United States."
She was twice honored by the Office of the Comptroller of the City of New York for her "outstanding journalistic contributions to the Irish community in New York and throughout the United States."
Patricia, who is a native of Tipperary was made a Citizen of the Bronx in 2000 by Fernando James "Freddy" Ferrer, the Bronx Borough President.
Patricia is an emeritus member of the board of Glucksman Ireland House, NYU's center for Irish studies and also serves on the Irish Repertory Theater's Advisory Board.
In addition to her book, Greatest Irish Americans of the 20th Century, Patricia contributed essays to Being Irish: Personal Reflections on Irish Identity Today, edited by Paddy Logue, and The Irish Face in America by Julia McNamara.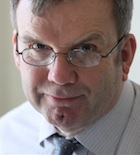 Niall O'Dowd
Founding Publisher
Niall O'Dowd is the co-founder of Irish America magazine as well as the founder of the Irish Voice Newspaper and Irishcentral.com and publishes Home and Away, a successful weekly freesheet. He was awarded an honorary doctorate by University College Dublin for his work on the Irish peace process which was a subject of a book Daring Diplomacy and a PBS Special An Irish Voice. He is also an adjunct professor at Columbia University journalism school.
He was a founder of the Irish Americans for Clinton campaign in 1991, supporting candidate Bill Clinton for president. He led an Irish American peace delegation to Northern Ireland after Clinton was elected and he acted as intermediary between Sinn Féin and the White House at a critical period in the peace process. He played a key role in securing a U.S. visa for Gerry Adams in February 1994. His role was featured in the book Daring Diplomacy by The Irish Times journalist Conor O'Clery and also in an RTÉ-PBS documentary entitled An Irish Voice. He has created numerous successful business networks through his publications including the Wall Street 50, Business 100, Hall of Fame, Legal 100, Silicon Valley 50 magazine in conjunction with the Irish Technology and Leadership Group, and the Science and Technology 50. He created the US Ireland Forum, a forerunner of the Diaspora forum held by the Irish government in 2009
Niall has written for The New York Times, The Guardian, The Irish Times and many other leading publications. He has spoken to groups involved in the Middle East peace process as well as the former Sri Lanka conflict about the importance of diaspora involvement in seeking solutions.
In 2002, his book Fire in the Morning, about Irish people at the World Trade Center during the September 11 attacks, reached number two on the Irish best seller list.
He was named among New York's most influential people by New York magazine in their issue of May 15, 2006. He was featured on the "People You Should Know" segment of the Paula Zahn Now program on CNN in 2007.  In January 2008, he was appointed an adjunct professor at Columbia University Graduate School of Journalism.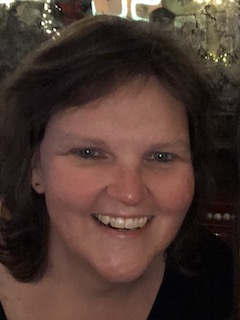 Mary Cucinell
Vice President of Marketing, Sales, & Special Events
Mary Cucinell is the Vice President of Marketing for Irish America Magazine. In this position, Mary is responsible for all the advertising, marketing, sponsorship sales, partnerships, social media, and special events, as well as working with the team on development of the print and online issues and the weekly digital newsletters.
Mary joined the talented team at Irish America Magazine in January of 2020, just before the pandemic. Mary has more than 25 years' experience in marketing, advertising, event coordination, communications, public relations, digital media, and social media in both for profit and not-for-profit organizations. She brings with her a broad range of experience including the U.S. Tennis Association, i-Behavior (now KBM Group), and Educational Records Bureau (ERB).
Mary is a graduate of SUNY Purchase with a master's degree in Direct Marketing from Mercy College. Mary previously served on the Board of the Hudson Valley Direct Marketing Association and is currently a member of the Paid Search Association. Although you would not know if from her last name Mary carries Irish lineage from both her mother and father.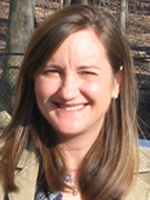 Marian Fairweather
Art and Design Director
Marian Fairweather is a graduate of The School of Visual Arts in NYC. She has been working in the graphic design field for over 30 years. Not long after finishing college, Marian joined the talented staff of Irish America. "Designing the magazine really inspired me and helped hone my craft."  Marian moved on to pursue other career opportunities but eventually returned to design the magazine again. "I am sure my Irish grandmother would be very proud!"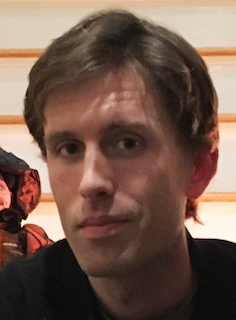 Ray Cavanaugh
Ray Cavanaugh is a freelance scribe from Massachusetts. His mother is from Kerry and his father is a few generations removed from Wexford.  He's a regular "Window on the Past" contributor to Irish America.
Ray is a member of the American Society of Journalists and Authors (ASJA). He has written for such publications as The Guardian, USA Today, and the Washington Post.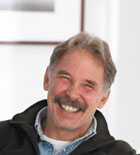 Kit DeFever
Kit DeFever is a California-born, Midwest-raised New York photographer. For 30 years he has had a major NYC studio. His client list includes Macy's, Lord & Taylor, Belks, Famous-Barr, LS Ayres, Madamoiselle, Marie Claire, Stern, JWT, Campbell Ewald, and others.
When not photographing for his fashion accounts Kit is usually found in Ireland or Alaska.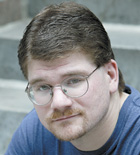 Tom Deignan
Tom Deignan is a teacher, author, and columnist for the Irish Voice and Irish America. He is currently working on a book about America during the Ellis Island years.
His writing has appeared in newspapers such as The New York Times, Washington Post, Star-Ledger, and National Catholic Reporter, as well as magazines such as America, Commonweal, Brooklyn Rail, and Irish America.
 He is the author of Coming to America: Irish Americans and contributed to books such as Nine Irish Lives: The Fighters, Thinkers, and Artists Who Helped Build America, and The Irish American Chronicle.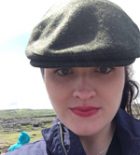 Mary Gallagher
Mary Gallagher is a former intern for Irish America, and currently functions as the deputy editor and advertising and events coordinator for the magazine. She lives on Long Island in New York and graduated from Molloy College in 2018 with a B.A. in literature and a minor in history. She continues to nurture a fervent interest in Ireland's storied history and literary tradition.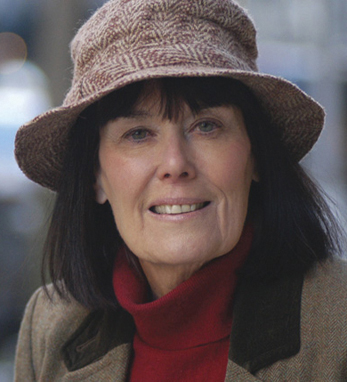 Mary Pat Kelly
As an author and filmmaker, Mary Pat Kelly has told various stories connected to Ireland. Her award-winning PBS documentaries and accompanying books include To Live for Ireland, a portrait of Nobel Peace Prize winner John Hume and the political party he led; Home Away from Home: The Yanks in Ireland, a history of U.S. forces in Northern Ireland during World War II; and Proudly We Served: The Men of the USS Mason, a portrayal of the only African-American sailors to take a World War II warship into combat, whose first foreign port was Belfast. She wrote and directed the dramatic feature film Proud, starring Ossie Davis and Stephen Rea, based on the USS Mason story.
She's written Martin Scorsese: The First Decade and Martin Scorsese: A Journey; Good to Go: The Rescue of Scott O'Grady from Bosnia; and a novel, Special Intentions. She is a frequent contributor to Irish America Magazine.
Mary Pat Kelly worked in Hollywood as a screenwriter for Paramount and Columbia Pictures and in New York City as an associate producer with Good Morning America and Saturday Night Live, and wrote the book and lyrics for the musical Abby's Song. She received her PhD from the City University of New York.
Born and raised in Chicago, she lives on Manhattan's Upper West Side with her husband, Web designer Martin Sheerin from County Tyrone.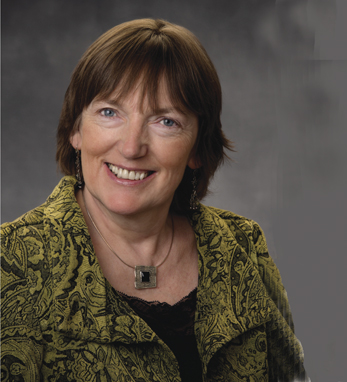 Christine Kinealy
Christine Kinealy is the world-renowned historian, professor of history, and Founding Director of Ireland's Great Hunger Institute at Quinnipiac University, Connecticut. Beginning with her Ph.D. dissertation at Trinity College on the Irish workhouse system and continuing, in 1997, with her breakthrough book This Great Calamity: The Irish Famine 1845-52, Kinealy has become an influential authority on Ireland.
 Christine's most recent book, Black Abolitionists in Ireland published in 2020 by Routledge. It examines ten abolitionists – nine men and one woman –who visited Ireland between 1791 and 1860.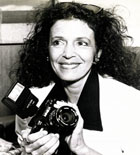 Edythe Preet
Edythe Preet served as the culinary historian for Irish America since 1994. Sadly, Edythe passed away in 2020 but her feature series "Sláinte!" which traces the histories of traditional Irish food, drink and celebration, liberally laced with a wealth of folklore, mythology and popular customs continues to appear on Irish America's website. Edythe also owned The Heritage Kitchen, a specialty food business producing sweets and savories based on historical recipes.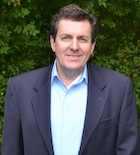 Michael Quinlin
Michael Quinlin is author of Irish Boston (Globe Pequot Press) and editor of Classic Irish Stories (Lyons Press). He founded the Boston Irish Tourism Association, created Boston's Irish Heritage Trail, and formed MassJazz to promote the vibrant jazz scene in Massachusetts. Mike lives in Milton, Massachusetts with his wife, Colette, and son, Devin.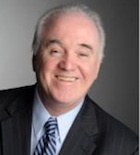 Turlough McConnell
Turlough McConnell is a producer and writer with over two decades experience as a creative program executive in the Irish-American market.  For Irish America magazine, Turlough produces special feature supplements, overseeing content, design and all aspects of production. Recent subjects include a major feature on Boston College and the John J. Burns Library; a development profile Titanic Belfast, and the book, Celebrating 250 Years of the New York City St. Patrick's Day Parade.
As President & CEO of Turlough McConnell Communications, (TMCC), Turlough produces live events, multi-media products and documentary films of interest to Irish America, including exhibitions such as the international tour of Fighting Irish: Celebrating Irish Prizefighters (on tour from 2006), now on view at London's City Hall as part of the 2012 Olympics. For TMCC, he curated the Ireland's Great Hunger art exhibition in New York (2011), and serves as advisor to the emerging Irish Mission at Watson House Museum in New York City and Ireland's Great Hunger Museum at Quinnipiac University Connecticut.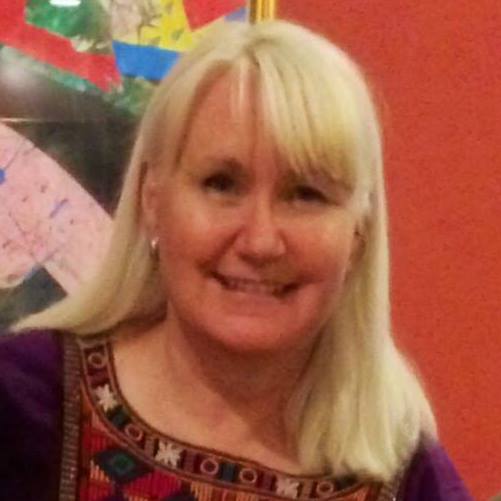 Megan Smolenyak 
Megan Smolenyak is a real-life history detective who loves to solve mysteries. You might have spotted Megan or her handiwork on Top Chef, Who Do You Think You Are?, Finding Your Roots, Faces of America, Good Morning America, the Today Show, The Early Show, CNN, PBS and NPR.
Her news-making discoveries include uncovering Michelle Obama's family tree, revealing the true story of Annie Moore, the first immigrant through Ellis Island, and tracing former President Barack Obama's roots to Moneygall, Ireland and President Joe Biden's roots to Mayo, Louth, and Galway, Ireland. Formerly Chief Family Historian for Ancestry.com, she also founded Unclaimed Persons.
Megan is the author of 6 books, including Hey, America, Your Roots Are Showing and Who Do You Think You Are? (companion to the TV series), and conducts forensic research for the Army, BIA, coroners, NCIS and the FBI.