---
---
We take pride in the history of the Irish in the labor movement — by 1900 it's estimated that 50 of the 110 labor unions were headed by Irish or Irish-Americans. In giving voice to the voiceless, the labor leaders profiled here, Sean McGarvey, Terry O'Sullivan, Mary Kay Henry, and John J. Sweeney, follow in the great tradition of Irish men and women, everyday heroes, who fought to make this country a better place for all.
---
Interviews with Labor Leaders
---
Sean McGarvey: Promoting Diversity in the Building Trades
Sean McGarvey began his career as a glazier, so it's fitting that he has an office with a view. And what a view! McGarvey, president of North America's Building Trades Unions (NABTU), has an unobstructed view of the White House from his office in the union's headquarters on 16th Street in Washington, D.C. Not bad for a guy who was fresh out of high school when he began his apprenticeship in Philadelphia with the glaziers' local union 252, in 1981. You could argue that McGarvey's journey to lead a three million-strong union began in infancy when he was a two-year-old and his father, a teamster, moved his family to Northeast Philadelphia, a blue-collar neighborhood, filled with cops, firemen, teachers, constructions workers, factory workers, and tradespeople. Many of their new neighbors had Irish connections, and most of them were in a union. "When we first moved to northeast Philly, my parents didn't know anyone other than the McCabes, the family who sold us our new home," he says. Mr. McCabe offered to help the McGarveys settle into the neighborhood and introduced his three teenagers as potential babysitters for Sean and his four-year-old sister, Tricia.
The middle McCabe daughter, Jerry, became young Sean's babysitter, and that connection would play an important part in his life going forward. Jerry and her future husband put him on the path to being a union man, a critical identity of his life. "The union was your most expedited ticket to the middle class, and people strived for that," McGarvey said of the ethos of community he grew up in. It all started on a snowy day on McGarvey's first winter out of high school, "I ran into Mr. McCabe in the neighborhood diner and he asked me what I was doing. I told him I was installing aluminum siding, but that I wasn't working that day because of the weather. And he said, 'Hey, my son-in-law is running the glaziers' union now, you should think about becoming a glazier. I'll connect you with Jim.'" McCabe's son-in-law was Jim Williams, married to Jerry McCabe, Sean's former babysitter and the coach of his former little league baseball team. "Long story short," McGarvey says, "I took the test, had the interview, got accepted into an apprenticeship, and started on June 1, 1981." Read more.
---
Terry O'Sullivan: The deep connection between the Irish and the American labor movements is alive and well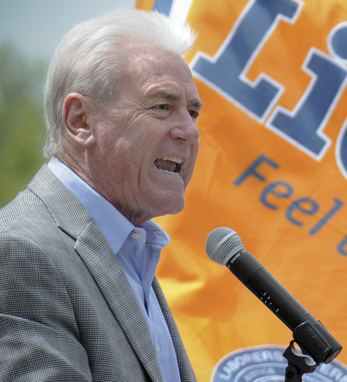 For more than 150 years, the American labor movement has been a conduit for Irish American economic growth and, just as importantly, between the Irish in America and their families still in Ireland as well as republican organizations on both sides of the Atlantic. Irish laborers in America sent an estimated $260 million across the Atlantic between 1850 and 1900, and Irish and Irish American labor leaders were seminal in the power-building of unions in the early 20th century – people like Jim Larkin, James Connolly, Constance Markievicz, Terence Powderly, Mother Jones, and John Devoy.
The long and deep connection between the Irish and the American labor movements is alive and well in Terry O'Sullivan, general president of the Laborers International Union of North America.
O'Sullivan's top priority for LiUNA is for it to enable every one of its members to live a middle-class way of life. His dream for Ireland is for it to be united and independent. He is a powerful orator, unafraid to speak his mind, and passionately committed to achieving these two goals.
"We're proud that through collective bargaining, LiUNA has provided generations of our members a pathway to the middle class," O'Sullivan says. "That work is part of a broader struggle for justice, and we will never back up, never back down, never retreat, and never surrender in the never-ending battle for workers' rights, for immigrant rights, for civil rights, and for human rights." Read more.
---
Mary Kay Henry: A New Deal for America's Working Poor
Mary Kay Henry knew early on in life that she wanted to be involved in some kind of advocacy work. As a kid growing up in Detroit, she was keenly aware of the work that the socially-conscious United Automobile Workers (UAW) was doing in helping to foster a new middle class through higher wages and company benefits. By the time she finished college in 1978, however, the prosperity that the UAW had helped bring to Detroit was waning, and Mary Kay's first job after graduation from Michigan State with a B.A. in urban planning and labor relations, was in a neighborhood where an auto plant had closed. Through that job, enrolling people who were eligible for food stamps, she learned "it wasn't a handout that people wanted," but a hand up. She joined the Service Employees International Union (SEIU) in 1979 as a researcher. Thirty years later, having proven her skills as a leader and organizer in California where she created unprecedented union growth in the healthcare industry, she was elected international president of the two-million-member SEIU in May of 2010 — the first woman to serve in the position.
Mary Kay, who I first met in 2015 and who shares my Tipperary roots, is articulate, outspoken, and fearless in the fight to raise the minimum wage. She brings to mind Mary Harris "Mother" Jones, the fiery Irish-born leader of the mine workers during the early part of the 20th century. Read on to learn more about the $15 campaign, why we must protect and defend against attacks on immigrants, and what she thinks of Donald Trump. Read more.
---
John Sweeney: Defending America's Workers
Sitting with me in the sleek conference room of the AFL-CIO's executive suite overlooking the White House, John Sweeney presents a striking contrast to his surroundings. Portly in his suspenders and rumpled shirt with his jacket nowhere in sight, he appears totally unassuming. It would be easy to underestimate the man at first glance. The only way to gauge his emotions is by his passionate discourse on the present government, and right now he's on a roll.
"What we're seeing today is an administration that is probably the worst on working family issues and certainly the most anti-union that we've seen since Herbert Hoover. We've had Republican administrations where we're on different sides during the election, but after the election we at least attempted to work together on issues," Sweeney asserts.
"If you look at the present policies, whether it's tax or trade, or even the current situation where they're looking for an economic recovery that's really jobless, they're not focused on dealing with employment, dealing with the loss of jobs. But the job loss, especially in the manufacturing industries, has been in the millions in the past two years," he continues.
Sweeney was elected president of the AFL-CIO in 1995. It marked a high point in a career, and lifetime, devoted to social justice and organized labor. Formed in 1955 with the merger of the American Federation of Labor and the Congress of Industrial Organizations, the AFL-CIO is the umbrella organization for 64 member unions working in almost every part of the economy and has a membership of more than 13 million American workers. Read more.
---
The Irish and the History of Labor
---
Read additional stories from our archives about the history of the Irish and the labor movement in the United States
Mother Jones Inducted into the Mining Hall of Fame
Hand in Hand for Freedom: U.S. Labor and Irish Rebels
Enjoy the Labor Day Weekend and remember all those that came before to make this holiday possible.
---