Throughout the 1980s, U2 would close their live shows with "40, their anti-war reworking of the New Testament's fortieth psalm.
Over a loping Edge guitar figure, Bono would sing "How long/To sing this song" over and over and over, until every member of the audience joined in as one. The band would then leave the stage one by one, leaving the audience singing the "how long" refrain alone.
U2 fans were left singing "how long" throughout the nineties, too – but for a different reason. As in, how long is this compelling, talented band – author of modern rock anthems like "Sunday Bloody Sunday" and "New Year's Day" – going to keep releasing duds?
Granted, 1991's Achtung Baby had some great tracks – who could forget the majestic "One" or the gripping "Love Is Blindness?" – but as the decade grew longer, U2 slipped further and further off of pop music's "A" list. 1993's Zooropa was muddled and plodding, and Pop, released in 1997, was just plain dreadful. Then there was Passengers, a meandering mess with Brian Eno and Luciano Pavarotti, and some songs written for the Million Dollar Hotel movie that were better suited for elevators, not radio.
How long, we asked?
No longer.
All That You Can't Leave Behind is a gorgeous album, an emphatic turning-forty statement by a band eager to prove its relevance in these teen-band times we live in.
Gone are much of the bleeps, blips, and tweaks that mucked up Zooropa and Pop. In their place are meaty electric guitars and blistering live drums. U2 seems to tap into Boy and October, their earliest albums, in regaining their expansive, live-band sound.
Which is not really how All That You Can't Leave Behind starts off.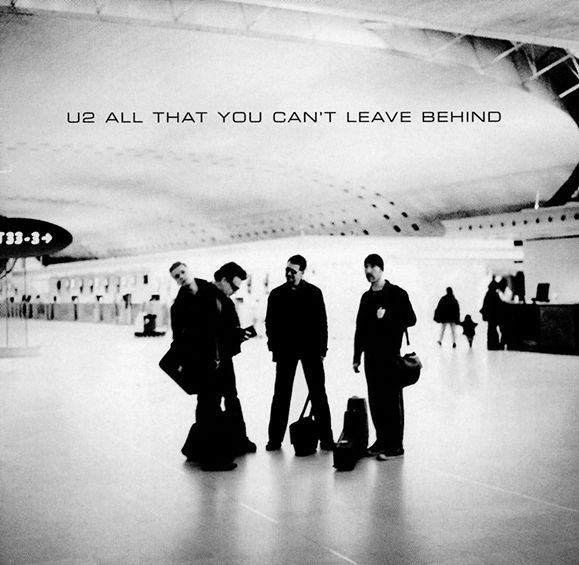 "Beautiful Day" begins with a muted synthesizer and some electronic drams, giving the listener that queasy "uh-oh" feeling.
But the joke's on us, as U2 kicks into some big sheets-of-sound radio rock. "Touch me, take me to that other place/Teach me, I know I'm not a hopeless case," Bono pleads, almost asking your forgiveness for those nineties musical missteps. The song recalls "I Will Follow" in its simplicity and strength.
But "Beautiful Day" isn't the album's defining track at all. That would be "Stuck In A Moment," with its Pops Staples/ "People Get Ready" gospel vibe. When Bono sings "I'm not afraid of anything in this world/There's nothing you can throw at me I haven't already heard," again it's as if he's casting off his nineties baggage. "I'm just trying to find/A decent melody," he asserts. Goodbye devil horns, mirrored suits, lemons…
"In A Little While" continues the bluesy feel with a climbing rhythm guitar riff; it's as if they're again reaching out to B.B. King like they did on "When Love Comes to Town." The song's lyrics are unabashedly dreamy – "A man takes a rocketship into the skies/He lives on a star that's dying in the night/And follows in the trail, the scatter of light" – but the song's gritty heft provides a welcome contrast and underpins the whole thing.
There are several tracks that are fighting to be the album's second single.
"Walk On," with its funky Larry Mullen backbeat and catchy refrain, would appear to be the early favorite. "Kite" boasts some Edge dive-bomber slide guitar work, quoting his definitive "Bullet the Blue Sky" solo from 1987's The Joshua Tree.
The thick, throbbing "Elevation" stands out as well, Adam Clayton spreading the tar that the Edge sticks his spiky guitar lines to. And is the song's "All that you…" outro a postmodern nod to Pink Floyd's "Dark Side of the Moon"?
All That You Can't Leave Behind isn't uniformly great – it loses steam about two-thirds of the way in.
Though the sentiments of "Heaven on Earth" are admirable – it was written for the victims of the Omagh bombing – the song itself is forgettable. "They're reading names out over the radio/All the folks the rest of us won't get to know" feels queasy and opportunistic. "New York" is written presumably in honor of Bono's part-time home – he recently bought an apartment on the West Side – but lyrics like "In New York summers get hot well into the hundreds/You can't walk around the block without a change of clothing" will have you reaching for the "fast forward" button, but fast. "When I Look at the World" suffers from a familiar U2 malady: the Bono I-me-my conceit.
But "Grace," which concludes the album, is a muted charmer. The song's final passage, "Grace finds beauty/Out of ugly things" serves as a beautiful, hypnotic coda.
Don't let a couple of clunkers deter you – All That You Can't Leave Behind is the tastiest U2 album in a decade, perhaps more. U2 went way too heavy on the aural paprika on their last few albums – the breakbeats, the distortion, the samples – and masked the real flavor. All the ingredients that made U2 special – the tunes, the geometric guitars, the verve – are back on All That You Can't Leave Behind.
Bono's found the melody after all. ♦