Celtic Covid Memorial in New Jersey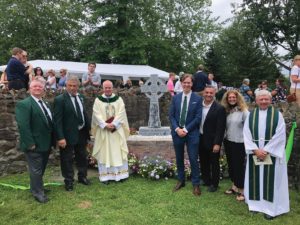 Irish deputy consul general Seán Ó hAodha was among the hundreds who gathered at New Jersey's Shillelagh Club in mid-June to unveil a Celtic Cross Memorial to those who died during the COVID-19 pandemic.
The 700-pound memorial, carved in Co. Roscommon was erected following a fund-raiser organized by the Friendly Sons of the Shillelagh.
"It's never a good time to lose anyone, however with the many restrictions imposed on us this year, saying good-bye has been even tougher," the group's GoFundMe page read.
On June 13, about 250 people were on hand at the West Orange Shillelagh Club for the installation, which also included a mass celebrated by Monsignor Robert Hanrahan.
The co-chairman of the event, Karl Burke, told NJ.com: "It was a very difficult time for a lot of members here, some of us lost parents in Ireland and were unable to travel to funerals to say a final good-bye."
The Irish limestone memorial is adorned with American and Irish flags and bears the inscriptions, "Clan na hEireann" (The Irish family) and, "In ár gcroíthe go deo" (In our hearts forever).
Remembering Author Patricia Reilly Giff
Generations of American schoolchildren were raised on the books of Patricia Reilly Giff, including Nory Ryan's Song, about an immigrant fleeing Ireland's Great Hunger in the 1840s.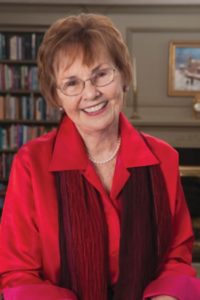 The author died in late June at the age of 86 – more than four decades after she started her unlikely writing career.
"I was 40 and I had never written before," she once told The New York Times.
"I had three kids and a husband who had a job where the hours were unbelievable. So I just got up an hour earlier every morning, and I made myself do it."
The result was a highly successful literary career. Reilly Giff was perhaps best known for her Polk Street School Series, which drew upon her earlier career as a teacher. Published throughout the 1980s, the Polk Street books revolve around an Irish American second grade teacher and her, at times maddening, young students.
The author's father, William was a New York City police inspector, while her mother, the former Alice Tiernan, raised Patricia and her three siblings.
Reilly Gill attended Marymount College and St. John's University, before earning her teaching credentials from Hofstra University.
Lily's Crossing (1997), set during WW II in Rockaway, Queens, nabbed a prestigious Newberry Medal for Reilly Giff. In 2000, the author looked further back in Irish history to Famine times to produce Nory Ryan's Song, which opens with the title character singing on a foggy Irish beach. "I loved the sound of my voice in the fog," Nory thinks. "But then I loved anything that had to do with music: the Ballilee church bells tolling, the rain pattering on the stones, even the carra-crack of the gannets calling as they flew overhead…. As the wind tore the mist into shreds, I could see the sea, grey as a selkie's coat, stretching itself from Ireland, to Brooklyn, New York, America."
"Normal People" Rules IFTA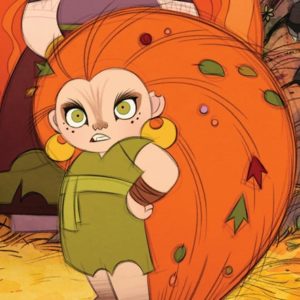 Wolfwalkers and Normal People were the big winners at this year's Irish Film and Television Awards (IFTA).
For the second year in a row, the ceremony was held online, due to COVID restrictions.
The TV drama Normal People – based on Sally Rooney's best-selling Irish novel of the same name – received a record-breaking 15 nominations, and ultimately grabbed nine top TV awards, including Best Drama, Best Director (Lenny Abrahamson), Best Actor (Paul Mescal), and Best Actress (Sarah Greene).
The animated feature Wolfwalkers nabbed Best Film, while stars Gabriel Byrne (for Death of a Ladies' Man) and Sharon Horgan (for Dating Amber) both picked up acting awards.
In a touching moment, Nika McGuigan was posthumously awarded Best Actress in a Leading Role for her turn in the film Wildfire.
McGuigan – daughter of boxer Barry McGuigan – died of cancer at the age of 33 in July 2019.
Another outstanding moment came when Irish American actor Mark Hamill presented Derry Girls star, Nicola Coughlan, with the Rising Star Award.
"Hearing Luke Skywalker say my name is such a shock! I'm so proud to be an Irish actor…to be recognized at home is so special, it's so amazing and I am so grateful," said Coughlan.
Hot Summer for Irish Fests
August and September are shaping up to be busy months on the Irish and Celtic festivals circuit, following the disappointing disruptions of last summer.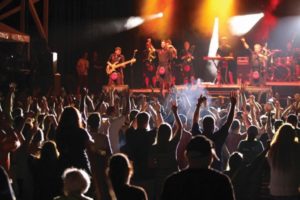 The massive three-day Milwaukee Irish Fest is currently slated for Friday, August 20 – Sunday, August 22.
The 40th annual gathering in southern Wisconsin will feature dozens of acclaimed Irish music and dance acts, all of whom will be celebrating the theme "Back Together and Stronger Than Ever."
Festival Executive Director Mike Mitchell has said: "Our festival preparations center around prioritizing the well-being and safety of our patrons, volunteers, vendors, entertainers, and staff."
Mitchell added: "With the rollout of vaccinations, we feel comfortable taking the steps to create an Irish experience this summer for all to safely enjoy. We're going to do everything we can to ensure a safe environment. We will make any necessary adjustments to our operations and modify the layout to comply with regulations, restrictions, and recommendations put in place at the time of our festival."
The festival hosted about 100,000 people in 2019, though capacity this summer may be more limited. Officials suggest that festival-goers buy tickets ahead of time to ensure a spot at the fest.
The weekend before (August 13-15) the Milwaukee fest will see Irish gatherings in La Crosse, Wisconsin as well as St. Paul, Minnesota – with the latter declaring that now is the time to "Resume Shenanigans."
The Peoria Irish Fest is slated for the final weekend in August, while Kansas City, St. Charles, Missouri, and Pittsburgh all have Irish fests slated for early September.
James Joyce in Buffalo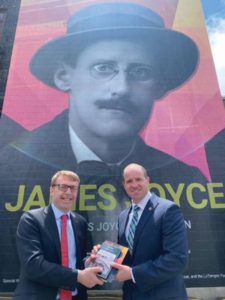 The University at Buffalo celebrated Bloomsday 2021 with the unveiling of a 36-foot-tall mural of James Joyce – the celebrated author of Dubliners and Ulysses. SUNY
Buffalo houses the world's largest collection of James Joyce materials.
The unveiling drew local, state, and international figures and dignitaries, including Consul General of Ireland in New York Ciarán Madden and New York State Senator, and Buffalo native, Tim Kennedy (D).
Memorial Mess in Manhattan
Everybody seems to want a memorial to COVID-19's essential workers in New York City. Just not anywhere near Manhattan's celebrated Irish Hunger Memorial.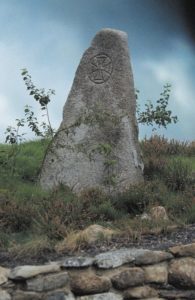 That was the message Irish activists sent to New York Governor Andrew Cuomo in July.
The national Ancient Order of Hibernians released a statement declaring itself "shocked and perplexed" at Cuomo's "intention to erect a Circle of Heroes' Essential Workers Memorial at the site of the current Irish Hunger Memorial in New York City."
The AOH declared that they "fully support a memorial recognizing the courage and sacrifice of essential workers during the COVID-19 pandemic, especially given the large number of Irish Americans among these heroes."
But they added: "The proposal to build another memorial around the perimeter of the Irish Hunger Memorial is disrespectful to the memory of the over one million people who perished and the over one million people who were forced to leave Ireland when ineptitude and remorselessness by the ruling British Government turned a crop failure into an unequaled humanitarian disaster."
Similar points were made by Irish residents of Battery Park City, where the Irish Hunger Memorial is located.
"Why the rush?" Fergal Walsh told WPIX TV.
Walsh was born in Ireland but has lived in Battery Park City for nearly 20 years.
"Let's put a design in there that would be complementary with the famine memorial. Ideally, let's move it away from this beautiful memorial that represents world hunger and give it a place of its own."
Other activists argued there simply isn't enough open space left in the Battery Park City area for both the memorial and its visitors.
As we go to press, Cuomo seems to have listened to the Irish activists, though he still hopes to have a Circle of Heroes memorial up by Labor Day.♦