Bridge from Ireland to Scotland?
Amidst centuries of conflict and bloodshed, peacemakers have attempted to ease hostility between Great Britain and Ireland, building metaphorical bridges in the name of peace.
You may soon see an actual bridge between the two islands, spanning the Irish Sea.
"In a bid to improve domestic transport links, the UK government is now conducting a feasibility study to see whether Northern Ireland can be linked by a bridge or tunnel to Scotland, its neighbor over the water," reports CNN, adding: "The idea is not a new one, but it's been gaining traction since 2018 when UK Prime Minister Boris Johnson gave the bridge concept his support, and Scottish architect Alan Dunlop unveiled his proposal for a rail-and-road bridge between Portpatrick in Scotland and Larne in Northern Ireland."
Only about 12 miles separate the two islands at their most narrow points. Still, not everyone believes the bridge idea will come to be. Sinn Féin Deputy Leader Michelle O'Neill called it a "pipe dream bridge." while Scotland's First Minister Nicola Sturgeon described it as a diversion from "the real issues," 
The findings are due later this summer.
WWII Fateful Forecaster Honored
A Kerry woman whose attention to detail may well have changed the course of history, was honored recently in Belmullet, County Mayo, with a citation from the World War II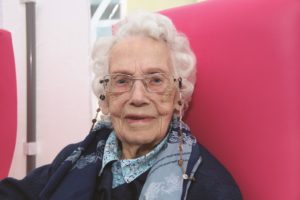 museum in Louisiana, and a medal from the House of Representatives.
Back in June of 1944, Maureen Flavin was working the night shift in Blacksod, County Mayo as a post office assistant. Her tasks included periodic checks of weather conditions. On this particular early June morning, Flavin noted that a major storm was blowing its way into western Europe – hardly earth-shattering news under normal circumstances. But with a war on – and allied forces about to launch an enormous amphibious attack, to liberate Europe from the clutch of the Nazis – Flavin's reliable reports from the westernmost weather outpost compelled General Dwight D. Eisenhower to postpone the attack until June 6.
The attack – forever known as D-Day – may not have succeeded were it launched during the storm.
When American John J. Kelly, who led the design and production of the modern landing craft, which has been used in military and humanitarian roles worldwide, heard the story of Maureen (nee Flavin) Sweeney, from a friend Eoin O'Hagan, on a visit to Feakle, County Clare, he decided that her story should be more widely known.
Kelly approached the World War II Museum in New Orleans, Louisiana, of which he was a director, and requested official recognition of Maureen and the Sweeney family (her husband and mother-in-law also provided wartime weather reports.)
Flavin's contribution to the war effort was honored, in conjunction with the museum, in June, with a Livestream video featuring testimonies from historians, as well as Flavin's son. The Irish national anthem closed out the event.
Irish Row Teams Medal at Olympics
The Irish Olympic rowers, Fintan McCarthy and Paul O'Donovan, nabbed Ireland's first gold medals of the Tokyo games, powering past Italy and Germany to win the lightweight men's double sculls final. It was Ireland's first gold medal since boxer Katie Taylor won at the 2012 games in London.
Meanwhile, the quartet of Emily Hegarty, Eimear Lambe, Fiona Murtagh, and Aifric Keogh, also made Irish history. They won the country's first-ever Rowing medal – the bronze – for women. Hegarty is a member of the Skibbereen Rowing Club and lives in the same parish as O'Donovan and McCarthy.
At press time, Dublin-born boxer, Kellie Harrington, was guaranteed a silver medal and was preparing for the gold medal round. Aidan Walsh from Belfast nabbed a bronze medal for Ireland, but reports indicated that after celebrating his victory so wildly, he injured his ankle, and was unable to fight Britain's Pat McCormack for the gold.
As always, Irish names were not hard to find among medal-winners from other countries – American swimmers who medaled, include Florida native Ryan Murphy, and Nashville-born Alexis Walsh. For the U.K., Alice Kinsella – the daughter of former Irish soccer star Mark Kinsella – nabbed a bronze in gymnastics. The Australian women's 4 x 100 freestyle relay swimming team included Mollie O'Callaghan and Emma McKeon. And also in swimming, Siobhan Haughey – former Taoiseach's Charlie Haughey's grandniece – won a silver representing Hong Kong.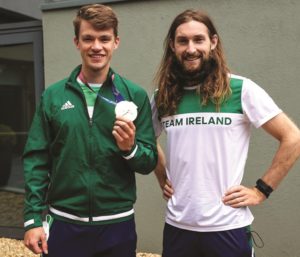 But it was the Irish rowers who received the most attention from the press. Asked to comment on his victory, O'Donovan, who won a silver medal at the 2016 games, rowing with his brother Gary, was his usual understated self.
"It's alright, yeah. You can't complain about it really. I wouldn't go around introducing myself like that [as an Olympic champion], though."
The Irish Post declared: "How classically, brilliantly Irish."
Ireland A Tax Haven No More?
Ireland's days as a corporate-friendly "tax haven" for the likes of Apple and Amazon may be numbered.
For years, big companies have set up offices in Ireland to take advantage of its relatively low tax rates.
Countries – including the U.S. – have complained that this allows wealthy companies to enjoy all the benefits of infrastructure and pricey social services, without having to lay out any money for them.
Now, the so-called G20 nations have put forth a proposal to force nations like Ireland to change their tax structures.
"If enacted, the plan could reshape the global economy, altering where corporations choose to operate, who gets to tax them, and the incentives that nations offer to lure investment," the New York Times noted.
"But major details remain to be worked out ahead of an October deadline to finalize the agreement and resistance is mounting from businesses, which could soon face higher tax bills, as well as from small, but pivotal, low-tax countries such as Ireland, which would see their economic models turned upside down."
Irish finance minister Paschal Donohoe said: "I have consistently spoken of my desire for a comprehensive, sustainable and equitable agreement on the international tax rules…that meets the needs of all countries, large and small, developed and developing."
While acknowledging Ireland's "reservations," Donohoe added that "Ireland will continue to play our part in reaching a comprehensive and, indeed, historic agreement." ♦