Forever Home
By Graham Norton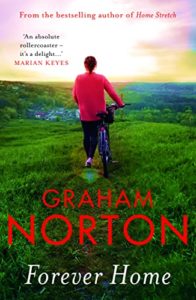 Living in a small town, Carol is well used to the way people know everything about you … or think they do, at least. As a divorced mother of one son, she is particularly susceptible to the sidelong glances, particularly when she starts seeing an older man. Declan's wife left the family home years earlier, and his children really don't like Carol or her relationship with their father. When Declan becomes ill, things fall apart entirely and Carol is forced to leave the home she had shared with him. She knows she's hit rock bottom when she has to move back in with her parents, but despite their unhappiness with her relationship, they are spurred to jump to her defense and wreak revenge. When issues arise with the house, Carol is suddenly faced with the dread that there's more to Declan's past than he ever shared with her. An easy read, this is not as good as some of Norton's earlier novels, but that probably won't stop fans from diving in.
---
You Are Here
By Eva Woods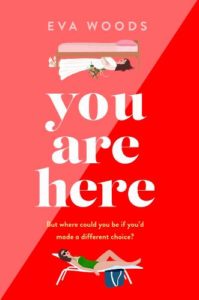 It's hard not to be impressed by Northern Ireland-born writer Claire McGowan, who seems as comfortable writing compelling crime fiction as she does engaging women's fiction. As Eva Woods, she has just released her seventh standalone, which sees Ellie Warren hiding under her childhood bed on the morning of her wedding. She is paralyzed by the thought that she's making a mistake – she's not where she's meant to be. Or, more to the point, she's not with the right someone. How has she ended up here, she wonders. (Not the under the bed part, but the wedding day part.) Looking back at some of the decisions that have led her here, she thinks about the 'what could have been' moments and where a different choice would have brought her somewhere else. It's something we usually only do when something has gone horribly wrong or delightfully right, isn't it? With the author's deft touch, the action skips along to the happy ever after. And that's not a spoiler!
---
There's Been a Little Incident
By Alice Ryan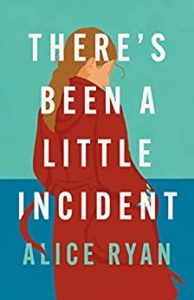 This book's cover just called to me from the shelf and a quick flick through the pages convinced me it was one I'd like to try. But then a review, in which I learned that Alice Ryan is the daughter of former Irish Times dynamo Caroline Walsh, who died tragically in 2011, pushed it right up to the top of the to-be-read pile. And top of the pile is where it remains – this enormously entertaining, moving, thought-provoking and just downright gorgeous book. Molly Black, still in mourning for her parents – particularly her dynamic, one-of-a-kind mum – has disappeared. Her family are well used to these escapes, but they are still determined to find her and show her how much they love her. Ryan's depiction of this close-knit, fiercely loving family is fabulous – they sound like a crew you'd end up having a great evening with! If Annabelle, Molly's late mother, is only even loosely based on the late Caroline, it is some tribute. Incredibly, this is Ryan's first book. I can't wait to see what she does next.
---
Factory Girls
By Michelle Gallen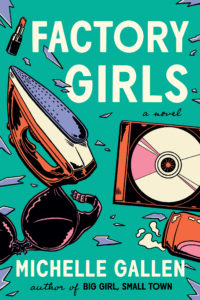 With her smart mouth and her dirty mind, Maeve Murray is not for everyone. That's solid advice, by the way, this book is definitely not for the faint of heart or the weak of knee! Maeve and her school friends Aoife and Caroline are delighted when they are taken on in the local shirt factory. After all, it'll be a long summer waiting for their exam results, and Maeve needs money if she's going to pursue her dreams of a journalism career in London. It's mid-90s Northern Ireland, and the backdrop of paramilitary tit-for-tat violence alongside the rumblings of a burgeoning peace agreement is something Maeve is almost, but not quite, inured to. She's also gotten used to the fact that she doesn't have a great relationship with her mam, but she knows a lot of that is down to the premature death of her older sister Deirdre. In this, her second book, and much like the first, Gallen pulls that excellent trick of wrapping serious issues – the life or death stuff – in a big ball of bawdy humor. The colloquialisms are sprinkled liberally – and if you don't know exactly what they mean, you quickly grasp the context. If you've read Gallen's Big Girl, Small Town, you'll know exactly what she's capable of. If you haven't, I'd strongly advise you to add it to your reading pile.
---
The Branded
By Martina Murphy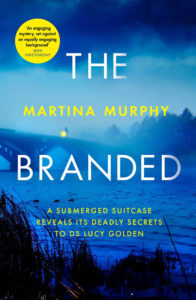 Crime fans should definitely sit up and take notice of this, the second in the DS Lucy Golden series from writer Martina Murphy, who also writes under the name Tina Reilly. Set between Achill and Westport, County Mayo, The Branded, like its predecessor The Night Caller, is a very fast-paced read which packs quite the punch. When the body of a young girl is found in a suitcase in Lough Acorrymore, DS Golden has to identify her and notify her family. Once it has been established that she was murdered, the leads appear to peter out, until an apparent suicide connected to a homeless shelter where the dead girl had spent time in. With her experience, Lucy knows there's no such thing as coincidence, but she's now in a race against time to find a connection between the two deaths. A great read.
---
Brouhaha
By Ardal O'Hanlon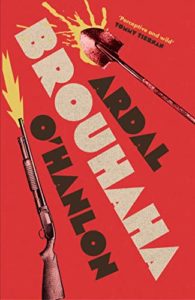 It's hard to hear the name Ardal O'Hanlon without thinking straight away of Fr. Dougal, isn't it? Of course, there's been Eamonn in "Derry Girls" more recently, and "Jack in Death in Paradise," but O'Hanlon inhabited the hapless Dougal so well and so fully, that it will probably be his strongest legacy. His second book (the first was published in the late 1990s) is Brouhaha – a comedy thriller set in a border town that doesn't so much have secrets as secrets about its secrets. Full of satire and biting insights into the state of life in Ireland, it is a rollicking read. Dove Connolly is dead, and it looks like he may have taken his own life. Long suspected of involvement in the disappearance of his friend Sandra when they were teenagers, he swore innocence but was never fully believed. His best friend Sharkey has come home for his funeral, and when he is given a graphic novel that Dove wrote, he realizes that his friend had made some headway into discovering what had happened to Sandra. But a local politician and his heavies are actively trying to dissuade anyone from investigating. Reminiscent of Pat McCabe's early books, Brouhaha is great fun, while also packing a serious punch. Ardal O'Hanlon as author, anyone?
---
Going Back
By Eugene O'Brien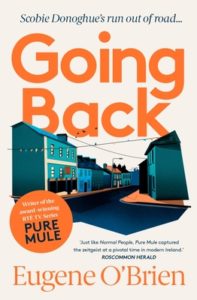 You certainly don't have to have watched "Pure Mule," the hit RTE series of the early 2000s, to appreciate the poignancy of Eugene O'Brien's debut novel Going Back. Scobie Donoghue, the main character of the series, is back home in Offaly with his tail between his legs after running out of road in Australia. There he had a gorgeous girlfriend who seemed as equally enthralled with him as he was with her, and life was good. Here, he's back living with his mammy and his stepfather, and if all the town's characters look a lot older than when he first knew them, he knows he's also looking decidedly rough around the edges. On the cusp of turning 40 and bumping into former workmates in Lidl with their kids, he's feeling every inch of his age, and his stuck in a rut-ness. When Covid comes creeping around the corner, the lockdown exacerbates Scobie's feeling of being trapped and his sense of hopelessness. O'Brien's keenly observant eye, used to great effect in his award-winning play Eden, is as sharp as ever and doesn't miss a trick.
---
The Queen of Dirt Island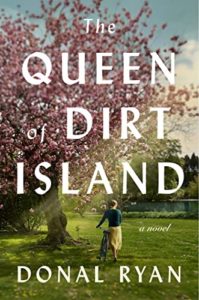 By Donal Ryan
Your columnist is a long-time and completely biased fan of Donal Ryan's novels, so impartiality flew out the window the minute we opened this book, but we're not apologizing for that! The Queen of Dirt Island, Ryan's seventh book (including one short story collection), is an intergenerational saga. His particular skill lies in introducing us to characters who, in just a few lines or a short paragraph, are instantly recognizable and with whom we can identify. Saoirse is just the latest in a long line of strong women, living as she does with her mother Eileen. Nana lives over the lane but is very involved in the lives of her daughter-in-law and granddaughter. It's a small book, in which a huge amount of things happen. It is quintessentially Irish and a gorgeously, rich human tale of love, loyalty, betrayal and hope. As you can tell, I loved it.
---