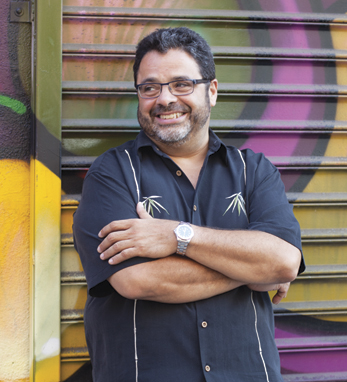 Arturo O'Farrill
Four-time Grammy Award-winning musician Arturo O'Farrill was born in Mexico City, Mexico, to Cuban jazz musician, arranger and bandleader Chico O'Farrill and his wife, singer Lupe Valero.
Unsure of the future when the Catholic King James II was deposed, O'Farrill's ancestor left County Longford, Ireland, to start a new life in Cuba as Don Ricardo O'Farrill y O'Daly. The O'Farrills lived in Cuba until O'Farrill's father Chico moved to Brooklyn in 1948. In 1957, he moved to Mexico, where Arturo was born. The family moved back to New York City in 1965.
When O'Farrill was 19, experimental artist Carla Bley heard him playing piano in a bar and hired him on the spot to play in her band in an upcoming show at Carnegie Hall. After four years with the band, he went solo and toured the globe with artists such as Wynton Marsalis and Harry Belafonte.
O'Farrill returned to his roots to join in his father's comeback. They assembled what became the Chico O'Farrill Afro-Cuban Jazz Orchestra, of which O'Farrill was the pianist and musical director. When Chico passed away in 2001, O'Farrill became bandleader.
Wynton Marsalis offered him the opportunity to form and lead an Afro-Cuban jazz band that would perform regularly at Lincoln Center, and thus the Afro Latin Jazz Alliance was born. It has a traditional jazz big band instrumentation with a three-piece Cuban percussion section.
In 2007 he became an assistant professor of jazz at the University of Massachusetts Amherst, and he established the non-profit organization the Afro Latin Jazz Alliance, which provides instruments and musical lessons for New York City public school students.
In December 2010 O'Farrill traveled to Cuba with his mother, sons, and the Chico O'Farrill Afro Cuban Orchestra in order to bring his father's music back to the island. On August 21, 2015, O'Farrill and the Afro Latin Jazz Orchestra released Cuba: The Conversation Continues. It was recorded in Havana 48 hours after President Obama announced his plan to normalize relations between the U.S. and Cuba.
On August 14, 2015, O'Farrill was among those who were invited to witness the moment the U.S. flag was raised over a newly reopened U.S. Embassy in Cuba for the first time in 54 years.
_______________
Click here to read O'Farrill's March / April 2018 Hall of Fame profile.