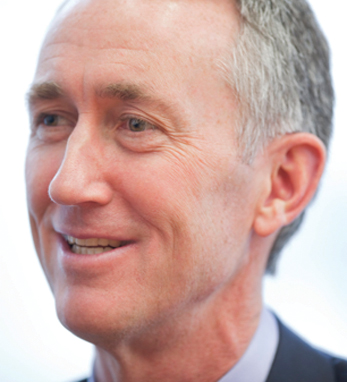 Daniel O'Day
Daniel O'Day is the COO of the pharmaceutical division of Roche, the world's leading biotech company, headquartered in Basel, Switzerland and with offices in more than 150 countries, including Ireland. O'Day was appointed COO in 2012 having previously been the COO for the diagnostics division of Roche since 2010. Starting in 1987 as part of Roche's commercial and sales team, Daniel then moved to Switzerland for roles in global marketing and lifecycle management in 2001. Since then, he has been head of corporate planning in Japan, general manager in Denmark, and president of Roche Molecular Diagnostics in California.
O'Day was born in Texas and is a third-generation Irish American with family from Ennis, County Clare on his father's side. "The perseverance of my Irish ancestors is a daily motivation to me professionally and personally," O'Day says. His first job was landscaping, which, he says, "inspired me to pursue my education." He attended Georgetown University and Columbia University, receiving a B.S. in biology and an M.B.A. Daniel currently lives in Switzerland with his wife Mara and children Tierney, Meghan, and Brendan. ♦
Editor's Note: As of uploading this profile, it has been announced that Daniel O'Day will be leaving Roche Pharmaceuticals and will become the new CEO of Gilead Sciences.