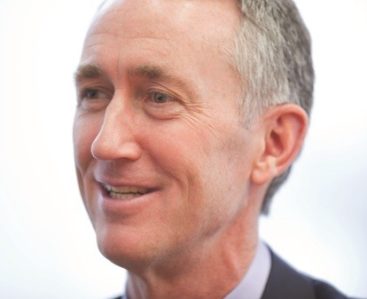 Daniel O'Day
Gilead Sciences
Daniel O'Day joined Gilead Sciences in 2019 as chairman of the board and CEO. Prior to Gilead, Daniel served as the CEO of Roche Pharmaceuticals. His career at Roche spanned more than three decades, during which he held a number of executive positions in the company's pharmaceutical and diagnostics divisions in North America, Europe and Asia.
O'Day was born in Texas and is a third-generation Irish American with family from Ennis, County Clare on his father's side. "The perseverance of my Irish ancestors is a daily motivation to me professionally and personally," O'Day says. His first job was landscaping, which, he says, "inspired me to pursue my education." He attended Georgetown University and Columbia University, receiving a B.S. in biology and an M.B.A. Daniel currently lives in Switzerland with his wife Mara and children Tierney, Meghan, and Brendan.
He was the Keynote speaker at the 2017 Irish America Healthcare & Life Sciences Awards Dinner.