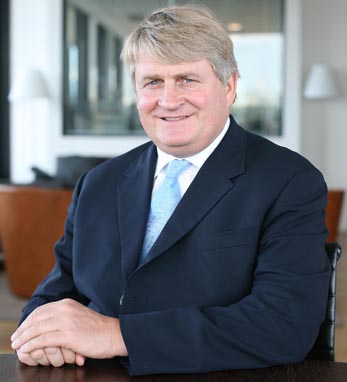 Denis O'Brien
Denis O'Brien's business and philanthropic achievements have earned him recognition by Irish America's Business 100. Named multiple times by Irish America, the Business 100 acknowledges the notable Irish-American and Irish-born leaders who represent some of the most innovative companies in the world. In 2012, he served as the award ceremony's keynote speaker. In his speech, O'Brien spoke profoundly about his humanitarian work in Haiti and other countries. Sharing lessons learned from leading his company to international success, O'Brien highlighted the growth of his company, Digicel Group.
A respected leader and entrepreneur, O'Brien is the founder and chairman of Digicel Group. He has overseen the company's growth into 31 markets across the Caribbean, Asia Pacific and Central America. Prior to founding Digicel, O'Brien established Communicorp, a Dublin-based radio and media holding company. Over the years, O'Brien provided leadership and guidance through his position on the company's board of directors. A dedicated philanthropist, O'Brien is committed to supporting the regions his company services. He personally funded the rebuilding of the iconic Iron Market in Port Au Prince following the 2010 Haitian earthquake and through the support of the Digicel Foundation, founded by O'Brien in 2004, more than 180 schools were constructed in the region. With the Foundation, O'Brien has also supported community and education projects throughout countries in the Caribbean, Central America and Asia Pacific.
O'Brien is also a member of the board of directors of Concern Worldwide, U.S., a group that sends aid to impoverished and developing countries. In 2000, he started the Iris O'Brien Foundation, which aids global charity projects for disadvantaged communities. O'Brien chaired the organising committee for the 2003 Special Olympics Summer Games, which were hosted in Dublin, Ireland. He currently serves as the chairman of Special Olympics Ireland's Council of Patrons.
O'Brien's philanthropy also extends to his alma maters. At Boston College, he established the O'Brien Fellowship, where he also earned his MBA. A graduate of the University College Dublin, where he earned his BA in Politics and History, the O'Brien Centre of Science was dedicated to him for his generous contributions to the school. He holds an Honorary Doctor of Laws from both the University of the West Indies and University College Dublin.
In 2012, he served as Irish America's Business 100 keynote speaker.