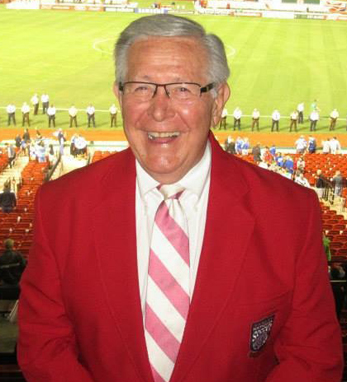 Dennis P. Long
Dennis P. Long's professional career began humbly as an office boy at Anheuser-Busch in 1953. But it was the start of a lifelong commitment to the company that would eventually see him rise to president and chief operating officer at the age of 41. In 1986, under his leadership, Anheuser-Busch became a sponsor of the Irish Derby, an annual event that takes place at the ancient Curragh racetrack in County Kildare and one of Europe's top horse races.
Born in Chicago and raised in an Irish neighborhood in St. Louis, where his great-grandparents, originally from County Kerry, had initially settled, Long attended the local St. Columbkille parish school where he was further taught about his Irish cultural heritage, solidifying a life-long appreciation for his roots. The tight-knit working class community also gave Long the tools to succeed in business. As president of Anheuser-Busch from 1977 to 1987, Long nearly doubled the company's beer sale volume, adding 35 million barrels and giving them a 33.6 million barrel lead over their nearest competitor. He did that by doubling the marketing staff and greatly expanding the advertising campaign, reaching out to specific groups, and by taking the brand overseas, much to Ireland's benefit.
Long also used his position at the world's largest brewery to support his other passion – soccer. As president, he chaired the committee that developed the St. Louis Soccer Park (originally the Anheuser-Busch Center), made Anheuser-Busch a major supporter of the United States Soccer Federation bid for the 1994 World Cup tournament, and later a global sponsor of the FIFA World Cup. In 2011, as part of the 35th annual CBC High School Soccer Tournament celebrations, the St. Louis Soccer Park honored Long for his commitment and vision over the years, officially naming the complex's main soccer pitch the Dennis P. Long Field.
Outside of his professional life, Long also served as president of the United Service Organizations from 1984 to 1987, which helps over 10 million military service members and their families. And for his work, he received the Secretary of Defense Medal for Distinguished Public Service, the highest honor that can be awarded to a civilian by the Department of Defense, in 1987.
Long and his wife of 53 years, Barbara, who died in 2010, have three children, Tammie, Kelly, and Patrick, which whom he co-owns the successful fine dining restaurant Sam's Steakhouse in St. Louis, as well as several grandchildren and great-grandchildren.
Click here to read Long's April / May 2018 Hall of Fame profile.