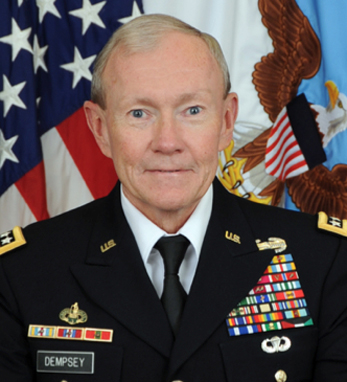 General Martin E. Dempsey
Martin Edward Dempsey served as the 18th chairman of the Joint Chiefs of Staff, for which he served two terms, and is a retired U.S. Army general who also previously served as the Chief of Staff of the Army.
General Dempsey graduated from the U.S. Military Academy in 1974 and has been a career armor officer, serving in Operation Desert Storm, commanding the 4th Battalion 67th Armor in Germany, and as an advisor to the Saudi Arabian National Guard, among other posts. In June 2003, he took command of the 1st Armored Division in Baghdad and served 14 months, before redeploying the division to Germany. In August 2005, he returned to Iraq to train and equip the Iraqui Security Forces as Commanding General of MNSTC-I.
Dempsey was raised in Goshen, New York to a heavily Irish-American family. His grandparents were born in counties Sligo, Mayo, Roscommon, and Donegal and he holds a master's degree in literature from Duke University, where he wrote his thesis on the Irish literary revival. Dempsey has also learned conversational Irish from childhood summers spent in Ireland.