Healthcare and Life Sciences 50 - 2022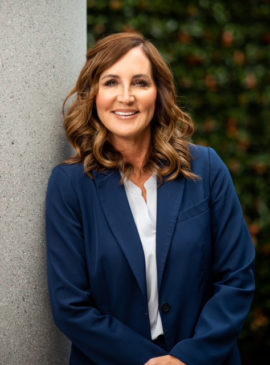 Julie Sprengel
Julie J. Sprengel is the President and Chief Executive Officer for CommonSpirit Health's Southern California Division, providing executive leadership to health care delivery systems across nine counties, spanning Central California, Central Coast, and Southern California.
With over 20 years of experience, Sprengel's result-driven leadership has ensured the health and well-being of millions of Californians. She oversees more than 25,000 dedicated employees and nearly 7,000 physicians throughout 17 acute-care hospitals, one behavioral health hospital, and over 150 ambulatory care sites, including physician clinics, urgent care centers, surgery centers, imaging centers, post-acute, and home health agencies.
With responsibility for both limited and global risk, Sprengel has embraced the goal of improving the delivery of care, clinical outcomes, and overall health of California's most vulnerable populations through a delivery network that generates nearly $6 billion in annual revenues, with $1 billion in community investments through charity care, community benefits, and government program services.
Currently, Sprengel is responsible for the management of four major hospital campus expansion and rebuild projects. To improve access to care through physician alignment across underserved urban and rural areas, Sprengel's facilities manage more than a dozen Graduate Medical Education (GME) programs, which provide unique hands-on learning opportunities and clinical experience for the next generation of physicians.
In partnership with the Morehouse School of Medicine and the Charles R. Drew University School of Medicine and Science, where Sprengel serves on the Board of Trustees, she initiated a program that expanded GME training for Black and Indigenous people of color. She is also on the Board of Trustees at the California Hospital Association (CHA), where she advocates for the health benefits and diversification of clinical care to improve the overall health of communities of color.
Sprengel holds a master's in business administration and a bachelor's degree in management from Pepperdine University, and a nursing degree from the Los Angeles County/University of Southern California School of Nursing.
Sprengel began her career as an emergency room staff nurse and served as director of emergency services for several organizations, and went on to serve as both Chief Operating Officer and Chief Executive Officer at Provident Saint Joseph Medical Center in Burbank, California.
She is 53% Irish, with her ancestry tracing her heritage to the counties of Dublin and Mayo.♦