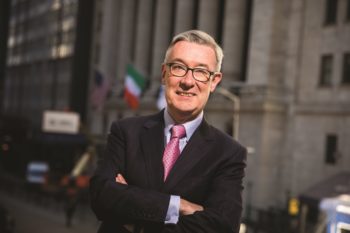 Kieran McLoughlin
VentureWave Capital
Kieran is Managing Partner of VentureWave Capital which has established one of Ireland's first Impact Investing funds. The firm aims to deliver a commercial return for its clients by scaling high growth technology companies from Ireland that benefit society. VentureWave's Global Advisory Council, chaired by former Taoiseach Enda Kenny, promotes the case for Ireland becoming a global center of Impact Investing. Investments are underway in a number of highly innovative Irish Technology for Good enterprises.
Kieran is a former CEO of The Ireland Funds. During his 10 years at the helm $300 million was raised, which is half of the total amount The Funds raised since they were established in 1976. Annual grant making increased by a factor of 5 and the organization was awarded 4 stars (the highest level available) by Charity Navigator for its efficiency, transparency and governance
Kieran serves on the North American Advisory Board of the UCD Michael Smurfit Graduate Business School, of Glucksman Ireland House and the John and Pat Hume Foundation. He is Strategic Advisor to Endeavor Ireland.
A graduate of Trinity College, Kieran lives in Dublin with Sarah and their three children.