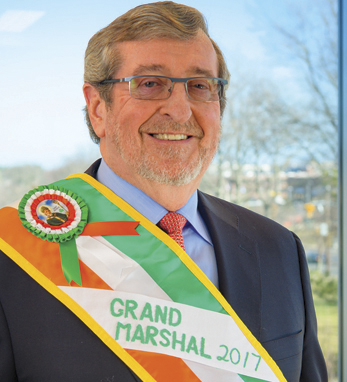 Michael Dowling
Michael Dowling is the president and CEO of Northwell Health and was Irish America's 2015 Healthcare and Life Sciences 50 keynote speaker. He began his career as a faculty member at Fordham University as a professor and the assistant dean at the Graduate School of Social Services. In 1983, under Governor Mario Cuomo, he served as deputy secretary and director of Health, Education, and Human Services. He became executive vice president and chief operating officer of Northwell (then North Shore-LIJ) in 1997, and was named president and CEO in 2002.
Born and raised in Knockaderry, Co. Limerick, Michael is the eldest of five children. He had to help support his family from an early age, inspiring him to push further and achieve his dreams. "No" was never an option for Michael, as he makes clear: "if you tell me I can't do something, that's when I become determined to get it done." He was the first person in his family to attend college, graduating University College Cork while working odd jobs to pay for tuition. After graduation he went to New York and earned a master's degree from Fordham. Michael and his wife, Kathy, live on Long Island with their two children, Brian and Elizabeth.
Dowling was named the 2017 New York City St. Patrick's Day Parade Grand Marshal.
Click here to read Dowling's April / May 2017 Hall of Fame profile.