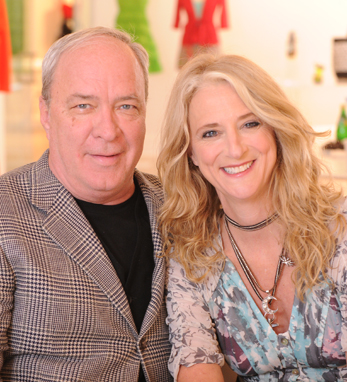 Robert Savage & Nanette Lepore
Bob Savage and Nanette Lepore are the co-founders of the Nanette Lepore brand, a multi-tiered enterprise that includes clothing, shoes, fragrance, and ten Nanette Lepore boutiques worldwide. As president, Savage controls the business, operations and administrative aspects of the label, while Lepore heads the creative side of the business, designing the trademark playful-yet-elegant clothing and accessories that bear her name.
Lepore and Savage were both born and raised in Younstown, Ohio. Lepore, who is also of Italian heritage, has Irish roots on her mother's side, the McGarrys. Savage traces his ancestry to Hollymount, Co. Mayo, the town from which his great-grandfather emigrated to America.
The husband-and-wife team left Youngstown for New York so that Lepore could attend the Fashion Institute of Technology and Savage could further his ambitions as a painter. They established their first base of operations in 1992, in a penthouse office in the heart of New York's Garment District, and the rest is history. They now have eleven retail stores around the world, show regularly at New York Fashion Week and have a client list that includes Sharon Stone, Eva Longoria Parker, Scarlett Johansson, Taylor Swift and Abigail Breslin.
Click HERE to read an interview with Lepore and Savage, from the December/January 2012 Business 100 issue of Irish America.