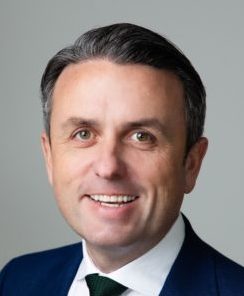 Shane Clifford
Shane Clifford is a Senior Managing Director for Franklin Templeton's Alternative business, focusing on the global growth strategy and business development for the firm's $260bn alternatives business across 15 specialist investment managers; this includes Benefit Street Partners, Clarion Partners, Lexington Partners, and K2 Advisors.
Franklin Templeton's Alternatives capabilities include private lending, distressed debt, real estate lending, private equity, single and multi-manager hedge funds, real estate, infrastructure, and venture capital strategies. Shane is also a Board Member of Fiduciary Trust International.
Born in County Limerick, Shane has a Bachelor of Business Studies from the University of Limerick. Shane moved to the US in 1998 and has an MBA in international management from Boston University.
Shane is a proud Limerick man and loves getting home as often as possible. His Limerick origins have kept him grounded and endowed him with a professional drive to succeed. Shane resides in Ridgewood, New Jersey, with his wife, Tricia, and three children, Liam (14), Owen (12), and Sean (10).