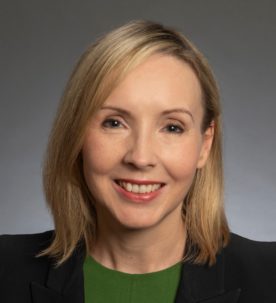 Sinead Colton Grant
Sinead Colton Grant is the Global Head of BNY Mellon Investor Solutions. The group develops outcome-oriented solutions for institutional investors, drawing on deep expertise in investment research and portfolio design across public and private assets, with AUM/A of $26.5 bn as of September 2022. She also oversees the Responsible Investing practice and Digital Assets initiative across BNY Mellon Wealth Management.
Prior to this role, Sinead held the position of Deputy Chief Investment Officer and Head of Equities for BNY Mellon Wealth Management, with responsibility for the Large Cap Equity investment group, Equity Trading, and the Capital Markets Group. She chaired the Equity Strategy Committee and was Vice Chair of the Investment Policy Committee. Previously, she was Head of Global Investment Strategy for Mellon Investments, which she joined in 2012 through Mellon Capital.
Earlier in her career, Sinead served as Managing Director of Investment Strategy for the Multi-Asset Client Solutions group at BlackRock in London, held portfolio management roles at JP Morgan Investment Management, and was a founding partner and Head of Portfolio Management at Lee Overlay Partners. Sinead earned an MSc in Finance from London Business School and a BBS in Finance from Dublin City University in Ireland.
Sinead is a first-generation Dubliner with roots in Kildare and Donegal and is currently based in New York.