Stars Of The South - 2011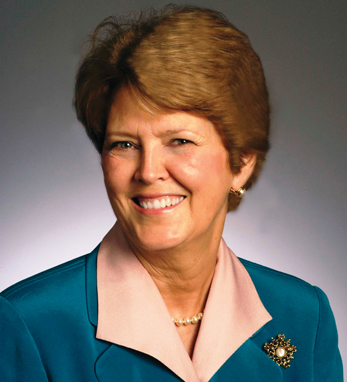 Sharon Ryan Rodi
Sharon Ryan Rodi has strong Irish roots from both her mother's (Conway) and father's (Ryan) families. Pride in their Irish heritage and commitment to their Catholic faith were paramount in her family while growing up and continue to be so in her own family. She was raised in New Orleans although she spent summers in other cities while her father, Connie Ryan, was a major league baseball player, coach and scout. She has visited her Ryan family's hometown of Knigh, near Nenagh in Tipperary, and viewed the baptismal records of her great-great-grandfather and his siblings.
Sharon retired three years ago from the practice of law at Adams & Reese, a large defense firm with offices in nine cities. She took a circuitous path to her law career. Upon graduating from college in 1964 and marrying Mark Rodi, she taught at a secretarial training school for disadvantaged women to help them enter the business world and support themselves and their families. This was at the height of desegration in New Orleans and an all-white staff with an integrated student body was not the most welcomed school in the city. However, the school was a tremendous success and for eight years provided education and opportunities to women transforming their lives.
In 1973 came the Roe v Wade decision. Sharon, now the mother of two young daughters, volunteered at the archdiocesan's prolife pregnancy center to counsel women with unwanted pregnancies to choose life over abortion. She became president of the center and remains on their board today. She has served as president of Louisiana Right to Life, continues on that board, and is the Louisiana delegate to National Right to Life.
1976 saw the end of the Vietnam War, and thousands of Indochinese refugees arrived in New Orleans. Sharon became director of Catholic Charities Refugee Social Services program, the most comprehensive refugee social services program in the country.
Ten years later, in 1986, Sharon enrolled in Loyola Law School's night program and after graduation she joined Adams & Reese where she practiced for 17 years. She maintained her community involvement doing volunteer work and in retirement she continues daily involvement with prolife activities, serves on numerous community boards, plays a little golf with her husband, and enjoys every minute she spends with her six precious grandchildren, her daughters, and their husbands.