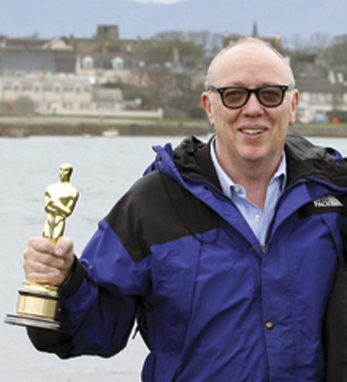 Terry George
Growing up in Belfast during the Troubles, Academy Award-winning director and screenwriter Terry George learned first hand about oppression. It's the thread that that links all of his projects, which focus on world conflicts. George briefly attended Queens University Belfast before he, his wife Rita, and their infant daughter Oorlagh moved to New York City in 1981. Once there, they had a son named Seamus.
George wrote a freelance music column for the Irish Voice and was the first to interview the Pogues for Rolling Stone when they came to the United States for their debut tour. He made his debut as a playwright in 1985 with The Tunnel, a stage drama based on the real-life 1976 prison escape attempt from Long Kesh.
In 1993, he made his screenwriting and assistant directing debut with the film In the Name of the Father, which starred Daniel Day-Lewis as the late Gerry Conlon, an innocent Belfast man who spent 15 years in an English prison after being wrongly accused.
George was named Young European Director of the Year in 1996 for his film Some Mother's Son, which he wrote the screenplay for and directed, and which starred Helen Mirren and Fionnula Flanagan as mothers of hunger strikers imprisoned in The Maze prison in Northern Ireland. It is based on the true story of the 1981 hunger strike by IRA prisoners led by Bobby Sands.
George is the co-creator and executive producer of the CBS television series The District, which starred Craig T. Nelson, David O'Hara and Lynne Thigpen. In 2004, he directed, produced, and co-wrote the Academy Award-winning film Hotel Rwanda, which starred Don Cheadle and Sophie Okonedo.
In 2010, George wrote and directed the film The Shore, which was filmed over six days outside his home in County Down. His daughter Oorlagh produced the film, which won the Academy Award for Best Live Action Short Film. In 2016, he wrote and directed The Promise, a film set during the Armenian Genocide of 1915 and starring Oscar Isaac, Charlotte Le Bon and Christian Bale.
_______________
Click here to read George's March / April 2019 Hall of Fame profile.