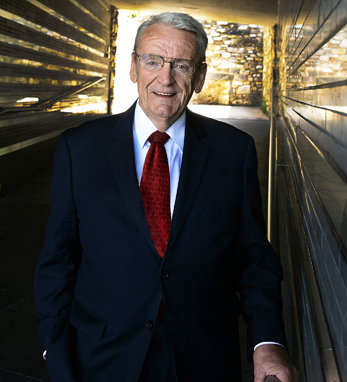 Adrian Flannelly
Legendary radio broadcaster Adrian Flannelly has been hosting The Adrian Flannelly Show for the last 50 years and has garnered plenty of praise in that time.
The New York Daily News called him the "Dean of Irish Radio in the United States," New York Newsday called him "a promoter of incredible charm and energy," The Irish Times called him "an entertainer, lobbyist, and an entrepreneur," and The New York Times called him "an avuncular host."
Flannelly was born in Attymass, County Mayo, to two schoolteachers. He immigrated to the United States in 1959 when he was 17 years old and got a job playing piano in Mickey Carton's Irish band.
Always one to use his radio show as a conduit for change, Flannelly dives deep into politics and social issues facing the Irish in America and back home, especially immigration reform. He was a major force on behalf of applicants during the Donnelly and Morrison visa programs, even filling up a truck with thousands of applications from Irish immigrants and driving to Washington, D.C., with his daughter Linda to personally deliver them to the government lottery.
He has had many notable guests on his show over the years, including former President of Ireland Mary McAleese while she was in office; former New York City Mayor Michael Bloomberg, who called Flannelly his "good friend" and appointed him Irish Cultural Liaison to City Hall; and his two uncles, former Mayor of New York and United States Ambassador to Mexico William O'Dwyer, and renowned civil rights activist and former New York City Council President Paul O'Dwyer. His wife, Aine Sheridan, is his partner on the show and on irishradio.com.
On Flannelly's annual St. Patrick's Day show, NYC Mayor Rudy Giuliani officially declared March 17, 1997, to be "Adrian Flannelly Day."
_______________
Click here to read Flannelly's March / April 2018 Hall of Fame profile.