Healthcare and Life Sciences 50 - 2022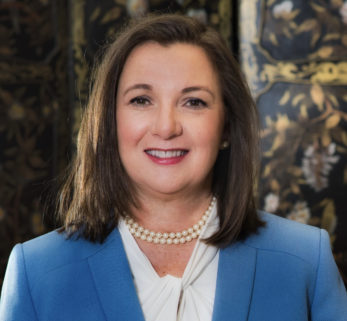 Trish O'Keefe
The first job that Trish O'Keefe, Ph.D., RN, had was as an aide in a nursing home, where she first developed a love for patient care and building stronger communities. Now, she is the Senior Vice President and Chief Nurse Executive of Atlantic Health System and President of Morristown Medical Center. She is also a celebrated presenter and leader on national and regional stages on topics like leading through the Covid-19 crisis, empowerment, and shared governance models, among others.
Morristown Medical Center is nationally recognized in cardiology, orthopedics, critical care, pediatrics, geriatrics, and gastroenterology – indicating O'Keefe's devotion to medicine.
Under her administration, Morristown Medical Center has been ranked the number one hospital in New Jersey by U.S. News & World Report for five consecutive years. It is the only hospital in New Jersey named one of America's 50 Best Hospitals for six consecutive years by Healthgrades.
O'Keefe's work in Morristown's medical center resulted in the institution being named as an American Nurses Credentialing Center Magnet Hospital for Nursing Excellence for five consecutive years. She was recognized by the United Nations as one of 21 Nurses with Global Impact, by the American Cancer Society as a Hero of Hope, and by NJBiz as a 2018 Vanguard Series Leader in Health Care.
It has earned recognition as one of the World's Best Hospitals by Newsweek, top in the State of New Jersey in 2021, and Becker's Healthcare list of "100 great hospitals in America." Morristown Medical Center has achieved an "A" hospital safety grade – its highest – twelve consecutive times by Leapfrog.
After receiving her Bachelor of Science in Nursing from Wilkes College in Wilkes-Barre, PA, she completed a Master of Science in Nursing Administration. She received her Ph.D. from Seton Hall University in South Orange, NJ, where she was awarded the Margaret C. Haley Award for significantly contributing to healthcare.
Some of her many awards include the 2021 Peter W. Rodino, Jr. Citizen's Award from the EJI Excellence in Medicine Foundation for promoting the health and well-being of NJ citizens; by the Tri-County Scholarship Fund, which serves many of the state's financially disadvantaged children; and was named in ROI-NJ's Influencers Power list in 2020 and 2021, as well as ROI-NJ's 2021 Influencers: Women in Business – Health Care list.
She and her husband Darren are long-time active residents of Morristown, NJ. O'Keefe is a second-generation Irish-American, and her family hails from County Cork. ♦