In 1967 when she was 80, I tossed a birthday party for Mother. There were over 70 people present: my generation and hers, friends and cousins, our children, cronies from way-back years. The party started at three in the afternoon because I was sure that Mother and the other old girls would get tired early. I should have known better. Twelve hours later, I and my contemporaries sat limply in the den while Mother and her peers stood around the piano lustily singing "Sweet Molly Malone."
That night I marveled at Mother. Wearing her best beige lace dress, her silver hair framing her almost unlined face and bright blue eyes, she was obviously having the time of her life. Before that party finally ended, she had cast her cane aside, locked arms with the remaining "Bungalow Girls" – Rockaway Beach circa 1912 – and led a spirited rendition of an Irish polka.
My mother, Nora, the first generation of her family to be American-born, was the second child of Bridget Kennedy Durkin and Thomas Durkin, a pair of youngsters newly arrived from County Sligo. All her life she was to personify the best of her Irish heritage – a warm and generous heart, undauntable faith in her God, unswerving allegiance to the Democratic Party, heroic resiliency in trouble and always, always, an unquenchable sense of humor.
By the time Nora was 13, seven more children had arrived to fill the parlor-floor-and-basement apartment on East 79th Street and she went off to work. Her first job at McCreery's paid three dollars for a 48-hour week. She walked the two miles back and forth each day to save the nickel carfare and at nights went to high school and Hunter College. She worked her way up from messenger girl at McCreery's to buyer at Altman's.
She was determined that when she married she would be able to give her children everything and would have enough money saved for lifelong security. Hers was a typical Irish courtship. She and my father "kept company" for seven years and were nearly 40 when they exchanged vows. She promptly produced three children. The firstborn was Joseph. I, Mary, was next. When my younger brother arrived a few years later the doctor came into her room, looked at the baby nestled in her arms and the rosary entwined in her fingers and sighed, "I assume this one is Jesus."
He was half-serious. Mother was a devout Catholic with a pipeline to heaven. For 70 years she received Holy Communion every First Friday. The one break in the chain occurred when she went to the hospital to have her third child. Forever after she fretted that she really had had time to make Church. After all, she'd been in the hospital a good 20 minutes before John was born. She was then 45 years old.
All her life, Mother had dreamt of owning a home of her own and she and my father bought one a few years after they were married. To Mother, Buckingham Palace, the Taj Mahal and Shangri-La were all wrapped up in that six-room, brick, semi-detached dwelling in the Pelham Parkway section of the Bronx. But then the Depression years set in. My father's once-flourishing Irish Pub began to lose money. Their stocks were lost in the crash; their savings dwindled to nothing. My father let one of the bartenders go and began working 20-hour days. One morning he didn't wake up and at age 51 Mother was left with the three of us and a mortgaged house.
It was impossible to get a job. So she put her "thinking cap" on and came up with a solution. A sign, "Furnished Rooms, Kitchen Privileges" was bought and tacked over the doorbell. The neighbors demurred. They didn't mind "furnished rooms" but "kitchen privileges" stuck in their craw. Always agreeable, Mother snipped off the bottom half, thanking the Lord she hadn't wasted money on a metal sign that would have been impossible to alter.
And then began the parade of people who were to be woven into the fabric of our lives for the next five years.
There was Miss Mills, the grammar school teacher who tried valiantly to teach me the piano. I never got past "Drifting."
There were Mr. and Mrs. Fields who took the big, front bedroom for five dollars a week with the garage thrown in. They asked Mother if they could bring their dog, Buck. No dog lover, Mother asked doubtfully how big he was. Mrs. Fields made a little cupping move with her hands, a motion suitable to describe a toy poodle and reluctantly Mother agreed that their pet could join our establishment.
Buck was a wild-eyed boxer. He had the instincts of an attack dog and we huddled behind closed doors in the dining room when Eddy Fields brought him down for his airing. Eddy was a slight man and his feet never seemed to touch the floor as he came hurtling down the stairs behind Buck who by then was frenzied to relieve himself.
A 21-year-old Phi Beta Kappa student in the W.P.A. took over my room. He was so thin that Mother worried about him and often invited him to have dinner with us. This meant that Joseph, John, and I had to endure the dirge-like music he favored and played on the phonograph which he thoughtfully brought to the dining room table.
Before any new tenant came in, Mother gave what we called her "palace guard" speech. "Yes," she would say, "we're blessed with excellent police protection here. There's Officer Potters to the left and Officer Ahlis on the right. There's Sergeant Garrigan across the street and directly opposite him…", here she paused so the full weight of her piéce de résistance could sink in…"directly opposite him we have Inspector Whelan."
Mother had been going steady with a moving man when she was in her twenties and had somehow caught the virus that is the sine qua non of his profession. She loved to move furniture. We all got to recognize that speculative look in her eyes. "I was thinking if we put the piano at the window and the couch on the stair wall and…." No matter how loud and heartfelt our protests, Joe and John and I would find ourselves on the lighter end of the piece to be moved, lifting and hauling as she admonished, "Now don't strain yourself."
Her peccadillo led to the entrapment of her one and only paying guest failure who was two weeks behind in his rent and was trying to tiptoe out at dawn. Unfortunately for his scheme, we'd moved the furniture the night before and he tripped over a lamp that had been freshly placed on the landing at the bottom of the staircase. Mother rushed out from the dining room-turned-bedroom to find him sprawled on the floor, his feet entangled in the lamp cord.
She sighed. "If you didn't have the money to pay, all you had to do was to tell me," she said. "God knows I can understand that." When he left, he had two dollars pressed in his hand. He'd claimed he'd been promised a job in New Jersey. It would be nice to say that our departing roomer never forgot the kindness and returned the gift a thousandfold but unfortunately that was not the case. He was a deadbeat.
In spite of all our concerted efforts, the roomers who came and went, our babysitting jobs and Joe's newspaper route, Mother couldn't keep up the mortgage payments and lost the house. She was urged to take Joseph out of school and put him to work but she refused. "Education is more important than any house," she said firmly. "Joseph will get his diploma." Our next stop was a three-room apartment near the trolley line and into it she moved the full contents of the six rooms, sure that someday our fortunes would change and we'd get the house back. We never did, and whenever she returned from visiting the old neighborhood, her eyes would shine with unshed tears as she remarked how beautifully her roses had grown.
As the only girl, she guarded me with the vigor of a dragon-slaying St. George. She felt it was her duty to my dead father to see that I came unscathed through the dating years. I called her Barbara Fritchie because whenever I came up the block with a date, no matter what the hour, she would be at the window. Shoot if you must this old gray head, I'd groan inwardly and wait for the familiar call, "Is that you, Mary?" I'd want to reply "no, it's Gunga Din." But her methods were effective. No date ever got "fresh" with that alert sentry dangling 20 feet above his head.
Her prayer was that I'd marry an Irish Catholic with a government job so that someday I'd have a pension. She had a mortal fear that I'd marry outside the faith and if I ever went out with a nonbeliever, she began a flying novena to St. Jude that the romance would cool.
When at 21 I began dating Warren Clark, she was delighted. So good-looking, so bright, half the girls in the parish had set their caps for him. How had he ever stayed single for 29 years? And a more respected family could not be found. His mother, Alma Claire Clark, was the national head of the Companions of the Forest of America. For the first time Mother withdrew from her window perch and went to bed early because I was safe with Mrs. Clark's son. When I remarked that dating Mrs. Clark's son was not precisely the same as dating Mrs. Clark, the insinuation sailed completely over her head and she continued to slumber blissfully away while in between kissing him goodnight, I would hiss, "Warren, you know better than that!"
Mother was a Democrat to the marrow of her bones. A captain in her district, she took her duties seriously and no matter how insignificant the election, she'd ring the bell of every voter in her area and urge one and all to go to the polls. To her the Democratic Party understood the needs of the working man and took care of its own. The one thing she couldn't forgive Warren was that he took me to register for my first vote and "turned me into a Republican."
The two of them relished many a political discussion and Warren spent the remainder of his life trying to wring from her the admission that just maybe, occasionally, the Republican candidate was better qualified than his Democratic opponent.
Finally he thought he had her. "Mrs. Higgins," he inquired, "if the Party put up Joseph Stalin for President, would you vote for him?"
It was a lady or tiger question…her Catholicism and her devotion to the Democrats were on the line but Mother skirted the issue neatly. She replied that if the Party put up Stalin she'd surely vote for him, because they'd have a good reason for putting him up. "Warren, mark my words, they always know what they are doing."
Her occupation and hobby, vocation and avocation was Motherhood. A Jewish mother looks into the cradle and sees a possible Messiah. It's equally true that an Irish mother gazes at her firstborn son and sees the Christ-child. Joseph was a premature baby weighing only four pounds when he was born. She fed him with an eyedropper that first year and never left him for an instant. I found a diary she kept and in it she wrote, "I was so afraid he'd slip away. He was such a beautiful baby. The other two had allergies."
Growing up, Joseph justified her pride in him. He won the General Excellence medal all eight years of grammar school. He won a scholarship to Fordham Prep. He was the captain of every team, the lead in the school play. He had the newspaper route and every penny he earned he brought home to her, turning his pockets inside out to make sure he didn't forget a dime. Then they shared their own special treat, a half-pint of ice cream.
At 13, Joe contracted osteomyelitis. Mother was told that an operation to remove the hipbone was necessary to save his life. Widowed only a few months, she made the stunning decision not to operate. She wouldn't make a cripple of Joseph and she knew God wouldn't take him from her. It was Christmas. He was on the critical list and the doctors held no hope for his recovery. Mother and John and I carried all his presents to the hospital. His main gift was a hockey stick. "You'll use it next year," she promised him. He did.
Joe graduated from high school in 1944. Mother could have claimed him as her sole support and kept him out of service. Instead she let him enlist in the navy with his friends. Six months later she took the only long trip of her life, a plane ride to California to be at Joe's deathbed in the Long Beach Naval Hospital. To the people who fumbled for words of sympathy she said, "It is God's will. I couldn't let Joseph go when he was sick the other time but now God wants him even more than I do."
That June when I graduated from Villa Maria Academy Mother threw a party for me that held no hint of sadness. It was my day and nothing was going to spoil it. Johnny graduated from grammar school a few weeks later and he too had all the aunts and uncles and cousins and friends there to celebrate. She bought a black and white print dress to wear to both occasions. She felt her black mourning dress was out of place on those two days.
Her pride in all of us was enormous. We were never simply doing well in school. We were "taking all the honors." I never had a job. I had "a big job." When John went to Notre Dame she must have written a dozen letters to long-forgotten cousins. The letters began, "My, what a busy summer, what with getting John ready for Notre Dame…" This kick-off would be followed by a careful explanation of why Notre Dame was the finest college in the world and therefore eminently qualified to educate her son.
After Warren and I were married, she never quite forgave us for moving to New Jersey. Warren urged her to live with us and avoid the endless bus trips back and forth, but even given carte blanche to come with all her beloved furniture there was never the faintest chance she'd move. You only had to drive her halfway across the George Washington Bridge to have her start sniffing the air and remarking on the heavenly breezes that originated in the Bronx.
She delighted in being a grandmother. She had a deep horror of my leaving the children with a young babysitter and thought nothing of taking the two-hour, three-bus trip to New Jersey to mind them.
From the time they could toddle half a block alone, Mother was whisking them on the Circle Line Tour, to the Central Park Zoo, to the Statue of Liberty, to parades and to beaches. She especially adored amusement parks. In 1939 she took my brothers and me to the World's Fair.
It was the summer Daddy died and I can still see her, the long mourning veil trailing wraith-like behind her as we plunged down on the parachute jump. A quarter of a century later, when she was 76, she was taking my five offspring on the steeplechase at Coney Island.
Long years of making one dollar do the work of 10 couldn't be unlearned and if the kids had any complaint, it was that Nanny made them share a soda or divide a sandwich in the Automat. She once promised my then five-year-old that she'd take him up to the top of the Empire State Building. Upon realizing that she had to pay for the tickets to the Observation Tower, she whisked him up on the business elevator to the 86th floor, stood him at a window and said brightly, "Here we are at the top. Isn't this fun?"
Her caring for the children encompassed Warren and me. She adored Warren, and to her "himself" was the grandest husband any girl could have. "The disposition of a saint," she'd sigh. "I hope you know how lucky you are, Mary." The only time she wavered in her devotion to him was during my pregnancies when, totally unconsciously, and to our huge amusement, Mother would speak of Warren as "that fellow."
But even then she'd be fussing over him, making his tea just the way he liked it, worrying over his habit of never wearing a hat even in the coldest weather. One night I awoke to find Mother tucking the covers around him. "Mother in God's name what are you doing in here?" I groaned. "Mary, he'll catch his death of cold," she sighed. After that whenever she stayed over, I locked the door of the master bedroom and she darkly murmured something to the effect of "you two barricading yourselves in there when your children might need you."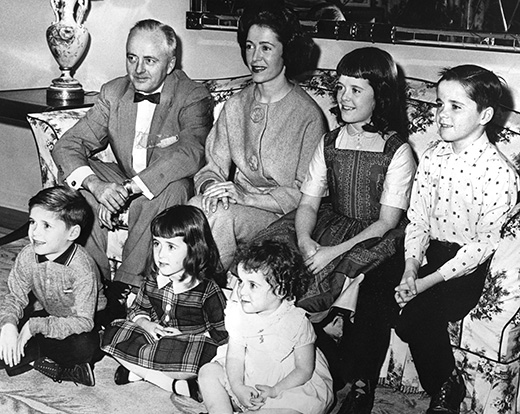 We'd been married 10 years when Warren began having chest pains and we learned that, incredibly, this handsome, vibrant man who excelled in every sport had the arteries of an 80-year-old. In the next four years he had two heart attacks. He'd just come home from the hospital when a third attack took him from us.
"God's will, but oh it is so hard sometimes," Mother said and I made myself remember that she'd never taken her grief out on us and I wouldn't take mine out on my children. It was because of Mother that I was able to go out to work but of course she didn't think she was minding only five youngsters. She immediately resumed her role as guardian of a young girl…me.
A week after Warren's death, the funeral director came in with some papers for me to sign. Mother herded the boys upstairs. In five minutes my visitor was gone and Marilyn, my high school freshman, turned on her French language records. For the next 30 minutes, a suave masculine voice asked such questions as "Voulez vous aller au bibliotheque avec moi?" When the record was finished, Mother rushed down the stairs, indignation etched in every line of her face. "Mary, what was that fellow doing talking French to you?" she demanded.
Another evening I came home at midnight to find her waiting in the living room. "Mary, what will the neighbors think of a girl your age coming home at this hour of the night?" she demanded. I was then 36.
Mother began having arthritis when she was 20. It was in keeping with her whole approach to life that she caught it dancing barefoot in the snow in Central Park. As she aged it spread into her knees and legs, her feet and hands and back. Her feet were the worst and she literally walked to heaven on those painful appendages, so swollen and sore she could hardly endure her weight on them. She probably would have been confined to a wheelchair except that her need to do for other people was so great that she kept pushing herself, forcing activity on those tired limbs, literally willing them to function.
Paradoxically she may have sped her own end by electing to go into a nursing home for a few weeks rest. After all, she pointed out, she was spending three dollars a month for Medicare and getting nothing out of it. As soon as she began to take it easy everything in her body slowed up. Her heartbeat became more and more uncertain. I knew it would soon be over when one day, just coming out of a sleep, she said drowsily, "Mary, I had the children down to the beach and Carol wandered off. I couldn't find her. I just don't think I really can take care of them anymore." She could no longer take care of others and didn't want anyone to take care of her.
She had a total of seventeen hundred dollars in insurance from nickel and dime policies she'd paid on for years. They were tied together in an old brown envelope. There was a note to Johnny and me with them. It said, "Don't waste more than a thousand dollars on the funeral. Give one hundred dollars to each of my grandchildren." She didn't realize that she'd already given us all a priceless legacy, her ceaseless devotion and unfailing love.
And Mother is still part of us. "Remember when Nanny…" is heard frequently in my home and after the story is told, there's bound to be laughter. Last fall, Patty, my youngest, was in the attic, apprehensively getting out suitcases to pack for her freshman year in college. She began rummaging and came down, wrapped in a pale pink terrycloth robe. "It still smells like Nanny," she said happily and surely it did. The faint scent of her talcum was there and the robe went off to college with Pat.
I have Mother's old black felt hat with the brief edging of black veiling in my closet. It's battered now and out of shape but over the years when things weren't going well, when the bills were piling up or one of the children was sick, I'd give it a quick rub and say, "Come on, Nora, do your stuff." I had no doubt that my first novel would be successful because it was dedicated to her. "I can just see Nora," a friend said laughing, "Dear Lord, not to bother you…the paperback sale on the book was excellent but how about the movie rights?'"
Time is slipping by so quickly. Months and seasons become years. My contemporaries and I ruefully discuss the fact that now we are the older generation. But when dawns the day that shall be my last I have no fear. Because I am very sure that the first sound I hear when I enter eternity will be that well-loved voice anxiously asking, "Is that you, Mary?" ♦
_______________
Ms. Clark is a bestselling author of books including Where Are the Children? and A Stranger is Watching.