Sonia's Silver
Ireland brought home only one Olympic medal from the Sydney Games. The country's hopes for gold were dashed when runner Sonia O'Sullivan narrowly lost the woman's 5,000 meter race. She accepted the defeat gracefully and was visibly proud of her silver medal.
Dolan Does It!
Tom Dolan did it again. Following his Olympic success in 1996 the Irish-American swimmer (and one of our 1996, Top 100 nominees) seized two gold medals at the Sydney Games, one for the 200 meter individual medley and one for the 400 meter individual medley.
His success is especially sweet when you consider that Dolan suffers from exercise-induced asthma and his windpipe is only twenty percent the size of an average person's. He was diagnosed with asthma when he was twelve, and he is unable to take many of the medications available to treat his condition because of rigorous U.S and International Olympic Committee guidelines.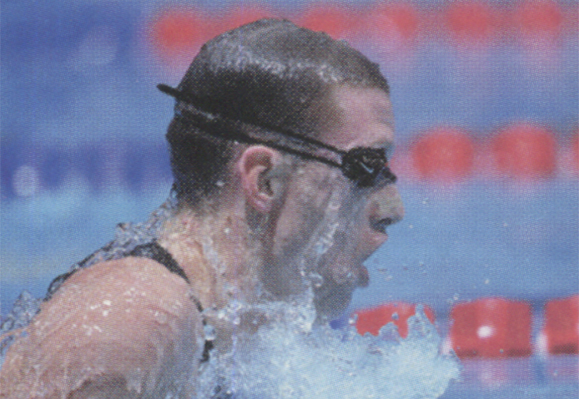 Dolan is also a spokesman for the American Lung Association and in his free time he travels throughout the country educating families about asthma management. "There are a lot of bad stereotypes surrounding asthma," he points out. "One is definitely that a person with asthma can never be an athlete or won't be as strong as someone else might be. I never thought that I should stop because I have asthma."
Carrying the Torch
The world's oldest Olympian was back in the spotlight during the recent Summer Olympics in Sydney. Ninety-three-year-old Bob Tisdall, a native of County Tipperary now living in Australia, carried the Olympic torch 500 yards through his adopted home of Nambour on Australia's Sunshine Coast. He was accompanied by his family and grandchildren. He described his part in the Olympic relay as the second most exciting experience of his life. The first was sixty-eight years ago when he won a gold medal at the Los Angeles Olympic Games in the 400 hurdles in a then record time of 51.7 seconds.
Ireland's ambassador to Australia, Richard O'Brien, described Tisdall as a remarkable man. "I think Bob is the great personal embodiment of the Olympic spirit. He is proud of his Irishness and very proud of the fact that he won the gold medal in Los Angeles back in 1932."
Back in 1932 Tisdall wrote to the president of the Olympic Council of Ireland requesting a place on the Irish Olympic team. And although he had never actually run that distance, he chose the 400 yards hurdles final at the Irish championships, qualifying him to compete at Los Angeles.
Did you know?
The original Olympic Flag is made of Irish linen. ♦