"I am of Ireland," wrote William Butler Yeats in one of his most famous poems from 1933, and all we have to do is look at the stark images from the land where he lived and from which he absorbed his genius and his inspiration to know that this is true.
Few poets have identified so strongly with the Irish landscape as Yeats; few poets have such heavenly imagery at their disposal to describe a country's political and cultural growth or stagnation.
County Sligo, known as Yeats Country, is home to most of the sights, smells and images that the poet used time and time again. Sligo was his beloved countryside, where Ben Bulben soars over the sea, the mountain's mesa-like summit making it instantly recognizable.
The Lake Isle of Innisfree, another of Yeats' most evocative works, sits here, one of some 20 tiny islands set in the majestic Lough Gill, as does the stately Lissadell, former home of the Gore-Booths, whose two daughters had a life-long effect on the poet.
And the crashing Atlantic beats a steady rhythm against the wild and windy shoreline, suddenly surprising visitors with the power of its fury.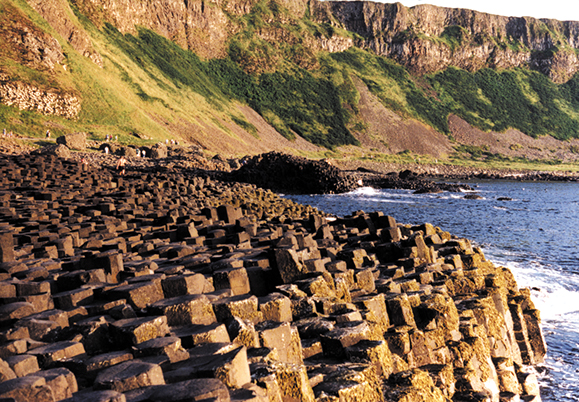 On a soft day, as the locals say, when the mist rolls in over the ocean and the wind has dropped to a mere whisper of a breeze, the waves flirt at your ankles, looking for all the world like a row of ladies lined up to curtsey before the gentry.
You can drive the length of the coastline in Ireland's northwest and have your breath stolen as you round every bend and twist in the road. Perhaps no place on earth offers such stunning views of mountains, sea and cliffs as this part of the Irish coastline, sometimes moody, sometimes glowing with sunlight, but always fascinating.
Even the place names in this part of the world demand a certain respect: not always easily pronounceable, such as Tawnamachugh, Gorteenaguinnell and Cartronwilliamoge, three mountain villages in Sligo. The waterfall Yeats mentioned in his poem is here, too, technically in County Leitrim, at Glencar Lough, sandwiched between Sligo and Fermanagh.
Tourists can follow the many signposts that indicate a scenic route through Yeats Country, and stop at one of the numerous bed and breakfasts scattered throughout for a low – cost overnight stay. Around the village of Grange, for example, is the perfect choice, where miles of white strand stretch as far as the eye can see and the views of Sligo Bay are stunning.
From Grange a right turn in the direction of Ballaghnatrillich brings you to the Gleniff Horseshoe Loop, a mile – long round trip through a rocky area dating to the ice age. You can park your car here and walk for perhaps half an hour to a plateau. It may be hard work but the panoramic view beats anything a postcard can offer.
Or drive out to Rosses Point, which sits in the bay, and whose marina nestles a number of yachts and sailors, and maybe on a clear day you can see the Twin Towers of New York. Anything seems possible here, you see. Driving north towards Donegal, take time out to stroll on Lissadell Strand, another location immortalized by the beloved poet. A memorial to Yeats can be found in Sligo town itself, along with a museum on the shores of Lough Gill, and his grave lies in a simple churchyard in Drumcliff. Here an unassuming epitaph is all that remains of the bard of Sligo: "Cast a cold eye on life, on death. Horseman pass by."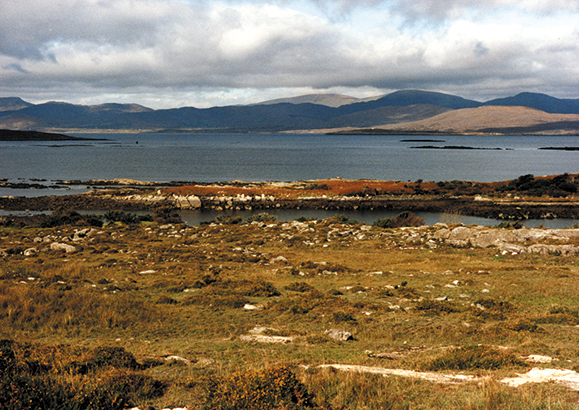 For a glimpse of prehistoric Sligo, the tourist office has an interesting brochure outlining all the monolithic tombs and ancient gravestones in the area. Sligo town is today the most important center of commerce in the northwest, but doesn't offer much for tourists other than being a central location for day trips in the area.
From Sligo to ragged Donegal and then inland to the green of County Fermanagh and the breathtakingly beautiful Lough Erne, a mere three miles from the Donegal town of Ballyshannon: this is a trip which begs to be taken again and again.
A trip through Fermanagh, which lies in Northern Ireland, offers some of the country's most breathtaking scenery, often ignored in favor of tourist traps such as Dingle or Killarney. Here, the motto is scene and not herd, to paraphrase American travel writers who were criticizing some of Ireland's most popular tourist haunts in the southwest.
The glorious Lough Erne stretches the length of the county, its upper and lower halves divided by the county town of Enniskillen, surrounded by verdant forests and glistening water. The little village of Belleek, world famous for its china and porcelain, is a wonderful stop-off point between Sligo and Donegal, and hikers can choose between brooding moorlands, hills and forests. Forest Park, just outside Belleek, is an absolute must visit, with its winding trail ending on a cliffside overlooking Lough Erne – time just stands still as your eyes drink in the landscape. To see this, you think, is to know the face of God.
From Belleek it's just a ten-minute drive to the Donegal coastal town of Ballyshannon, which lies in Donegal Bay, and is famous for its annual folk festival during the first week in August. A little further on is Bundoran, once the resort of choice for most families with children because of its amenities, and now more likely to be populated by the world's surfers who recently discovered the power of the Atlantic waves. Rossnowlagh, about ten miles further up the coast, has become famous for its windsurfing.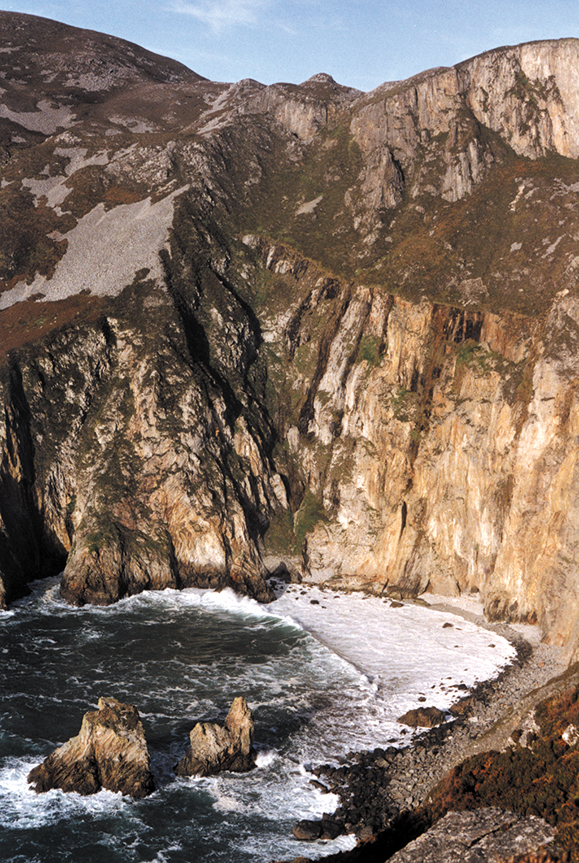 Donegal has been called Ireland's Alaska, with its mountainous stony landscape and silent bays. In fact it bears an uncanny resemblance to the Scottish highlands, where in some parts you are more likely to meet a sheep than a human. And in the north of the county some 25,000 Gaelic speakers still reside in the Gaeltacht area.
From Malin Head to Bloody Foreland Head to St John's Point, in some of these, the more remote areas of Donegal, it's easy to believe that this is the land that time forgot.
St. John's Point snakes out into the Atlantic from the town of Dunkineely, a tiny peninsula truly leading to the ends of the earth. A few miles away is the fishing village of Killybegs, where myriad restaurants offer the freshly prepared catch of the day — if your nose can become accustomed to the smell.
A little further west are the Slieve League mountains, and a scenic drive here from Kilcar or Carrick on switchback roads eventually delivers you on to a precarious cliff edge, some 600 meters high, where there is nothing between you and America but water, sky and the screeching of the gulls as they swoop and dive over the waves. Even the more fainthearted travelers would be advised not to miss this opportunity to see nature at its best and wildest.
Continuing around the coast, travelers will pass the towns of Glencolmcille, Ardara and Dungloe and Letterkenny, Aranmore and Inishowen and Tory Island, all of them worth a visit.
Finally a trip through Derry around Lough Foyle, still following the coastline through Portrush and Portstewart and into County Antrim, offers a chance to view the magnificent rock formation, Giant's Causeway, a series of indescribable natural stepping stones sitting in the blue waters off the north coast. This promontory of basaltic rock pillars, weathered to different heights over thousands of years, is a fitting end to a coastal trip unlike any other in its diversity and natural beauty. The only problem is leaving. ♦
Yeats in Song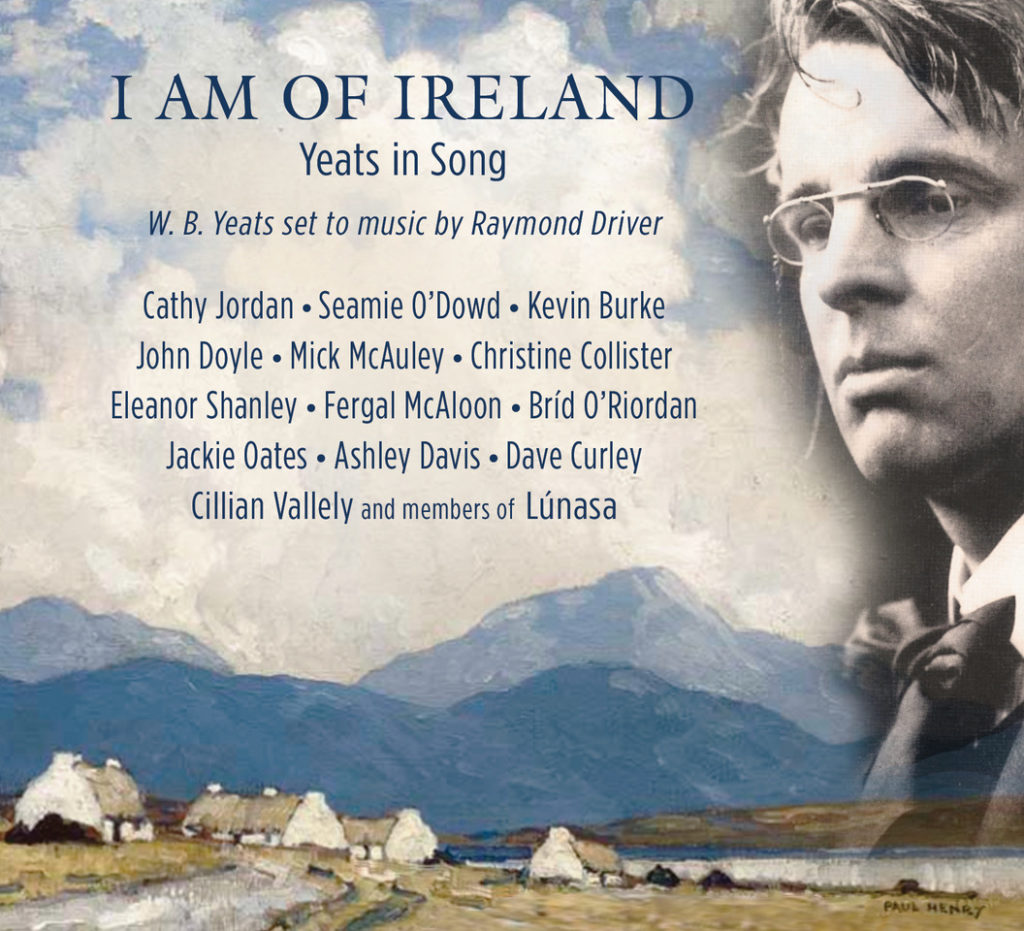 In 2022 Raymond Driver Music released I am of Ireland Yeats in Song featuring 24 poems of W.B. Yeats poems set to music. The poems are set to music by Raymond Driver and performed by various Celtic traditional folk artists.
The album has received glowing reviews including receiving the 2022 American Celtic Listener-Supported Radio Awards for album and vocal album of the year.
The album is available for download on various streaming sites and is available for purchase on Amazon. To learn more about the album and to download the title track I am of Ireland with Cathy Jordan and Seamie O'Dowd for free visit Yeatsinsong.