For decades now, Irish film stardom has been an exclusively male domain – the big three of Liam Neeson, Pierce Brosnan and Gabriel Byrne recently being joined by Colin Farrell. But that could be about to change. With her commanding screen presence, natural talent and striking looks, many film critics are predicting great things for Northern Irish actress Susan Lynch. American viewers will have a chance to judge for themselves when her latest film, the comic thriller Beautiful Creatures, a kind of Scottish Thelma and Louise, is released this spring.
When we meet, in a hotel bar in her native town of Newry, County Down, Susan Lynch is just back from the Sundance Festival in Utah, where she was promoting the film with Beautiful Creatures co-star, Rachel Weisz. If stardom does materialize, one doubts it will change Lynch. Friendly and open, with a strong Northern Irish accent, she remains defiantly unaffected by fame. Delighted as she was with the film's reception at Sundance ("a brilliant festival, so welcoming of independent films"), her real excitement was seeing herself on screen for the first time in her hometown. "It was very special," she says. "We went to see it as a family and people were just in stitches. It was an amazing feeling."
The baby of a family of five (her oldest brother, John, who first came to prominence in Cal, was already a successful film actor while she was still at school), Lynch has happy memories of her childhood growing up in an isolated farmhouse at the foot of Camlough mountain in South Armagh, a few miles from Newry. "It was very Waltonesque," she says. "We're a very close family, very Mafia-like in terms of our attachment to each other." She remains close to all her family, who, John apart, all live in the area, and has returned from a spell in London to live near them again. Having an Italian mother gave her a sense of difference growing up, she says, but she has no doubt about her true identity. "I feel very Irish. This is where I grew up and I'm proud of it. I've been lucky, I've been brought up in a culture that really respects storytelling and the power of conversation."
Drama was almost a natural progression for Susan. All the siblings – Pauline, Jacqueline and Seamus as well as Susan and John – had a dramatic bent, progressing from local feis's and school plays to the local drama school. Storytelling, too, was an important part of their childhood. "Our uncle, who lived further up the mountain, used to come down every Monday evening and we would sit around him while he told us really old tales, banshees and the like. Dad's a great storyteller too." Entertainment was usually home-made, largely through necessity. "We had no electricity for years, just a generator which kept conking out, usually whenever the really good films came on the TV. One of us would have to go out with a torch and wind it up."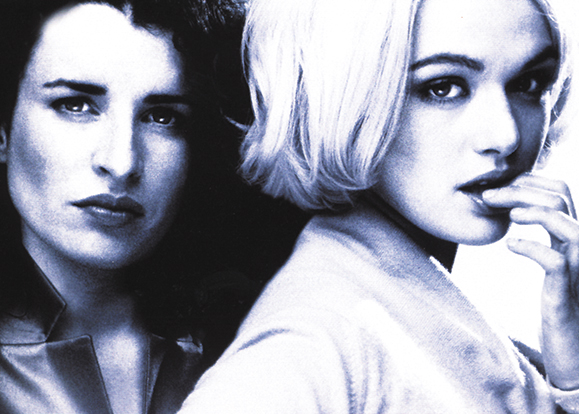 Like John, Susan came under the influence of a legendary local drama teacher, the late Sean Holywood (recently voted Newry's "Man of the Century" in the local paper), who encouraged both to believe they could make the most of their talents. "He created magic in his living room. He was such a special man. In John's time the idea of somebody going from here to drama school was unheard of, he was the only Irish guy there. By the time I went, it was hip to be Irish."
Lynch flourished, graduating from London's Central School of Speech and Drama in 1990, and winning the Kenneth Branagh Renaissance Award for most promising student.
She quickly made an impression in theater, making her debut at the Royal Court in London in a play directed by Danny Boyle, who later made his name as director of Trainspotting. Roles at the National Theatre in London and Dublin's Abbey Theatre followed, before she made her screen debut in 1993, in The Secret of Roan Inish, directed by John Sayles, which also starred her brother. "A beautiful, mystical film," she says, "and an amazing director who I would love to work with again."
British TV appearances in series such as Cracker, Dangerous Lady and Ivanhoe enhanced her growing reputation as an actress of versatility and depth, but it was her extraordinary and deeply moving performance as Tony Doyle's daughter in the award-winning BBC adaptation of John McGahern's Amongst Women that most excited the critics.
A strong personality herself, it is no surprise that Lynch has made her reputation portraying strong women. The title role of James Joyce's wife Nora, which she played opposite Ewan McGregor as Joyce, was one of the highlights of her career, she says. "So few films give women a chance to tell their story. Nora was a classic story of a woman who the Irish knew very little about and should have. She was so extraordinary. She represented so many Irish women I know, their strengths, their forward thinking. It was an unconventional love story, not a formulaic thing, and much more truthful of the complexities of being in a relationship."
Dorothy, her character in Beautiful Creatures, is another strong woman, though Lynch believes the strength of the film – a surreal and darkly comic thriller about two women who accidentally become involved in a chaotic and ultimately murderous kidnapping scheme – is her on-screen chemistry with English co-star Rachel Weisz. "It was really about me and Rachel playing off each other. We thought that chemistry out very carefully. It's like working out a love story as you would with a bloke, only here it is with a girl. We fell in love with each other as friends on and off the set."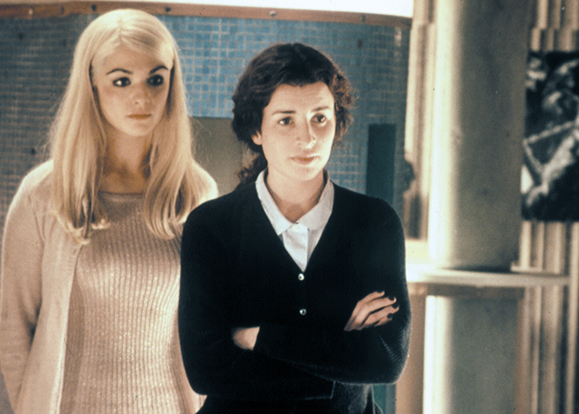 Oddly enough, Lynch was initially against the idea of speaking in her own accent, believing she should have a Scottish accent to fit the film's location. She laughs, "I can't speak like me, it's too weird. I feel I'm not acting. In the end, though, you get the differentiation from things in the script instead. Things Dorothy says. And she is quite cool, whereas," she laughs again, "I'm not. The important thing was you must feel that if these girls met in a pub they wouldn't be able to stand each other. We wanted to develop the idea they came from two different worlds and yet they start to influence each other."
Beautiful Creatures has been attacked in some corners for being too violent, a criticism which Lynch angrily refutes. "The violence in the film is cartoonesque. It's surreal, like cowboys and Indians, and it shouldn't be taken at any other level. But being women and violent is such an issue. I was asked by a journalist at a press conference about French men picketing the film. I said, `When Psycho came out blonde women didn't stand outside the studio holding placards. Women have always been victims, and some people don't like it when that is turned around.'"
After Beautiful Creatures, Lynch's next release will be the big-budget Hollywood studio film From Hell, the story of Jack the Ripper, starring Johnny Depp. But though she enjoyed the experience and loved working with the Hughes Brothers who directed it, she sees her future in the independent film world. "I would love to work in independent films in the U.S.," she says. "They are the best films I've seen. I don't see myself in Hollywood. I'm not a contender for that world. I don't aspire to superstardom. I don't do this job to be famous but because I love acting and telling stories and the kind of collaboration you get in this work." ♦