Once the most popular form of American filmmaking, the Western has not fully recovered from the commercial and critical debacle of Michael Cimino's 1980 epic Heaven's Gate. Although a far better film than conventional wisdom would indicate, Heaven's Gate provoked widespread derision because Cimino dared to use the disreputable Western form for a serious purpose, to question the premises of American capitalism and empire-building. Now the Western seems to be undergoing something of a resurgence on television and in occasional feature films. Reliably providing elemental drama and visual appeal, the genre also is flexible enough to constantly reinvent itself to accommodate the thematic needs of new generations of moviegoers.
As the great French filmmaker Jean Renoir once told me, "The marvelous thing about Westerns is that they are all the same movie. That gives a director unlimited freedom."
The Claim is a striking demonstration of the Western's scope. Directed by Britain's Michael Winterbottom, the screenplay by Frank Cottrell Boyce is "inspired by" an unlikely source, Thomas Hardy's 1886 novel The Mayor of Casterbridge: The Story of a Man of Character. Hardy based his story on an article in the Dorsetshire County Chronicle about a man who sold his wife at an auction. The novel's Learlike protagonist, Michael Henchard, is intoxicated when he sells his wife to a sailor at a country fair. Henchard eventually reforms, giving up drink and rising to become the town's mayor, but his world is turned upside down when his wife and daughter return to Casterbridge after an absence of two decades. (A 1978 British television miniseries of The Mayor of Casterbridge, adapted by Dennis Potter, starred Alan Bates as Henchard.)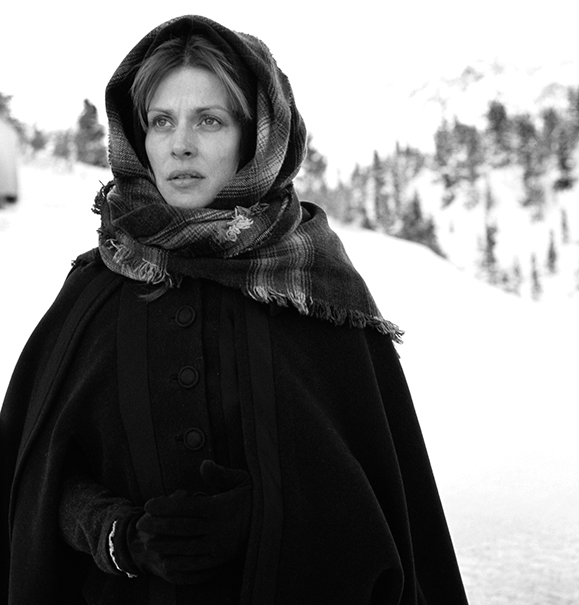 For The Claim, Boyce has transformed Hardy's tale into a grimly compelling story of an Irish immigrant named Daniel Dillon (Scottish actor Peter Mullan), who loses his soul in the search for American gold, then tries to reclaim it. This tragic saga of moral regeneration is marvelously enacted by Mullan. The quiet, sober, introspective Dillon hardly speaks for the first forty-five minutes of the film, but his face eloquently conveys fathomless depths of guilt and melancholy.
"Mr. Dillon's town" – the mining town of Kingdom Come in the Sierra Nevadas of California – is a polyglot community, ruled by Dillon with the power of an ancient Irish chieftain. A plethora of foreign accents can be heard in Kingdom Come. Besides Dillon's brogue, there are the eastern European accents of his mistress, Lucia (Ukrainian actress Milla Jovovich), who sports a gold tooth as a saloon entertainer singing European "art songs"; and his long-lost wife, Elena (German actress Nastassja Kinski), who returns to town when she is dying of consumption. Kinski established her Hardy credentials when she played the title role in Roman Polanski's 1979 Tess, based on Tess of the d'Urbervilles. The other major characters in The Claim are Dillon's and Elena's twentyish daughter, allegorically named Hope (Canadian actress Sarah Polley), and a cold-hearted railroad surveyor with the Scottish name of Dalglish (American actor Wes Bentley).
The Claim has virtually no humor but plenty of irony. Like the British soldiers Daniel Dravot and Peachy Carnehan in Rudyard Kipling's short story "The Man Who Would Be King" and John Huston's splendid 1975 film adaptation, Daniel Dillon leaves his homeland, where he had little opportunity for advancement, to pursue dreams of becoming a kingly figure in the new world. Dillon brings to America an immigrant's vision of what California writer Julia M. Sloan called "the land of the second chance, of dreams come true, of freshness and opportunity." But like Kipling's soldiers, Dillon emulates the worst of colonialists, amassing a stash of gold bullion and meting out rough justice with a bullwhip.
The dreams of the young Dillon (Barry Ward) include a feudal notion of male power. He initially beomes frustrated and disillusioned in his quest for riches, feeling burdened by his family obligations. In a darkly lit flashback, he laments to a fellow immigrant, Byrne (Tom McCamus), "There's no gold in America. No more gold than there is elephants." Displaying his gold strike, Byrne replies, "There's no pleasure in it. A man loses heart. Even if he makes a strike he loses heart." Wanting only to share his life with a woman, Byrne offers to buy the young Elena (played by Karolina Muller), along with the newborn Hope, in exchange for the claim. Dillon agrees, Elena vainly protesting, "You don't own me!"
Dillon lives in a state of denial about his monstrous moral crime until one day twenty years later when a young woman approaches him in the town square and hands him a set of rosary beads. "Hope?" he wonders. Dillon gradually believes he has been given a second chance to rectify the injustice. Offering to marry Elena, he says naively, "It would make everything all right. . . . We can be a family again." But he adds, "Just one thing – I don't want [Hope] to know what I done." Dillon tries to keep Elena alive by hiring a quack with an electroshock machine to "reinvigorate the will to live."
The Claim shares a common theme with Elia Kazan's 1963 film America America: the terrible price an immigrant pays to become an American. But visually The Claim most resembles Robert Altman's 1971 revisionist Western McCabe and Mrs. Miller. Winterbottom uses long lenses and a multilayered soundtrack to stage crowded scenes of squalor, moral confusion, and clashing American and European notions of culture. Kingdom Come, elaborately recreated in Colorado by art director Ken Rempel, blends grubbiness and imported luxury, in a telling contrast with the natural grandeur of the snowy exteriors, some filmed in Alberta, Canada.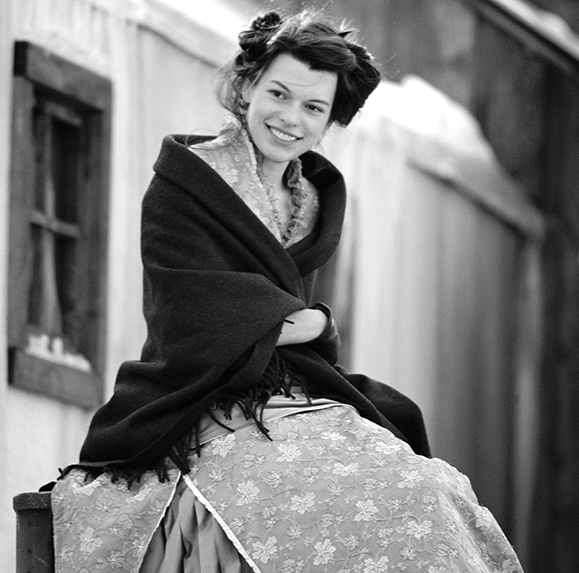 Cinematographer Alwin H. Kuchler works with desaturated color and authentically lights me smoky interiors with candles. Extensive handheld camerawork gives the film a semi-documentary feeling. But while the impressionistic photography creates a rich visual tension, it also seems arty and pretentious, typified by the camera's irritating habit of going into or out of focus for pictorial effect.
As often happens in Westerns, the women are the least authentic element. Women in Westerns tend to be cast and coiffured more to suit current tastes than to represent the period with accuracy. Although many of the townsfolk look realistically unhealthy, the prostitutes in the local brothel are buxom and rosy-cheeked. The three principal actresses not only are glamorous but have the glazed look and sleepwalking demeanor common to many of today's models and actresses. Polley is too contemporary in her manner of speaking, and both Jovovich and Kinski deliver their lines clumsily.
The film's biggest flaw is that the enigmatic character of Elena never comes into focus. The viewer yearns to know more about her relationship with Dillon and how she has coped for the last two decades. But even though she is dying, there never is a fully dramatized scene between them that illuminates her character or what she thinks about the man who so cruelly abandoned his family long ago.
Dillon eventually wins a moral victory, losing everything he claims to possess in the world but regaining his soul. The railroad man, Dalglish, who represents the heartless capitalism of modern America, offers a fittingly ambivalent eulogy: "They're like kings. Pioneers. People like Dillon. They came out here when there was nothing. Built these towns and ruled them – like kings." ♦