Tom Russell's folk-rock album bears witness to American immigrant history.
Singer and songwriter Tom Russell is a man of many worlds. Born in Southern California, he has led country music bands that played honky-tonks in such far-flung locales as Vancouver, Canada's skid row and Oslo, Norway, traveled as a carnival entertainer in Puerto Rico, and taught criminology in Nigeria. After stints pursuing music in Austin, Texas and San Francisco, he became known as "The Brooklyn Cowboy" during almost two decades living in New York City, and now resides in an adobe house outside of El Paso, Texas, a stone's throw from the Mexican border.
Over the course of 15 albums, he's created everything from sophisticated country to rock-tinged folk music to cowboy songs. His compositions have been recorded by Johnny Cash, Nanci Griffith, Iris DeMent, and contemporary folk pioneers Ian and Sylvia Tyson, to name a few, and he co-produced an acclaimed songwriters' tribute to Merle Haggard, Tulare Dust.
But, it wasn't until Russell was nearly 50 years old that his Irish heritage came to inform both his music and his life with his album The Man From God Knows Where. Taking its title from a poem about another Thomas Russell who was hanged in Downpatrick during the United Irish Rebellion, it's a song cycle that traces his family's roots from Ireland and Norway down through the colorful life of his father, Charlie Russell, who was a "horsetrader, pumper of gas, furniture salesman, builder of homes, gambler, bankruptee, prisoner, recovered alcoholic, survivor," writes Russell in the liner notes of the 26-song album. Featuring such guest singers as DeMent, Dolores Keane and Dave Van Ronk, it's a vivid and highly personal take on American immigrant history set to a folk-rock soundtrack laced with such ethnic instruments as Irish uilleann pipes and tin whistle and Norwegian Hardanger fiddle.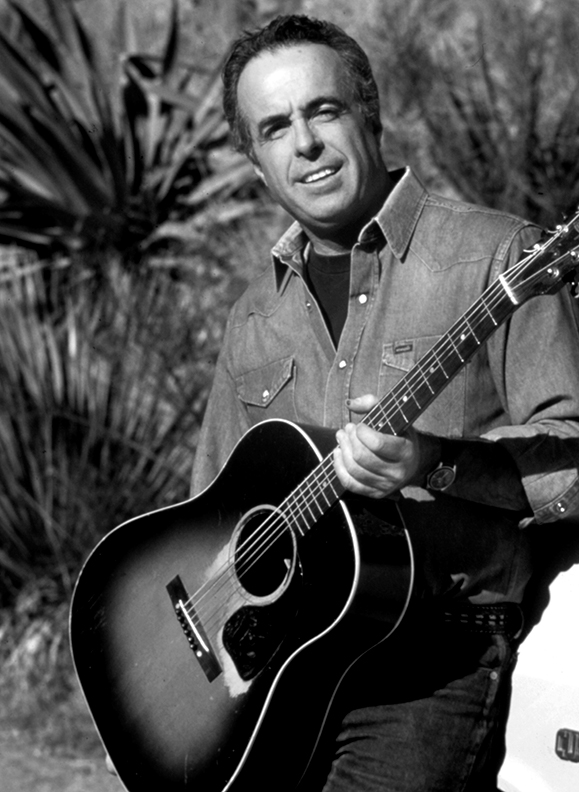 Rider On An Orphan Train
Once I rode an orphan train
and my brother did the same
they split us up in Missouri
James was five and I was three
He got taken by some parent
but for me they did not care
We were brave and did not cry
When they made us say goodbye
That was the last I saw of him
Before a family took me in
But I swore I'd run away
and find my brother, James, one day
I went back when I was grown
to find our old children's home
and I asked for to see my file
of when I was an orphan child
It's sad, they say, there's been a flood
file washed away in the Missouri mud
Sometimes life is a stonewall
either climb, or else you fallIn every town on every street
All the faces that I meet
And I wonder, could one be
My brother James, come back to me
No I don't know where he's gone
and I have searched my whole life long
Now I roam from town to town
But there's no orphan lost and found
Sometimes I dream a pleasant sight
My brother James and I unite
Remembering our last goodbye
No longer brave, we start to cry
I hope he lives a life of ease
and all his days a soft warm breeze
And may he sit upon a throne
And may he never sleep alone
Once I rode an orphan train
And my brother did the same
We got off in Missouri
James was five and I was three
Singer/songwriter Tom Russell. Photo courtesy of Tom Russell
"I had started writing something eight years ago called American Primitive, which was a long tonal musical poem about American history," explains Russell of the album's origins. Then, during one of his many tours of Ireland, "An old man in Downpatrick came up to me in a pub and bought me a Guinness. He noticed I was playing down the road, and said there was a famous patriot with your name who was hanged in Downpatrick during the United Irish Rebellion, and there was a poem about him called `The Man From God Knows Where.' That was a turning point for me, because I loved the title. It sort of represented me: the man from God knows where. Who am I? What's my heritage?"
The theme of the work crystallized after the death of Russell's father in 1997. "My sister divvied up his stuff to the four kids, and I opened up a book of photographs, and out fell the diary of Patrick Russell, and that made the project take a hard turn to the left towards actual facts about the ancestors," says Russell. "He was born in Co. Tipperary, and came across for eight weeks on a ship called the Tyrene, and landed in Quebec."
Patrick Russell was offered farm land in Canada, "but he'd had too much of the English already, so he virtually walked down into America for three weeks until he reached Wisconsin, and ran into some Irish neighbors from the old country. He eventually settled in New Hampton, Iowa, and carved out some land with some tools that he brought from Ireland. So that started the record, that actual diary."
While researching the project, Russell visited Ellis Island, which prompted him to use his mother's maiden surname to create a character named Mary Clare Malloy, who passes through the immigration center in the New York harbor. Other diaries from the family of Ambrose Larsen, his Norwegian great-great-grandfather, also informed Russell's songwriting. "He was born in Norway in 1847, and landed in Prairie Du Chien, Wisconsin, which was across the river from Iowa. And he would cross the river in a boat to court this Irish woman named Bridget O'Malley, who was a descendent of the Irish pirate queen Grace O'Malley," recounts Russell.
"After I had discovered this stuff, I turned it towards the ancestors, and made the early Norwegians sort of melt into the Irish, and created this early history that ends eventually with the story of my father and my family."
The Man From God Knows Where offers an almost cinematic journey through American history, though it's hardly the frequently sanitized stuff seen on the silver screen and found in school textbooks. It's a tale that is peopled with hard-drinking men and disappointed women, and recounts busted farms, an Indian massacre, and children riding an orphan train.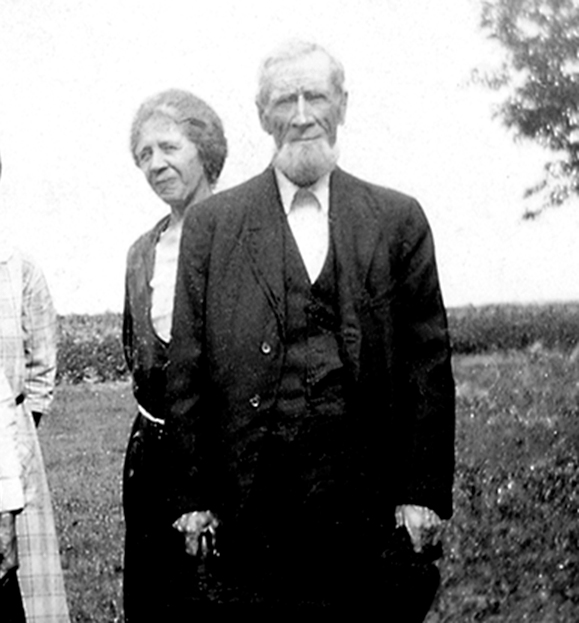 The Man From God Only Knows Where
Come gather round me children, a story I will tell
I've been around since Jesus met the woman at the well
I've walked these roads ten thousand years, I'm a ragtime millionaire
I am the rake and the ramblin saint, the man from god knows where.
Oh, they hung me in Downpatrick, up near St. Patrick's tomb
But my ghost rose up in the peat fire smoke toward the rising of the moon
Now as I drift through your villages, all the maidens stop and stare
There goes old Tom the vagabond, the man from god knows where.
So its rise up all you ancestors, and dance upon your graves
I've come to hear your voices now so maybe I'll be saved
Cursed are we who forget the past, but pray and don't despair
My song is might haunt your dreams tonight, I'm the man from god knows where
I've slept beneath your bridges near your oil refineries
I've gambled on your river boats, Shenandoah; Kanakee
I'm the homeless lad, I'm the orphan child, leaves of grass sewn through my hair
Yeah, me and old Walt Whitman, we're the men from god knows where
I've rode the rods on steam trains with a banjo on my knee
While the ghost of Stephan Foster whispered lines to me
Of the storefront church and the chain gang choir; Black sorrow filled the air
Then Stephen died on a dross house floor, like a man from god knows where
I've heard the sound of Indian drums, I've heard the bugles blow
Before they re-wrote history, into a Wild West show
My kin sailed toward America to steal their Indian ground
They passed bill Cody's ships, European bound
So lock up all your daughters, your whiskey and your gold
I have come to claim my bounty, for the lies that Ive been told
And as I look out on this crowd tonight, I see most of you don't care
Come lift your glass, reveal your past, to the man from god knows where…
Patrick Russell, grandfather of Tom. Photo courtesy of Tom Russell
"What I really wanted to do with some of these characters was see the tragic, realistic side: if the husband had a drinking problem, if they had to sell the farm, if the farm went bankrupt," Russell explains. "I was digging up this personal history, and very dark history sometimes, of America.
"I was influenced a bit by reading the book Wisconsin Death Trip, which pointed out that at that time, back in the 1800s, there was a lot of mental illness, a lot of people burning the farms because they were bankrupt, and walking away from the farms. So I wanted to balance the project with some insight into that, instead of this great American dream about how everything was great back then."
The story is capped with the life of Russell's father Charlie, who was born in the Chickasaw County jail in Iowa, where his father, Albert Russell, was the sheriff. Charlie headed west to Los Angeles to seek his fortune, which he both made and lost. Russell says that while growing up in L.A., which he calls "the rootless capital of America," there was very little Irish consciousness in his family other than an old Edison record player with some discs of Irish music.
"I knew nothing about the Irish side until my father died and I got this sheaf of papers, and turned this thing into a family history," he notes. "Reading between the lines of a lot of these characters, and then seeing what my father went through, it's focused me more on the type of people he came from. He was a drinker for a while, and a gambler, and I could trace some of that back."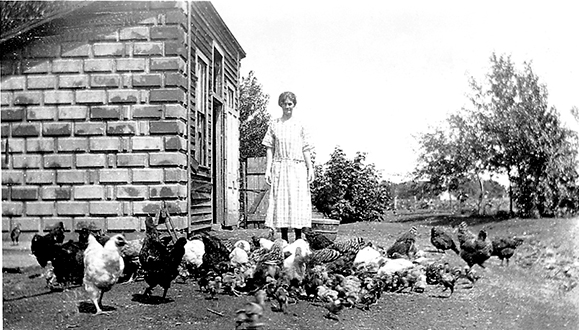 Russell also feels that this album serves as an analogy for himself and his journeys. "I've always felt I'm the outcast. I've always felt on the fringes of any scene. I've always felt a bit like the man from God knows where," he says.
The Man From God Knows Where is Russell's best-selling album to date, and has won a varied cast of admirers, from Pulitzer Prize-winning novelist Annie Proulx to journalist Pete Hamill to the neo-classical group The Kronos Quartet. There's something about the album that strikes a chord in people with a similar heritage, who often approach him at shows to relate how his family story reminds them of their own. "It resonates throughout other families, especially since there's a lot of realism in it."
"This isn't `My Wild Irish Rose,'" concludes Russell. "It's the dark side of the wild Irish rose." ♦