It's a hot night in Boston, hotter still in the narrow space of Studio Soto where barefoot models weave trance-like through the melting crowd.
Exhibiting the kind of creative flair she's known for, Ballina-born designer and hat maker Marie Galvin had forsaken the predictable run down the catwalk during Boston Spring Fashion Weekend in favor of an art gallery show that united fashion and art with a dollop of humor. But even the heat and the antics of a nude performance artist couldn't upstage Galvin's remarkable hats: vivid feather creations and delicate constructions of netting that defy the effects of gravity.
"She's unique," Mark Ellis, on the board of Boston Fashion Week, said, mopping his perspiring brow. "If she has a fault, and it's not really a fault," he emphasized, "it's that she's too modest."
"One of the most innovative designers around," enthused New Yorker Jay Calderin who originated the idea for Boston's annual spring and fall fashion weeks and was among the judges last year who voted Galvin Most Innovative Designer, one of a clutch of awards the designer has recently collected.
Still, the first time Galvin and I met she sighed, "I wish I'd had better direction earlier in my life and knew this was what I should be doing."
Sitting in her Boston studio-cum-apartment, an Aladdin's cave of cunning hats and colorful leftovers, it was hard to feel too much sympathy for the ambitious 30-something designer who's only been in the business a few years.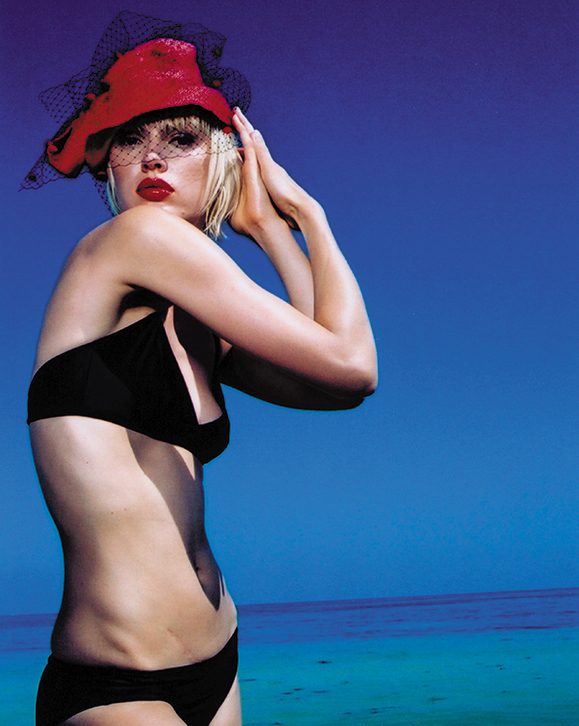 Her hats – romantic, plumed concoctions – came first ("A hat is an instant facelift for a woman or a man," she says). Then in response to her clients' demands, she began making clothes to go with her hats, interpreting figure-flattering designs in unique, tactile fabrics.
"I wanted to be an actress, believe it or not," she laughs. You can believe it. With her long red tresses and impeccable bone structure, she's the sort of woman who could put a paper bag on her head and still look good. In combination with a strong streak of individuality, it's clear Galvin was destined to make her mark somewhere.
"I was a real tomboy when I was young, but I still liked cool stuff," Galvin says, traces of her Mayo accent growing more pronounced with the memory. As a young teenager she was already designing her own clothes, which her grandmother, a designer and dressmaker in her hometown of Ballina, County Mayo, made up for her. "I'd go, `Gran, I want this outfit, will you have it ready for me for tomorrow?'"
Then there was the clothes store she haunted, its upstairs packed with men's suits dating from the forties and fifties. The surprised sales staff, glad to get rid of stock no one else wanted, would let her buy the suits at the original prices. At home, Galvin would cut off the sleeves or make some other adjustment to suit her current whim. Destiny was shaping up.
Though she laments the lack of career guidance common in Irish schools at the time ("I remember I did an IQ test. They said I was mechanically minded. Should I be a mechanic? an engineer? Nobody could tell me"), Galvin talks fondly of her days in St. Mary's Convent, Ballina.
"The school itself was very inspirational. I used to love to go into the church – even though I was no more religious than the next person – and watch the nuns in their long dresses and the way their veils would move. It was intriguing, too, to see such dedication."
At 18, when Galvin announced her intention to emigrate to Australia, her dad nixed the idea, allowing, instead, the "daft young one," as he called her, to go to Boston where she had an aunt. "At the time, I wanted to get as far away from Ireland as I could. But now, look at everything I do. It's got an Irish dimension."
Arriving in Boston in the mid-80s with plans to study acting, Galvin met up with a group of like-minded immigrants devoting themselves to the more serious task of enjoying life. To support herself, she took au pair and waitressing jobs. It wasn't until she met the man she married five years ago that she became serious about her career. "He believed in me," she says of Bill Gillis, her engineer husband.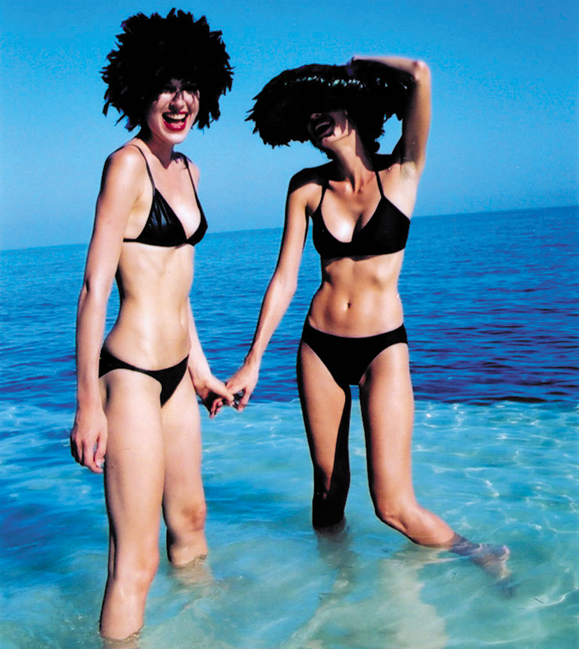 "I could see Marie had talent and that she just needed somebody to encourage her," Gillis told me. A graduate of MIT with a successful career as a computer engineer, he knows something about the power of encouragement.
"I used to race motorcycles professionally, and there was a point in my life when people thought I was wasting my time, but I did have a few friends who supported me. So I knew the position Marie was in. She just needed somebody to encourage her."
While Gillis was attending MIT, Galvin began taking night classes at the School of Fashion Design in Boston and quickly realized that she was on the right track. There she learned the basics of dressmaking, while she taught herself the art of millinery from old books, some she found in Ireland, obsessing over the intricacies all of one summer until she got them right.
The death of her much-loved Granny Galvin four years ago was another catalyst in determining Galvin's future. Her description of what happened after her grandmother's death can only be described as extraordinary. "I felt something had happened. An overpowering sense of creativity came over me. Suddenly it was, `Oh, God, look at what I just made.' And it started getting exciting. It was like I was blind but woke up one morning and found I could see."
Though Galvin has spent almost half her life in Boston, her connection to home is still strong. It's where she gets much of her inspiration for her work. "There's nothing like being on the beach on a cold winter's day. Or taking a walk in Belleek Woods, beside the river with the houses on the other side and smoke coming out of them. I come back from Ireland and I have a million ideas."
At the same time as Galvin was showing her hats in a Boston art gallery, a major exhibition of hat forms by fellow West of Irelander, and the most famous hatter of them all, Philip Treacy, opened in Dublin's Irish Museum of Modern Art.
"In the old days people wore a hat to conform, but now it's almost an act of rebellion," Treacy observed when he came over from London for the opening.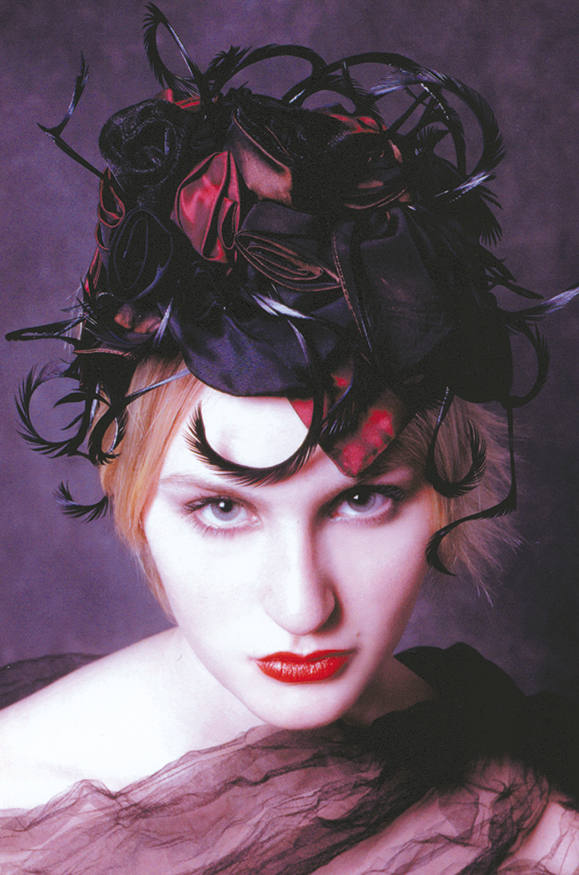 The two events combined might suggest that hats have become such rarefied objects nowadays that they belong in art museums. But Galvin told me two stories indicating that a hat that rises above the purely pragmatic may be rare but definitely not irrelevant.
At this year's Kentucky Derby, while TV stars like Loni Anderson and Courtney Cox showed up in conventional brimmed hats, it was a complete unknown, wearing a ravishing black and white Galvin design, who attracted the attention of every TV camera in sight and had all the anchors asking who she was. "I'm not anybody," she admitted, happily soaking up her 15 minutes of fame courtesy of a Galvin hat.
Hat-starved women also displayed their enthusiasm recently when Galvin was invited to show her hats at a featured event during Cincinnati's prestigious Annual Flower Show hosted by Irishwoman Mary Margaret Rochford, head of the Cincinnati Horticultural Society.
"It was like a church bazaar," Galvin says, remembering the aftermath of the sedate tea party. "Hats were flying all over the place. All the women wanted to buy two or three."
Realistically though, fashion begins in New York and Galvin knows it. "It's all about New York. When Vogue or W magazine shows a hat it's always by a New York-based hat designer because it's so much easier for them to access something right there in their own backyard."
Having said that, Galvin revealed that Vogue had recently borrowed some of her hats for a fall/winter spread, an indication that New York's fashion vortex has registered Galvin's presence, which nicely fits with her future plans. Meanwhile, her website (www.mariegalvin.com) allows her to do business with anyone anywhere.
It's been a hectic year so far for Galvin: the Cincinnati show, the Kentucky Derby orders, Boston fashion week, but the hard work has brought her closer to refining her goal. "I finally figured out what direction I need to go in. I want to concentrate on hats. They're my strong point." ♦