How one Man's dream became a reality.
It all began with a castle. In 1987, a husband and wife from the nearby town of Ballyvaughan purchased a 16th-century tower house. Newtown Castle, along with a neighboring country house and a 17th-century coach house lately used to shelter cows.
Yes, these were fixer-uppers. The slate-roofed residence Newtown House was showing its hundred and fifty years, and the older structures were well on their way to ruin. New owner Michael Greene and Mary Hawkes Greene redid Newtown House first, opening a bed and breakfast named one of Ireland's Top 100 in its maiden year.
Michael remembers what happened next.
"I was out rebuilding one of our stone walls," says this 42-year-old father of three, "and I had nothing to do but think. I said to myself, `If we restore the castle, that's all we'll have – a restored castle. A thing to look at. I wanted to accomplish something more.'"
We're sitting in the pub of his family's Ballyvaughan hotel, Hyland's Hotel. Michael is soft-spoken, with a warm, easygoing manner and a quiet confidence. On the day he's recounting, he was employed as manager of this hotel, a Greene family business for generations.
"The idea came out of nowhere," he tells me. "I suddenly thought, `I know what I'm going to do with the property. I'll build an art college.'"
I mention the ballpark-building epiphany in Kevin Costner's movie Field of Dreams. Michael nods. He's heard this before. As it happens, it might have been less unexpected had this former County Clare hurling and Gaelic football star abruptly decided to construct a deluxe athletic pitch in the backyard. He does not have a background in art. Still, a "natural interest" was always there:
"Back when I was running the hotel, for example, I used to give prizes – books, sketchpads, watercolors – to students visiting here from cities like Limerick and Dublin, to draw and paint the Burren."
More on the Burren in a minute. But first: how did your wife react when you walked inside and shared your art college dream?
"She thought I was mad," Michael says.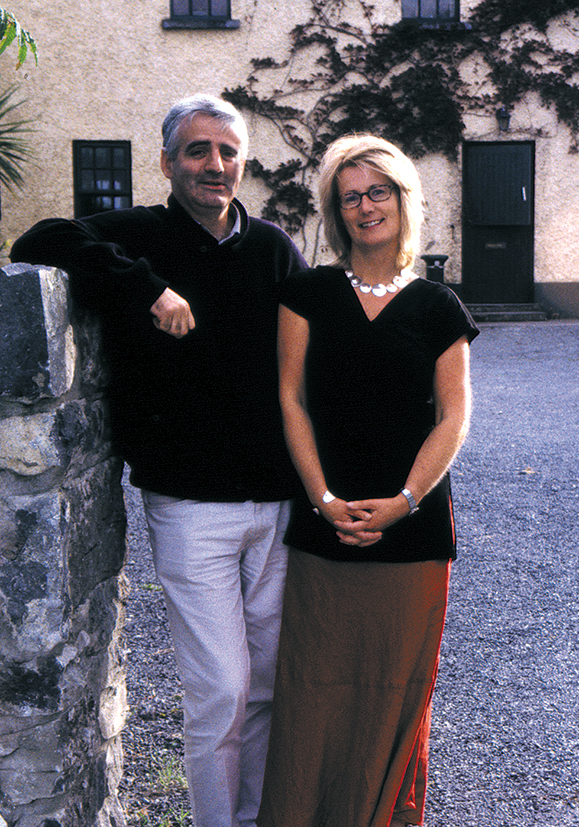 I meet Mary Hawkes Greene in a café on the lovely campus of The Burren College of Art, officially opened July 29, 1994, with a visit by then Irish President Mary Robinson. Today Mary, also 42, is the school's savvy, dynamic director, regularly visiting North America and Europe on networking forays. But in the beginning?
"I'm afraid I was less than encouraging for several months," confesses Mary, a witty, engaging woman wearing smart tortoise-shell glasses. "We had a one-year-old child and a baby on the way. Michael was working full-time at the hotel. I was teaching in Gort. We had a guest house to run. But Michael had a vision. And it wouldn't go away."
In time Mary came to share this vision. Clearly her own unusual background helped bring this about. Raised in Askeaton, County Limerick, she had traveled much of the world solo, seeing places like Malaysia and the Middle East by the time she met Michael. Following their marriage, she spent five years teaching traveling people, many of whom had never set foot in a classroom before (she has a graduate degree in special education). Something in the boldness of her husband's dream, one imagines, spoke to her own adventurous nature.
Consider, too, the example of her mother. Nora Hawkes, it turns out, founded her own school, the coed, non-denominational St. Mary's Secondary School in Askeaton in the 1940s. Running St. Mary's until she was 70, Nora subsequently moved to Tanzania, teaching English and math in a classroom beyond the reach of phones until the age of 79.
An austerely beautiful realm of stepped limestone hills overlooking Galway Bay, the Burren, in north County Clare, has long been a magnet for artists. The ever-changing light fascinates the eye, and lyric reminders of the area's ancient human past are everywhere: windswept dolmen tombs, earthen ringforts, stone wails hand-stacked a millennium ago.
"The area has a rich educational tradition as well," Michael tells me proudly. "From the seventh to the 17th century, this was an important center of learning. There was the O'Davoren law school, one of the last great medieval Irish law schools. There was the poetry school at Finnavarra. There was the monastery at Corcomroe Abbey. What we're trying to do is recreate this tradition of learning."
"Michael has such a strong, intuitive sense of what's special about this place," Mary says. "It goes beyond his knowledge of the history and landscape. It truly is something spiritual with him. He feels this place; it pulsates through him."
Then she smiles at a memory. "When we decided on marriage, I asked Michael where we would live. Mind you, the world was my oyster as far as I was concerned. But he looked at me in amazement. He couldn't believe I'd want to live anywhere but here!"
To dream of reviving higher learning in North Clare is one thing. But how does a private individual – or two private individuals actually go about founding a place like Burren College, a fully accredited, four-year residential fine arts institution, the only such non-urban school in Ireland?
From the sound of it, Michael began by spending months with a phone welded to his ear.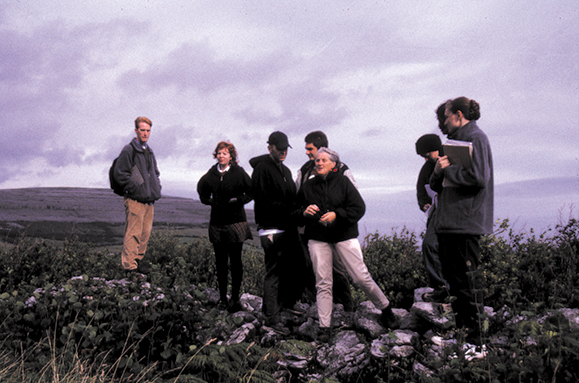 "Starting out I rang anyone and everyone who could give me advice," Michael recalls. "Art college administrators, leaders of arts boards. I got a lot of good people involved right away."
Planning and research occupied the early 1990s. In 1994, the school's accreditation application was submitted to the state. It passed on its first try. That same year grant money arrived from the European Union, the EU having recently kicked off a generous five-year development plan for Ireland.
"Much of what happened early on was serendipitous," Mary acknowledges, "including the way we found our first dean, Eugene Wicks. Without him, things might have been very different."
Wicks, an American painter and longtime Director of the School of Art and Design at the University of Illinois, brought three decades of relevant experience to fledgling Burren College. His U.S. connections proved invaluable as this tiny Clare school tried to break into the study-abroad market (since Ireland's university art schools are free for Irish nationals, tuition-funded Burren College actively promotes overseas).
But how did they convince this distinguished American academic, on the verge of retirement, to take the job?
"'Twas brilliant," says Michael. "We had everything in place, you know – the funding, the advisory council; I was ready to push the button – when a problem arose with our original hire as dean. So I began ringing like mad again. I think I rang the head of every art college and half the university presidents in America. I'd simply dial the number and say, `Hello, I'm looking for a person to come over here and run an art college. Would you know of a good candidate by any chance?'
"Eventually I was put in touch with Gene and persuaded him to visit Ballyvaughan and have a look around. Well, that first evening we went to a pub in Doolin and had some pints. We got along brilliantly. By the end of the night he was hooked."
What followed could be out of a movie. Wicks and wife Bonnie sold house and car, packed their belongings into 30 cardboard boxes, moved to a thatched cottage off the coast road, and promptly fell in love with Ballyvaughan. Wicks expertly oversaw the birth of Burren College while Bonnie became local treasurer and a mainstay of the town bridge club. In 1998, when Wicks finally did decide to retire, the college threw a huge goodbye party in the castle courtyard. Everyone in the community showed up. The shindig lasted until 6 a.m.
North Clare can't compete with Dublin, Belfast, or Limerick for extracurriculars, of course. But Galway is less than an hour north, and the college takes its charges to Irish cities, as well as to London, Amsterdam and Paris, for museums and exhibitions.
"The students who do best here," Mary says, "are the ones who have already decided on art of some kind as a career. They appreciate the lack of distractions, the opportunity to really focus on their work."
Michael seems especially pleased with the way many students – hailing from places like Scandinavia and Japan, as well as the U.S. and Ireland – develop close ties with the community – his community.
"They teach art in the primary schools, and play music in the pubs, and dance the sets," he tells me. "One of our American students, an expert in African drumming, fell in love with playing the bodhran."
The school's greatest drawing-card is the Burren, needless to say. Students who like to hike are in heaven from day one. And the area's spectacular terrain, rare flora, and ancient history give the school as inspirational a visual setting and ambience as any art student could want.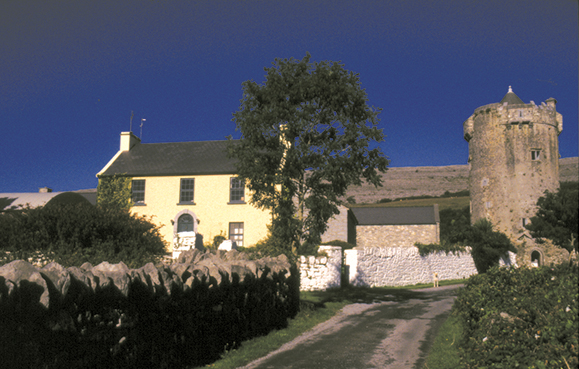 Standing atop Newtown Castle one is surrounded by spectacular views. To the north, Galway Bay glitters bright blue in the sunshine. Green pastures carpet the land between here and town, a mile bayward. Terraced, silver-topped hills ring the valley, one rising just behind the castle.
This handsome five-floored edifice, whose stone base and pointed crown give it a rocket-ship appearance, was restored in the summer of 1994, winning Michael and Mary a National Trust Award. Today it is open to the public and of course to students, whose art is often exhibited inside its circular whitewashed walls.
"The link was forged when we put the roof on," says Mary, recollecting the day a crane hoisted a six-and-a-half-ton "bird-cage" of Irish oak above the battlements. "That was the moment we connected to the past and became part of the future."
I'm reminded of Mary's words later in the day when I catch a talk in the restored coach house, now the main lecture theater. Visiting Irish artist Brendan Earley shows a videotape of recent work, mixed-media installations featuring stage-set rooms, projected images, looped music, and the artist himself, diving in and out of Edward Hopper-esque spaces with Buster Keaton-like animation.
It was a memorable hour, sitting inside a thick-walled, 350-year-old building, once home to castle coaches, and watching witty postmodern video. The experience sums up what is so special about Burren College: a school set in an ancient landscape, overlooked by an ancient tower, yet a place filled with hip, forward-looking faculty and students, all searching for new ways to express what they see and feel as they walk these limestone hills and mount the castle stairs. ♦