Can an Irish horse win the prestigious Breeders Cup?
In 1907 the Epsom gallery was horrified to see an Irish owned, Irish trained (if Berkshire bred) horse, Orby, storm to victory at 100/6 in the most prestigious classic race for three-year-olds in the world, the Epsom Derby. The reaction of the top hat and tails aristocracy was to leave the parade ring for the presentation. "It's enough to make one's hair stand on end. How absolutely devastating that Britain's blue riband race has been won by a peasant from Eire" snorted some Lord or another. Nor was the owner, Ted "Boss" Croker, received by the King. When news of the Derby victory reached Dublin, a woman thanked the Lord she had lived to see a Catholic horse win the Derby!
The fact that an Irish trainer had landed the classic for the first time happened almost by accident. A few years earlier the Jockey Club had refused to allow his horses to go into training at Newmarket, forcing Croker to send Orby to F.F. McCabe at Glencairn in South Co. Dublin. Just four Irish trainers have been back to the winner's enclosure at Epsom since the gate was closed on the Orby team. Since Arctic Prince's victory for J.M. McGrath in 1951, Vincent O'Brien, J.M. Rodgers and David O'Brien have taken racing's most famous classic.
Fast forward to Epsom last June when possibly the greatest three-year-old of the century, and some pundits say, perhaps ever, romped home to screams of support and yelps of adulation usually reserved for rock stars. Even Queen Elizabeth herself, not known for any outpourings of emotion (though when she does become excited you can be sure there is a horse involved somewhere), was jumping up and down, waving her specially monogrammed race card and binoculars and urging the Irish speed machine on. And boy did Galileo oblige. The beautiful bay son of Saddler's Wells, one of Coolmore's star stallions out of Arc winner Urban Sea, also owned by Coolmore, blazed by to take the Derby with great style, writing himself and all his Irish connections into the record books.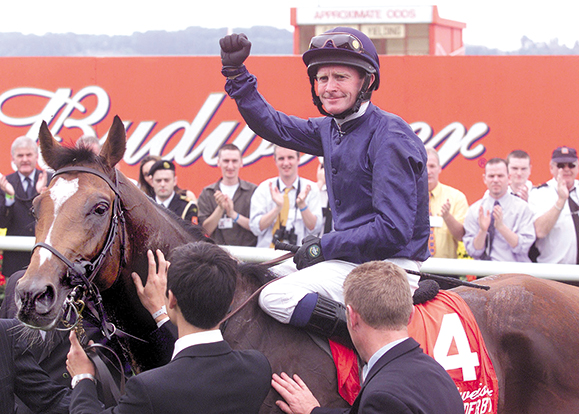 This time round in the parade ring, how different it was from that first Irish victory all those years ago. Well, you might say, when it comes to racing just about anywhere in the world, we Irish have come a long way baby!
The Lords in their top hats and morning coats, as many hired for the day from Moss Bros in London as there were bespoke Jermyn Street tailored suits, milled around the Irish owners pressing the flesh and patting them on the back. If their Ladies, in haute couture from St. Laurent, Valentino, Armani and just about every designer in Europe, topped off with magnificent chapeaux, looked chic, the Tipperary-born owner Susan Magnier literally looked a million dollars and her husband, Cork-born John, master of the legendary Coolmore Stud farm in Fethard, Co. Tipperary, had the broadest smile. They had flown in for the race in their own G5. Michael Tabor, a self-made multi-millionaire from the East End of London, was co-owner with the Magniers, and he too was besieged by minor royals and aristos, eager to congratulate the stunning achievement.
As they waited for the Queen to present the trophy, jockey Mick Kinane, also Tipperary-born and a man of few words, told the horse's young trainer, Aidan O'Brien, that Galileo had given him a powerful trip. Kinane, who has won just about every major Classic in Europe, pronounced: "Galileo is the best horse I've ever ridden, a real star."
For 31-year-old O'Brien, who trains in Ballydoyle, the state-of-the-art training establishment set up over 60 years ago by the legendary Vincent O'Brien, it was a dream come true. O'Brien still looks like a school boy and is regarded in racing circles as a workaholic genius. No relation of trainer Vincent O'Brien, he was plucked from relative obscurity a few years back to train the world-class string for billionaire Magnier. The partnership has been the recipe for unprecedented success.
Sheik Mohammed al Maktoum, Defense Minister of Dubai, one of the richest of the United Arab Emirates, and brother of Hamdan, the ruler of the tiny country, was first over to congratulate the winners. That in itself made for a good yarn.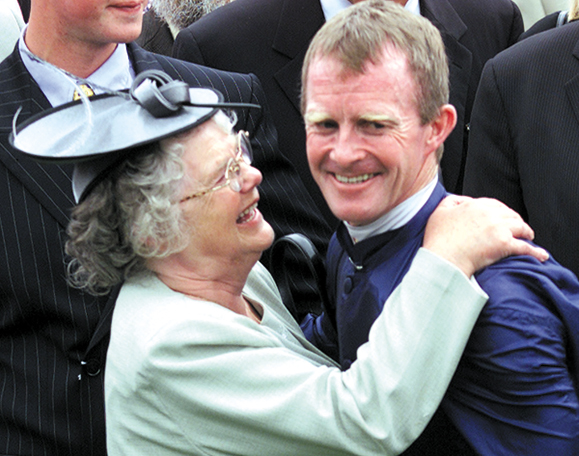 The Maktoums know all about being shunned by the powers that be in British racing too. When they first came on the scene in the early '80s, they were disparagingly referred to as "the Arabs." Indeed this writer remembers being in the winner's enclosure at Epsom in the mid '80s and the Queen, accompanied by Prince Philip, Prince Charles and Princess Diana, all walked straight past the UK public school educated Maktoum sheiks, yet stopped to talk to their trainer, Sir Michael Stoute. The Maktoums poured hundreds of millions of dollars into making themselves the force to be reckoned with in the international bloodstock business. They went to all the major sales and paid record-breaking prices for the top yearlings. For the last 15 years or so it was obvious that the only serious competition for the Dubai royals was coming from Ireland: to be precise, from Tipperary's Coolmore Stud and John Magnier. The Maktoums were given a real Céad Mile Fáilte every time they flew in here in their private 747 Jumbo jet, with its golden staircase. They went on to base their breeding operation in Ireland. In jig time they had bought seven of the top stud farms in the country, again pouring millions into them to make them state-of-the-art and hiring the very best people, all paid a massive premium to run them. Kildare-born veterinarian Michael Osborne now heads up their massive racing operation in Dubai while his son Michael, also a veterinarian, heads up Mohammed's world famous Kildangan Stud in Kildare.
Famous owners who had straddled the bloodstock world like Colossi for years, HRH the Aga Khan, Greek shipping billionaire Stavros Niarchos, US billionaire Bert Firestone and his wife, Diana, one of the Johnson &Johnson family, Swiss-based Walter Haefner, Isle of Man-based Robert Sangster, as well as a number of royals from Saudi Arabia all became virtual bit players as the Maktoums and Magnier battled it out on the race track as well as in the sales ring. Indeed, so ferocious did the competition between these two racing super powers become that towards the end of the '80s, a summit was held in Dubai, billed as the summit in the sand, and a truce of kinds was declared.
This year the pundits seem to agree that Magnier, with Coolmore and Ballydoyle in Ireland, in addition to the famous Ashford Stud in Kentucky, where Queen Elizabeth has been their guest, and a huge stud farm in Australia, has inched ahead. Following Galileo's win at Epsom, he set out to win the Budweiser Irish Derby at the Curragh on July 1 and the record-breaking crowd saw him flash past the post to win by eight lengths. Grown men and women wept with emotion at the sight. Former Taoiseach Charlie Haughey's daughter Eimear, herself a distinguished bloodstock breeder, admitted that she too had been reduced to tears by the magical sight. For jockey Kinane, it was a dream come true. Up to now, winning the Irish Derby had eluded him, and he too was in tears as his wife, Catherine, three daughters and mother all hugged him. Sue Magnier, stunning in a white suit, with a large white hat, was literally sparkling. And it was not just the choker of diamonds around her neck and at her ears that glittered. "It's such a privilege to own a horse like this. We are truly blessed," she said. Even her normally taciturn husband sported a broad smile as, surrounded by racing press from all over the world, he expressed his delight at this latest Classic win. Trainer Aidan O'Brien was hugged by his wife, Anne Marie, and their four young children. "I was always confident he could win today," he said.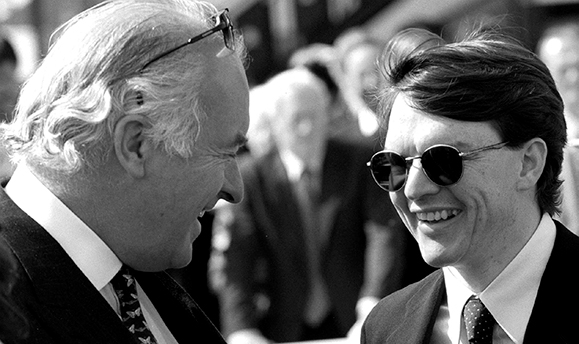 The stage was then set, in the 51st running of the King George VI and Queen Elizabeth Diamond Stakes, for a duel at Ascot on Saturday, July 28, between Europe's two most powerful dynasties, Ballydoyle trained, Coolmore bred Galileo, unbeaten in his six-race career, and Sheik Mohammed's pride and joy Fantastic Light. Record crowds turned out to witness a public execution and a coronation all in the same race. In many ways it was the race with everything. A battle billed as a clash between peaks of generations of racing empires, for once living up to its hype.
Even before the race was run, it provided major drama. Mick Kinane picked up a two-day suspension at Leopardstown in Dublin ten days before the race, enough to make him miss the ride of a lifetime. Kinane appealed his case to the Irish Turf Club and two days before the race they adjourned the hearing without a decision. A nation held its breath. Would the owners run their horse without the jockey who had ridden him in every previous race?
In an unprecedented move Kinane went straight to the High Court in Dublin the day before the race and succeeded in his application for an injunction to temporarily stop the two-day riding suspension. A collective sigh of relief rippled through the racing world.
And on the day, it was Galileo into the straight and Galileo at the line, but in between Fantastic Light had caused the crowd to hold its breath by reeling in the winner with a furlong to go. But true champions are not crowned with bloodless strolls, they are forged in battles, and the way the Irish colt dug deep to quicken again and shake off Fantastic Light with the colorful Frankie Dettori on board was impressive to say the least. Scaling heights while hinting at unseen depths is what sets Galileo apart and in the process has brought his winnings this season to over $1.5 million.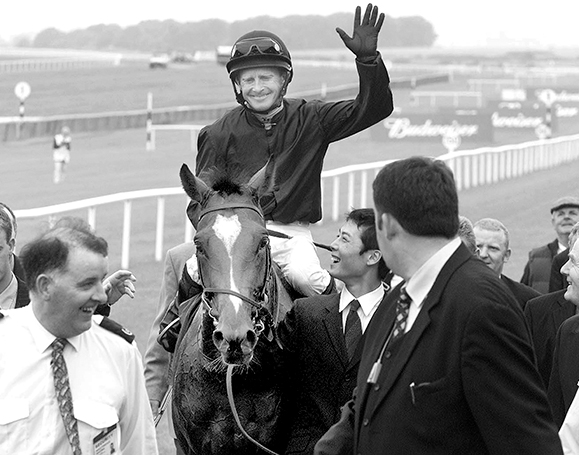 Graciousness was in the air at Ascot: winners praised losers, the vanquished lauded their conquerer.
"Wasn't that great?" said Sheik Mohammed. "We have no excuse, our horse ran a fine race but we were beaten by a superior horse. People talk about the competition between Godolphin (the Maktoums' racing company) and Coolmore but it is good for racing. We compete very hard but we are friends. They are good for racing. We are good for racing."
So now it's been decided to take the wonder horse across the Atlantic to do battle with his only remaining competition, America's top three-year-old, the mighty Point Given (Coolmore Stud owns Thunder Gulch, Point Given's sire!) in the Breeders Cup Classic at Belmont Park on October 27th. Already a major invasion of Irish punters is being planned to witness the ultimate head-to-head between Europe's and America's finest three-year-olds. If he wins, Galileo will become the first $100 million plus race horse in the world. Undoubtedly, it will also be his last race. He will return to Coolmore in Tipperary to begin what promises to be an equally record-breaking career as a stallion as his name goes into the annals of racing along with all the other Coolmore greats. Some years back John Magnier invited me to tour the now legendary stud farm. I would imagine there are four-star hotels that don't provide the luxurious facilities provided for the stallions. Students fly in from all over the world to train there.
But best of all, since the profits from breeding thoroughbred bloodstock are tax free in Ireland, Galileo should go on to bring Magnier, already reputed to be worth almost $2 billion, even greater riches. It will certainly consolidate his position as capo de tutti capi in the rarefied world of the sport of kings. ♦