Irish literature and lore shows Mulligan little respect.
The very opening sentence of James Joyce's acclaimed Ulysses introduces Buck Mulligan, a ribald braggart who, before many pages, is borrowing a quid to "get gloriously drunk so as to astonish the druidy druids," making an utter fool of himself in a "jester's dress of puce and yellow and a clown's cap" and identifying Shakespeare as "the chap that writes like Synge."
Prof. Kenner wrote in A Colder Eye, a scholarly work on Irish writers, that Mulligan "was a gilded turd of a name. If `Buck' is an 18th century honorific, `Mulligan' is slum-grubby, a low name indeed: Mulligan, a class of stew. To call your man `Buck Mulligan' is to liken him to a tramp who affects calling cards."
The American Dictionary of Slang defines Mulligan as "a stew, originally made by tramps, composed of odds and ends of meat, vegetables, etc." As a usage reference, it cites Jack London describing "hundreds of hoboes with whom I cooked Mulligans."
In underworld parlance, the slang dictionary adds, Mulligan is a synonym for a copper, the police, and in Australia the name personifies a professional gambler.
The calumny on the proud name of Mulligan is even more shocking in The Informer, Liam O'Flaherty's powerful novel set in the declining days of the Irish Civil War. Gypo Nolan, the lumbering giant, points a "thick, short, hairy fore finger" at the sickly tailor Peter Mulligan and cries out before an I.R.A. court of inquiry, "It's him that informed on Frankie McPhillip an' he knows that I saw him."
The real informer, of course, was Gypo himself, as monumentally portrayed on film by Victor McLaglen in an Academy Award-winning performance. Yet "The Rat" remains the loyal and innocent Mulligan's nickname throughout both the novel and Dudley Digges' film script.
Film director John Ford compounded the fracture of a proud name by casting that super wimp Donald Meek as the tailor Mulligan.
Songwriter Percy French, who memorialized Ballyjamesduff, near where my forebears came from in County Cavan, seemed on the verge of giving the family name a bit of a boost in Phil the Fluter's Ball. The dancers shyly took the floor when "First little Mickey Mulligan got up to show them how…" But Mulligan had hardly stepped out to the "toot of the flute and the twiddle of the fiddle," before the brazen "Widda Cafferty" shouldered him aside and was "lepping like a hare!" And that's the last we hear of Mulligan at that grand cotillion in the town of Ballymuck.
The name Mulligan is not writ large, if, indeed it is written at all, in Dublin's Writers Museum. However, it does have instant recognition elsewhere around town. Almost everyone you meet, especially over a jar, seems to have heard of Biddy Mulligan, the Pride of the Coombe. And any street urchin can direct you to John Mulligan's Pub on Poolbeg Street, a block or so off the Liffey.
Biddy Mulligan was a drag creation of the comedian Jimmy O'Dea, who decades ago topped the variety bill at the Gaiety Theater and played the boozy old trout in endless Christmas pantomimes. In fact, O'Dea dreamed up the character when he saw an old biddie come stumbling out of a pub near the Moore Street market.
His "Biddy Mulligan" was a boisterous street vendor who reigned as "belle of the Charladies Ball." Her turf was the squalid tenements of "The Coombe," a slum area near Christ Church and St. Patrick's Cathedral that was gobbled up by urban renewers long before the Celtic Tiger reared internet millionaires. Even its infamous pub, The Four Corners of Hell, was gentrified into a lounge bar with plush velvet banquettes, a color telly and an unpronounceable Irish name.
John Mulligan's Pub is still there in Poolbeg Street, little changed since Joyce used it as the setting for the denouement of "Counterparts," his only pub-crawling tale in the Dubliners collection.
It was this literary connection that brought young Congressman Jack Kennedy to Mulligan's Guinness-stained mahogany bar and earned him a place of honor, along with the Pope and the Sacred Heart, in the portrait gallery along the paneled back wall. The future U.S. President had read the Joyce story in a literature course at Harvard.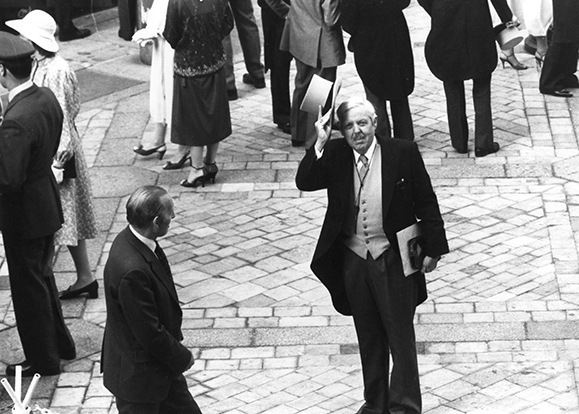 My cartoonist friend Dik Browne, who created the comic strip Hagar the Horrible, also was drawn to John Mulligan's pub by his enthusiasm for Joyce's "dear, dirty Dublin." Having spent several days investigating both his own Irish roots and Hagar's Viking roots, he wandered into Mulligan's early one evening.
Journalists from the near-by newspaper offices had just begun to gather. "So this is where Joyce set that famous arm wrestling scene," Browne enthused, hoping to strike up a literary conversation. "I can't tell you what a thrill it is to be in a genuine Joycean pub." He drew nothing but blank stares and several turned backs. Finally a wearily wise barman leaned over and whispered, "Yank, a flea in your ear. Don't keep going on about that Joyce fellow. He's not very popular around here."
Nor should he be, after passing the Mulligan name to Buck.
To atone for his impertinence, Browne made his way to the Pro-Cathedral and encountered another John Mulligan, no relation to the publican, sweeping wedding rice from the church steps. "How come," the cartoonist asked the sexton, "Dublin, with the largest percentage of Catholics of any city in Europe, does not have a magnificent gothic cathedral instead of just a pro-cathedral?"
Your man answered, without a touch of irony, "We've got two: St. Patrick's and Christ's Church. We're waiting for the Prods to get out."
My brother, John Mulligan, retired deputy fire commissioner of New York City, went straight to that eponymous public house on his first visit to Dublin, even before visiting the lads at the Fire Brigade headquarters just up the street.
He posed for my camera in front of the twin etched glass windows proclaiming "Wines and Spirits." This venerable facade adorns the cover of a scholarly tome, Irish Pubs of Character, and has been reproduced endlessly on tourist posters and linen tea towels.
"Is there a John Mulligan still extant?" the brother asked the older of the two barmen before identifying himself as a possible kinsman.
"Ach, no," came the answer. "The last in the line passed on quite some time ago. He was known to one and all as a decent old skin."
To which a scowling chap in the corner muttered into his foam-flecked mustache, "Mulligan was the tightest old skinflint that ever pulled a pint. He wouldn't stand his own mother a glass in the middle of the Sahara."
My wife is a Murphy, a descendant of Irish kings, so she keeps reminding me. And high kings at that.
To determine whether the Mulligans ranked even among the low kings, I ventured into the genealogy office or whatever they call it at Dublin Castle. I was attended by a tall mournful looking researcher whose thin smile, as Daniel O'Connell said of Sir Robert Peel, "was like the silver plate on a coffin."
After a brief search though the files, he photo-copied for me some slender data that did indeed confirm regal forebears, not quite Irish, somewhere back in the Mulligan begats.
"The gaelic name is O Maolagain," the genealogy report stated. "The Mulligan family is descended from Milesius, King of Spain, through the line of his fifth son, Ir."
Well, I once heard a young priest straight out of Maynooth say from the pulpit that St. Patrick probably was born in Spain. So there's glory enough for you, even if there were letters to the bishop about his preposterous assertion.
The data further revealed that the Mulligans "were styled Princes of Meyliffey, and their possessions were located in the present counties of Mayo, Derry and Cavan. In the last named county, the Mulligans were hereditary bards to the O'Reillys," which may account for my own journalist tendencies.
The chap at the castle added, rather disinterestedly, that Mulligan may have been Anglicized from the Norman name Molyneux. Trinity College in the 18th century, I later learned, graduated three famous Molyneuxs: Samuel, an astronomer; William, the philosopher, and Thomas, a physician who was one of the founders of the Dublin Horse Show.
A French branch of the family boasted a Capt. Molyneux, who made a fortune as a distiller, not of whiskey or brandy, but of eau de toilette – toilet water. I purchased a spray bottle of the Captain's shaving lotion at the Shannon Duty Free Shop and found it to be potent stuff. The fight attendant brought me three or four gargles of Cork Gin before serving dinner and, afterwards, when I gave my chin another spritz, a couple of Baileys on the rocks.
On this side of the ocean too, the name Mulligan has come in for some unflattering usage.
In the 1880s, when unwelcome Irish immigrants were still flooding these shores, the Mulligan Guard was a sell-out figure of fun in the music halls. Written by Ned Harrigan and performed with his partner, Tony Hart, the plays and skits lampooned the tenement-dwelling Irish on Manhattan's Lower East Side as drinking, brawling, dancing, singing amadáns with pretensions of climbing the social ladder all the way from shanty to lace curtain.
George M. Cohan might have rescued the Mulligan name from such cruel satire by fitting the spelling into the lyrics of "H-A-Double R-I-G-A-N." Instead, he chose to honor his idol, Ned Harrigan, who per-petrated these stage-Irish stereotypes.
Even Tennessee Williams, who kindly invited me to his New Year's Eve party when I was crossing to Ireland on the S.S. America, has two inconsequential characters, Lord and Lady Mulligan, in Camino Real, one of his more incomprehensible plays. I don't have total recall of that party, but I hope I was not the inspiration for these babbling bibblers in a Mexican bordello.
The "Mulligan" in golf, an illegal extra swing on the first tee after an errant drive, is a purely American invention. It is not granted or even known on any of Ireland's 350 golf courses, except maybe when some Yankee tourists are playing by their own rules.
As far as I have ever been able to find out, golf's original Mulligan was an affluent New Jersey dentist who was a deplorable hacker but very generous when it came to making up the annual deficit at his country club.
This maladroit molar mechanic became so depressed over his poor play, he threatened to resign from the club and take up bowling, probably because the ball was larger.
Frantic to avoid a dues assessment, the club members conspired with the pro to allow him an extra tee shot, "a Mulligan," to encourage his continued participation in the royal and ancient game.
Soon everyone everywhere wanted "a Mulligan." The bonus extra drive became so popular that the starter's shed at many a course displayed a sign: NO MULLIGANS ALLOWED. Now there's a how-de-do.
When traveling, I sometimes telephone a municipal course for a tee time.
"Name, please?" the pro shop always inquires. My answer invariably is met with hoots of derisive laughter.
Ah well, at times like that I recall with pride Hercules Mulligan, the courageous tailor who spied on the British for George Washington; Richard Mulligan, the actor; Gerry Mulligan, the jazzman; Robert Mulligan, the director of To Kill a Mockingbird, and Judge William Hughes Mulligan, a fabled orator at the Friendly Sons of St. Patrick. No duffers they. ♦