Young people today know John F. Kennedy primarily for being assassinated and for his presumed dalliance with Marilyn Monroe. And that's a shame, because he meant something far different to an entire generation of Americans, myself included, who were young forty years ago.
When JFK was nominated for President in 1960, he was forty-three years old. He cut his hair to look older and curbed his humor to appear more serious. Ethnic and religious barriers were higher in national politics then than now. No Italian-American or African-American had ever been a member of the president's cabinet. Only one Catholic, Al Smith in 1928, had been nominated by a major party for national office. Kennedy's Irish-Catholic heritage was a formidable obstacle to election. All eight of his great-grandparents had come to the United States from Ireland, and the Kennedys were considered the epitome of a Boston Irish-Catholic family. But he shattered religious and ethnic taboos in a campaign that is now a centerpiece of American political lore.
In accepting the Democratic party's nomination for the Presidency, Kennedy declared, "The New Frontier of which I speak is not a set of promises; it is a set of challenges. It sums up, not what I intend to offer the American people, but what I intend to ask of them." On the day of his inauguration, he urged each and every American to "Ask not what your country can do for you. Ask what you can do for your country."
The Camelot Presidency followed. Kennedy was exciting and inspirational; handsome with dazzling charm, grace, and wit. His humor was spontaneous; not the canned laugh lines written by ghost-writers that we hear from politicians today. It could surface at any time and no one was immune to it. In 1961, with the Cold War at its peak, JFK met with Soviet Premier Nikita Khrushchev in Vienna. At one point, he asked about a medal that was affixed to Khrushchev's jacket and learned that it was the Lenin Peace Prize. "I hope you keep it," Kennedy told him.
During his short tenure in office, JFK presided over a rebirth of American politics. The environmental movement and nuclear sanity began on his watch with passage of the Nuclear Test Ban Treaty. He was a forceful advocate for civil rights, and accelerated the space program with the goal of landing a man on the moon by 1970. He also championed the Peace Corps, which gave the United States a benign role to play overseas instead of a more aggressive presence.
But Kennedy's most important contribution to American life was the infusion of a new spirit. His words moved a nation and inspired much of what was good in the United States in the 1960s. For most politicians today, the first and last value is themselves. Politics in America is now brought to the people by television, with illusion and deceit substituted for reality. Oftentimes, candidates don't even say what they think. They say what media advisers tell them to say. Rather than act in accord with honestly held beliefs, they rely upon opinion polls to distinguish "right" from "wrong." Getting elected is the ultimate value; an end in itself, not the means to a better end.
By contrast, Kennedy was an honorable politician in that he was committed to using the power of his office to make the world a better place to live. He came from privilege, yet cared about those less fortunate than himself. Under his stewardship, there was a commitment to build a more equitable society and close the gap between rich and poor. Compare that, if you will, to George W. Bush opposing an increase in the minimum wage from $5.25 an hour on grounds that it would be "bad for the economy." Whose economy.?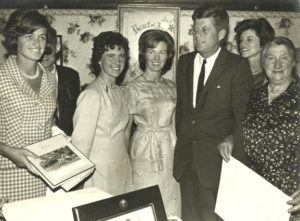 Kennedy was also the first American President to visit Ireland during his term of office. Viewed through the prism of history, it was a largely sentimental journey, but it meant a lot to people at the time. Over four days in June 1963, JFK met with distant cousins and received honorary degrees from National University and Trinity College. He also addressed a joint assembly of the Irish Parliament in its first televised session ever.
Again and again during his days in Ireland, the President sounded nostalgic themes: "No country in the history of the world has endured the hemorrhage which this island endured over a period of a few years [during the Great Famine] for so many of her sons and daughters…Ireland has never been a rich or powerful country and yet, since earliest times, its influence on the world has been rich and powerful…This small island has a family of millions who are scattered all over the globe, who have been among the best and most loyal citizens of the countries that they have gone to, but have also kept a special place in their memories of this green and misty island."
After one speech, a Dublin native told Kennedy aide Ken O'Donnell, "All of us love your President, and that's the only thing the people of Ireland have completely agreed upon since the British passed the Conscription Bill in 1918."
At trip's end, taking his leave, Kennedy told the Irish people, "This is not the land of my birth, but it is the land for which I have the greatest affection, and I certainly will be back in the springtime."
But springtime never came for him. Less than five months later, JFK was assassinated in Dallas. His death traumatized the United States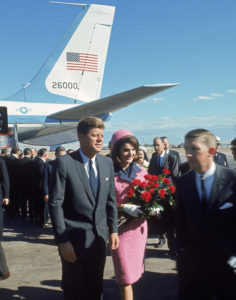 and, more than any other event ever, showed the unifying power of television. Recurring images of the final presidential motorcade; Jacqueline Kennedy, her clothes stained with her husband's blood; the murder of Lee Harvey Oswald; the President's funeral procession being saluted by his four-year-old son. All of these images and more were instantaneously carved into the American psyche. Daniel Patrick Moynihan, then an Assistant Secretary of Labor in the Kennedy Administration, told of a moment with newspaper columnist Mary McGrory. "Mary said to me that we'll never laugh again," Moynihan recounted. "And I said, `Heavens, Mary; we'll laugh again. It's just that we'll never be young again.'"
In Ireland, it was said, they cried the rain down.
Kennedy's assassination was succeeded almost immediately by two more cultural touchstones. In January 1964, the Beatles arrived in America. One month later, Cassius Marcellus Clay, Jr. dethroned Sonny Listen to become heavyweight champion of the world. Regardless of what the calendar might have said, those months were when "the sixties" truly began. Vietnam, inner-city riots, the drug culture, and more turmoil followed.
Meanwhile, for those who lived through his magic, the memory of John F. Kennedy has a special glow.
Maureen Kenney teaches American History at an inner-city high school in New York.
Now in her late fifties, she was born and raised in a middle-class Boston Irish-Catholic family at a time when the Kennedys were a source of Irish-American pride and the political equivalent of the Notre Dame football team. Each year, she devotes a class to the Kennedy Presidency. This past year, at the end of the class, one of her students asked her, "Ms. Kenney, were you in love with John Kennedy?"
For an entire generation, he was our hero. ♦