"Will you hold my hand?" asked Lauren Murphy as she braced herself to greet her husband's mourners. Lauren was speaking to Paddy Moloney, founder of The Chieftains, the Grammy award-winning musical ambassadors of Ireland. Paddy and the band had come to New York to play at the memorial service for Lauren's husband. Matthew O'Mahony, a merchant banker for Cantor Fitzgerald, had been on the 95th floor of Tower One on September 11. His death brought thousands of people to Saint Ignatius Loyola on Park Avenue. It also brought The Chieftains to grieve the loss of their number one fan.
"He never missed any of our concerts," said Paddy sadly. Paddy wanted to come to New York for Lauren but over his two-day visit he touched many hearts.
Down on Ground Zero the day after Matthew's funeral, Paddy played his tin whistle. Surrounded by a small group of Irish cops, friends and his daughter Edín, Paddy played the haunting "Táimse i mo Chodladh" (I Am Asleep), an Irish wake song. And as the weight of devastation sat heavy on the crowd's hearts Paddy played "Dochas" (Hope), lifting the spirits of all.
The old Irish tradition that inspired Paddy to come to Ground Zero made a difference to the rescue workers as they stopped, in the midst of smoke rising from the pits, to gaze at the sight of a small man playing music larger than the city itself.
"When I left the service yesterday, I knew my work here was not done, I felt my visit was not complete," Paddy said. "I hadn't planned to play those tunes, I hadn't rehearsed. That often happens — you get inspired at that very split second. Then as I played I felt I saw them all — the faces, faces without images. The mechanics of the music disappeared and my heart went into it. I got the shivers up my back," he said as he prepared to catch a flight back to Ireland, his personal tribute done.
Spending time with Lauren as she said goodbye to her husband of two years was important to Paddy and the band. "About two weeks ago Lauren called our office. She told us about Matty O and how he had loved our band. She said she would love nothing better than for us to play at his memorial service. So at that request we said we would come," said Paddy.
Lauren, who met the band through her work with the Letterman show as a publicist for Island Records, asked them to play at what she called "A Celebration of Life" for the man she loved. Matthew O'Mahony had lived life to the fullest, and gathered friends around him from all walks of life.
As mourners gathered in the Catholic church, Jon Bon Jovi began to sing. He was so overcome by emotion that he could not finish paying his tribute to his friend. It did not matter. Gathered tightly inside the church, the family and friends of Matty O simply held each other in sorrow. Lauren had asked Paddy to play Van Morrison's "God Shine His Light on Me," but without Van, Paddy said he couldn't. Instead, he played "Have I Told You Lately That I Love You," as Lauren, still brave in her emotions, smiled softly.
The Chieftains, who have been playing together for 39 years, felt moved to play for the 39-year-old Irish American with a special place in his heart for the old sod.
One of Matthew's closest friends told how Matt once said that he liked being up that high every day (the 95th floor), because on a clear day he could see the mountains of Ireland.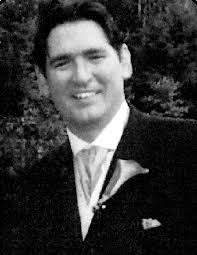 After meeting Lauren three years ago, he took her to Ireland to propose. A year later they were married in Saint Ignatius Loyola by the same priest, Father Mark Halligan, who gave his memorial service.
At Communion The Chieftains played "Danny Boy." "Lauren asked us to play it. It wasn't one of ours but it sounded great in the church. It was a personal touch, she said he loved the song," said Paddy.
"I really didn't know Matthew but I have gotten to know him in the last few days. I would have loved to have gone for a pint with him," Paddy added, echoing the feelings of many of the mourners.
"Matt made everybody feel a little extra special. He loved people. People from all walks of life flocked around him," his brother Brian said.
"Matthew was the youngest of five kids from an Irish American family out on Center East Long Island. He had a certain music in his heart, in his soul, and he played it every day," added Brian, who described Matthew and his brothers as the suburban version of the Bowery Boys.
"It is so hard to say goodbye," said Matthew's best friend, Adam Levy. "I can't imagine what life will be like without him. The only words that can describe it are Yeats's: `Think where man's glory most begins and ends. And say my glory was I had such friends.'"
"Can someone please let Rudy Giuliani know that Matty O was the real mayor of New York City," his college roommate Andy Schoenfeld said. One mourner said as she left the church, "He was a wonderful man but he never knew it enough."
As the service ended and the crowd spilled onto Park Avenue, the choir sang Van Morrison's "God Shine His Light on Me" and The Chieftains followed with "Limerick's Lamentation," a lilt that brought sad smiles to Matthew's friends and family. ♣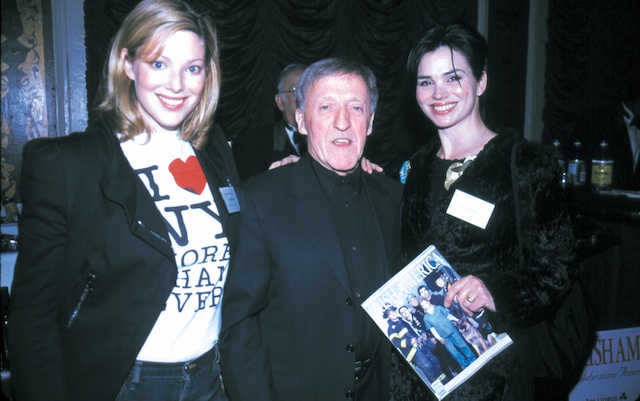 ---