Siobhan Tracey talks to Ronan Tynan about life, love and what keeps him sane.
As my knowledge of opera is almost solely limited to the trivia fact that "Un bel di" from Madame Butterfly is playing as Glenn Close wreaks her havoc in Fatal Attraction, I did wonder fleetingly whether I needed to brush up on a few key operatic terms before meeting Ronan Tynan, the renowned Irish opera and popular singer. I needn't have worried. A less pretentious and self-important character would be hard to find. No stranger to multi-tasking, he rushes in a few minutes late for our meeting, simultaneously introducing himself, apologizing profusely for his tardiness and talking on his cell-phone. The same rogue cellphone's malfunctioning that afternoon had necessitated an unscheduled stop at a Sprint outlet, throwing an already jam-packed schedule slightly out of kilter. He spends part of the next hour fielding calls and making consecutive arrangements to meet one caller at 7.00pm, another at 8.00pm and yet another for dinner. He appears to thrive on such a schedule.
Where to start with Ronan's long list of achievements? A quick synopsis is somewhat difficult. Though he came to professional singing at the comparatively late age of 33, he has enjoyed success in both a solo capacity as well as with the Irish Tenors. He is a qualified doctor, specializing in orthopaedics who says that if "this [musical success] were to be taken away, I would go back to medicine and be very happy." A skilled show-jumper as well as a successful horse-breeder, in 1998, he represented Ireland in Arnheim, Germany, as a member of the Irish Amateur Equestrian Team and came fifth in the Grand Prix and third in the team event. In the 1980s, he competed in track and field events for bilateral amputees, amassing 18 world records, six world championship golds and eight Olympic medals, five of which are gold. Ronan was born with a bilateral congenital deformity below the knee and had his lower limbs amputated following an accident at the age of 20. Meeting Ronan, it is apparent that this disability appears to have become a footnote rather than the defining aspect of his life — through tenacity and determination, he has ensured that it hasn't held him back from doing most of what he has wanted to do. He recently took on another project by writing his autobiography Halfway Home — My Life Till Now, currently in bookstores.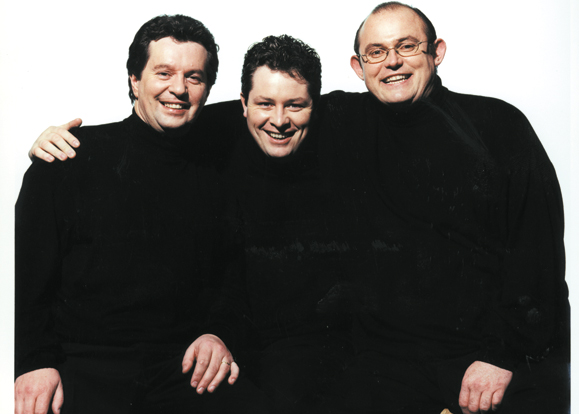 As one-third of the Irish Tenors — a role, which has probably given him his greatest exposure in the U.S., Ronan, with his colleagues, Anthony Kearns and Finbar Wright, has produced five albums which have sold over 1.5m copies worldwide. The trio have also appeared in three well received PBS specials. When I meet him, he is four days into their Christmas tour, which will end in Wilkes-Barre, Pennsylvania on December 21. The highlight of the tour will undoubtedly be their appearance in Carnegie Hall on December 17, which Ronan in greatly looking forward to. In his solo capacity, Ronan will spend January promoting his book before a singing engagement brings him to Florida towards the end of the month. He will be appearing in New York in February and in San Diego in March.
Now a Manhattan resident, Ronan speaks enthusiastically of both New York and the United States. He loves America unreservedly. "It is the greatest country in the world — a country where people will you to win, admire success and don't fear failure" — sentiments by which Ronan appears to live his life. He returns to Ireland regularly to see family, friends and his beloved horses but for the moment, to further his singing career, feels that New York is the place to be.
At this point in the conversation, Ronan receives another call and afterwards tells me that it is from Assistant Fire Commissioner Lynn Tierney, "a wonderful woman." He can't help himself from disclosing that he is to be made an honorary firefighter (in a ceremony which will take place on December 17 in New York). He is justifiably, very excited "absolutely thrilled to bits" by the honor, adding "they don't give them out lightly." He remarks that somebody with a disability such as his could not otherwise have become a firefighter — it is one of the few areas perhaps in which determination and a strong will to win will not overcome every obstacle.
Ronan's connections with the New York Fire Department go back a long way. He describes how, at the 1984 Paralympics in New York, he became friendly with some firefighters "who were very good to me" and have remained friends to this day. This friendship led him to offer to sing at the funerals of two of the three firefighters who were killed in the Father's Day tragedy in June, 2001. It was at these funerals that he met Deputy Fire Chief Ray Downey, who was to lose his life on September 11 and at whose funeral Ronan would sing. It is obvious that the tragic events of last September which led to so many unbearably sad singing engagements at the funerals/ memorial services of fallen firefighters are still very much on Ronan's mind. Ronan describes how he had sung for the President and Mrs. Bush in Washington, D.C. on September 10, and on September 11 was due to sing at a reception at the Pentagon but "I slept it out — can you believe that?" He made his way back to New York, via Amtrak, and like many others, tried to offer his services where they might be needed. As a qualified medical doctor, he offered assistance at St. Vincent's but as they were not overwhelmed by casualties, his help wasn't required. He was delighted then to get a call from Mayor Giuliani's office, asking him to sing at the service held at Yankee Stadium on September 23. He recounts mischievously that it wasn't the first time he had sung "God Bless America" at Yankee Stadium. The first time he sang it, the Yankees beat the Red Sox 8-2 (although it can't actually be proven that this was due to the inspirational effect of his singing!). Ronan also sang at the memorial for those who died in the American Airlines crash at Rockaway Beach in Queens. He describes this as one of the saddest events he has ever attended "People were so distraught, I have never seen people so despairing."
Ronan likes to feel that he can reach people through song. In his role with the Irish Tenors, he reflects that he is stuck with the tag of being "the emotional one." He claims that "if subtlety is required, then the other two won't let me near a song but f an emotion is required to be brought home to an audience — then I am the obvious choice." It is obvious that this idea appeals to him. An open and engaging character who talks unselfconsciously about himself, he describes how he wants "to make people cry and leave their sophisticated selves behind…music lovers are the same the world over. Whether in Manhattan or Ireland, they experience the same emotion when called upon to feel…" He reflects that through his earlier career in medicine, he sought a more cerebral way of trying to help people — by trying to give them a better quality of life physically, but that it is through singing that he can hopefully touch a person inside and perhaps tap emotions that they might not otherwise be able to access. Demonstrating a desire to spread a little happiness rather than to educate or promote "good" musical taste, he adds that he is eager to give an audience whatever they want "a bit of everything — opera, Broadway, French, Italian, popular songs -whatever makes them happy."
Ronan genuinely doesn't seem to consider that he is somebody who has achieved an unusual amount in life. "I'm a confident person and like myself a lot — you have to like yourself but I don't compare myself to other people or judge people on their successes and failures." He is unashamedly proud of his faith and relies on it at all times. It is the one part of his life that he never questions and he considers himself lucky to have what proves to be a huge source of comfort to him. At times of adversity, he invokes the help of God and believes very much in "God's will" in leading him to where he is today. At the same time, he is eager to point out that he "never wants to push religion down anyone's throat — I don't want to parade my religion. My mother said to me that what God took from me, he gave more back, and I suppose to a certain extent, I do believe that." He adds that he doesn't feel he has made it yet. Somehow, I find it difficult to imagine Ronan Tynan sitting hack at any stage to rest on his laurels and say to himself "I've made it" but find myself asking whether he could ever envisage thinking so. He replies that perhaps a U.S. No. ! record would do it but quickly adds (lest one consider that he has been suddenly overcome by an excess of self-interest) that a No. 1 in the U.S. for an Irish artist would be great for Ireland. He loves U2 and thinks that their success did wonders for Ireland (in the days before the Irish economy went into overdrive and performed its own wonders for Ireland!) and considers that Bono is a great role model. When talking about other "contemporary" artists he likes, he mentions Phil Collins, Garth Brooks and Joni Mitchell. He won't be drawn into saying anything less than complimentary about singers against whom he is directly competing for record sales. I was to be disappointed if I expected to hear accounts of diva-like tantrums (or just plain adolescent sulks) from Charlotte Church. Ronan has met her on a number of occasions and describes her as "a lovely girl, really friendly and well-adjusted."
As a renowned singer, track and field champion, medical doctor and now writer, I called upon Ronan to set his modesty aside and describe what he felt his greatest achievement was. His answer "being born into the family I was born into" was somewhat unsatisfying for somebody like me who likes to feel that one has some element of control in life and that it isn't just an arbitrary accident. Viewing my skepticism, he offered that it was this one achievement which facilitated all the others. "Without my mother's focus and my father's tenacity and support, I wouldn't be where I am today." On being drawn to offer an achievement over which he had direct control or input, he added that "qualifying as a doctor is up there…singing in Madison Square Garden was amazing and being made an honorary firefighter is huge." He adds that his parents considered his walking to be his finest achievement. His mother was determined that he would be "normal" but as for himself, as he had never known anything different, putting on his prostheses and walking seemed as natural as putting on shoes might be for another child.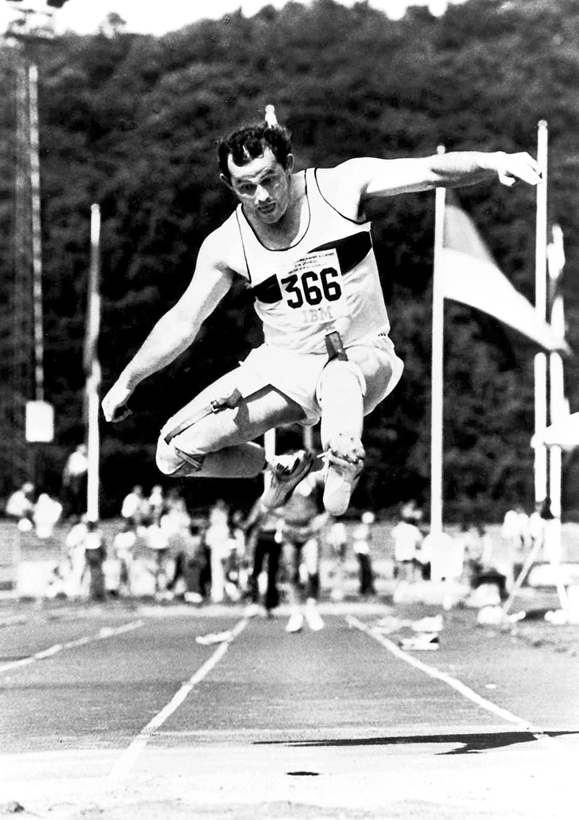 Perhaps the only area in Ronan's life in which he expresses any dissatisfaction is the difficulty in finding time for himself. Although he strikes me as a very energetic person — a doer rather than somebody given to over-analysis and somebody who thrives on being busy, he remarks that it can be difficult to find a balance in life. Though he gets home a couple of times a year to see his horses, these visits constitute his main leisure time and are the only holidays he is likely to get these days. He adds that even at "off-duty" times, he is sometimes approached by strangers who recognize him. Laughing self-deprecatingly, he adds "it sounds as though I think I'm a great man, doesn't it." He describes how, on a recent shopping expedition, a woman whose friend recognized him approached him and asked him to sing them a song. With this particular woman, Ronan put an end to the matter by asking her what she did for a living. When she replied that she was an accountant, he asked her whether she would do his accounts for him…getting his point across rather definitively. While he generally enjoys the attentions of music-lovers and supporters, he sometimes finds it intrusive and feels that some members of the public don't realize the effort involved in warming up a voice or the need to rest and cosset it and might interpret refusals to sing on demand as being difficult.
With regard to his personal life, Ronan is single. He relates that he was engaged in 1996 but that it didn't work out. "She was a great girl — but I'm a romantic, everything has to be perfect." He adds that in some ways, he would love to settle down -particularly to have children — "that would be an amazing thing" but feels that it would be difficult for anyone to put up with him as he never stays in one place for long. I get the impression that the same passion and inability to compromise that Ronan brings to his work and life in general means that a very dramatic coup de foudre would be required for him to surrender his single state. Regardless of this, he seems very happy and surrounds himself by family and friends. He was very close to his father, who sadly died in 1998. He is also particularly close to his sister, Fiona and enjoys the role of uncle immensely, having had his 15-year-old niece out for a visit on a recent occasion -something which he greatly enjoyed.
I leave Ronan, who refuses to let me pay for our coffee and his tea and honey (good for the voice!), settling up our bill. Even a brief meeting leaves one with an impression of a man of rich and varied talents who looks at himself and his achievements with a beguiling and genuine modesty. If the title of his autobiography Halfway Home — My Life Till Now is indicative of anything, Ronan is only halfway through his personal success story and we can expect to hear a lot more from him in the future. ♦