All they need love – The Lennon Clan.
Lennon, a surname found throughout all of Ireland, is the anglicized form of O Leannáin, or O Lionnáin, which has also been anglicized as Linnane and Leonard. The Irish surnames O Lonáin (Lenane) and O Luinín (Linneen) have sometimes also been translated as Lennon or Leonard.
Many of the O Leannáin clan can be found in County Galway as Lennon, while in County Mayo those belonging to the clan are usually called Leonard. The most important of these branches, however, are the O'Lennons of Fermanagh, which produced many distinguished ecclesiastics: no less than six of them are mentioned by the Four Masters as priors or canons of Lisgoole near Enniskillen, between 1380 and 1466.
In America, John Lennon (1768-1846) embodied all the romantic notions of a daring seafarer. His fearless feats on his ship Hibernia are part of American history.
John Brown Lennon (1850-1923), the grandson of the famous abolitionist John Brown, and the son of a tailor, became a prominent figure in the American labor movement. Lennon ran the Journeymen Tailors' Union of America and was part of the commission that helped to establish the Department of Labor under President Woodrow Wilson. For his efforts he was entered into the Illinois Labor Hall of Honor in 2000.
The lives of these two Lennons would provide suitable material for writer and documentary filmmaker Thomas Lennon, who explores controversial aspects of American life. His production company has produced such documentaries as Seven Days in Bensonhurst and Jefferson's Blood which traced the nature of the relationship between Thomas Jefferson and his slave Sally Hemings. His work has won him the Writers' Guild Award, two Emmys, and the Peabody Award. Readers will recognize his work in the series Long Journey Home — The Irish In America.
The most famous Leonard in Ireland today, Hugh Leonard, a prolific writer with 32 stage plays to his credit, including Da, which won a Tony on Broadway, is not a Leonard at all, but a pseudonym for John Keyes Byrne.
Meanwhile the most famous Lennon of all time, John Lennon, was very proud of his Irish heritage. "My name is Lennon, and you can guess the rest," he told a cheering crowd of Irish Americans on a February morning in 1972. Lennon was one of 5,000 people in New York protesting the massacre of 13 unarmed civil rights marchers in Derry on Bloody Sunday the week before. Brian Dooley, who wrote on Lennon for Irish America, noted that it was bright and cold outside the British airline offices where the rally was gathered, and John and Yoko sang their new song, "The Luck of the Irish," to the demonstrators. Two days after the protest Lennon and his wife Yoko Ono invited Irish American political activists to their home to explore ways they could help the civil rights movement in Northern Ireland.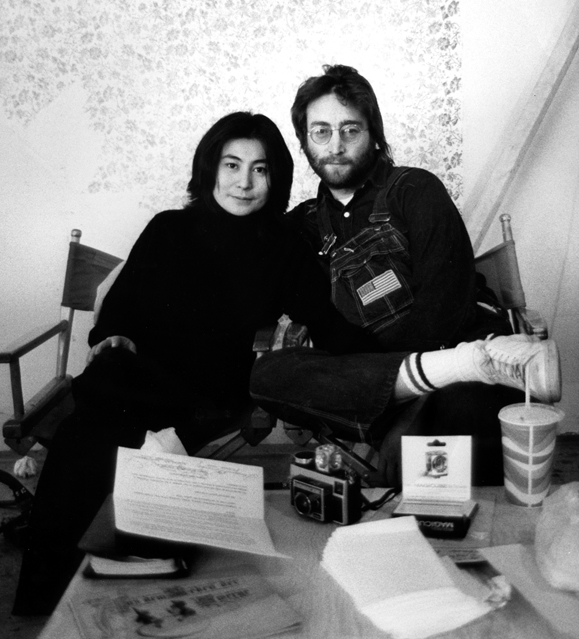 Lennon, born in Liverpool, was obviously very much in touch with his Irish roots, despite being named John Winston Lennon in a tribute to the British Prime Minister Churchill. His grandfather Jack Lennon had been born in Dublin but spent most of his life working as a professional singer in the U.S. (he was an original member of the Kentucky Minstrels).
"The Luck of the Irish" was included on the Some Time in New York City album, released in June 1972, along with "Sunday Bloody Sunday," proceeds from which went to the Northern Ireland civil rights movement. Lennon was disappointed by negative reaction from disc jockeys to "Luck of the Irish," which he'd hoped to release as a single. Much more successful was fellow Beatle Paul McCartney's "Give Ireland Back to the Irish," recorded two days after the Bloody Sunday shootings, which made it on to the U.S. Billboard charts.
While some suggest the name Lennon is derived from the Gaelic leann, meaning cloak or mantle, others have more amorous theories. They suggest it is a variant of leannan, the great muse and fuse — love. John Lennon, who penned "All You Need Is Love," and was loved by millions, certainly lived up to this interpretation of his name. ♦