Imagine coming to work one day and 343 of your coworkers are suddenly dead. Months later you're still passing empty desks and no-longer-relevant nameplates. On your own desk is a white three-ringed binder containing scores of typed speeches — eulogies that have been your responsibility to compile since the 343 went dead.
"That's my eulogy book," Lynn Tierney says. "Keeps getting bigger." Tierney is one of four Deputy Commissioners at the Fire Department of New York. She is not a firefighter, yet she is widely loved within the mostly male FDNY for a human touch uncommon among the ranks of municipal administration. Mementos in her office include photographs from stationhouse dinners and a painted-pink fireman's hat, dedicated to `Lynnie.' Among Tierney's visitors today is Firefighter Lee Ielpi, whose son — also a firefighter — has still not been recovered from the wreckage of September 11. Ielpi drops by with a charred, eight-inch cross, forged from a hunk of World Trade Center steel. "That's beautiful, Lee," Tierney says, with watery eyes. "Just beautiful."
On that fateful day, Tierney was supposed to have gone to the World Trade Center for an 11 a.m. job interview. After nearly six years with the FDNY and also the election of a new Mayor, Tierney was considering returning to work as an administrator at the Port Authority, the agency that manages the World Trade Center and other New York area properties. She was leaving her apartment in Park Slope, Brooklyn, when the TV reported that morning's attack.
"I had my job-interview shoes on," Tierney said. "I was working with the Port Authority in '93 (when terrorists smack the World Trade Center with a basement car-bomb), and from the TV I could tell that this one was even worse. In '93 I was running around down there in a silk dress and high heels. This time, before I left my apartment, I grabbed some sensible shoes." The Brooklyn-Battery Tunnel was jammed, with all of Lower Manhattan streaming in the opposite direction. Tierney's car was tucked behind the fire engine of Brooklyn-based Rescue 2, racing to get in. Traffic stood still for a few minutes and the Rescue 2 guys saw Tierney behind them. "Hey, Lynnie," they called out, jumping off the rig to listen to Tierney's car radio. "What the hell's going on?" As the firemen stuck their heads into Tierney's car, they heard reports that a second airplane had hit.
As the traffic cleared, Tierney's firemen friends called out: "You be careful in there, Lynnie!" Days later, as Tierney pored over lists of the dead, she would realize: "None of the guys I saw that morning in the tunnel made it out alive."
At the base of the towers, Tierney ran into her fellow FDNY chieftains, men who are now known among New Yorkers as if they were celebrity athletes: Timothy Stackpole, Ray Downey, Bill Feehan and others. They stood at a white aluminum `Command Center' marked with grease-pen and fridge magnets, each one representing the location of a fire company at the scene. Bodies were falling like missiles and there were rumors of a third airplane. Lynn remembers the comforting smile of another fresh martyr for the city, Chief Pete Ganci: "We got some hell now, Lynnie!" Tierney was ordered to evacuate to a safer location. "Bill Feehan told me get the hell out of there, get someplace safe," Tierney recalled, eyes welling up with tears once again. "I gave a high-five to Timmy Stackpole and he just smiled at me, and that was the last I saw of either one of them." Near the corner of West and Vesey, Lynn was running north with her FDNY assistant, a young man named Paul. They heard, BOOM! It was Tower Two, the first to come down. Tierney was among a couple dozen people who dove into a loading dock. For minutes that seemed like hours, none of them could see, hear or breathe — all light and space had been invaded by dust. "Paul, are we going to die here?" Tierney remembers asking. The response: "We're not gonna die here today, boss."
At 3 a.m., some 18 hours after the planes hit, Tierney finally left Lower Manhattan. Covered in soot and exhausted, she didn't go home until stopping first at FDNY headquarters in Brooklyn, where her office is steps away from that of Bill Feehan, one of the most decorated firefighters in the history of the FDNY. "Whenever there was a big fire or an event we would always reconvene in Bill's office for the recap," Tierney explained. "I don't know why I went there, because I knew: there was no way that Bill was not dead. That night, all I wanted to do was go back there and find Bill's big smiling Irish face." Months later at FDNY HQ Feehan's nameplate remains outside his door.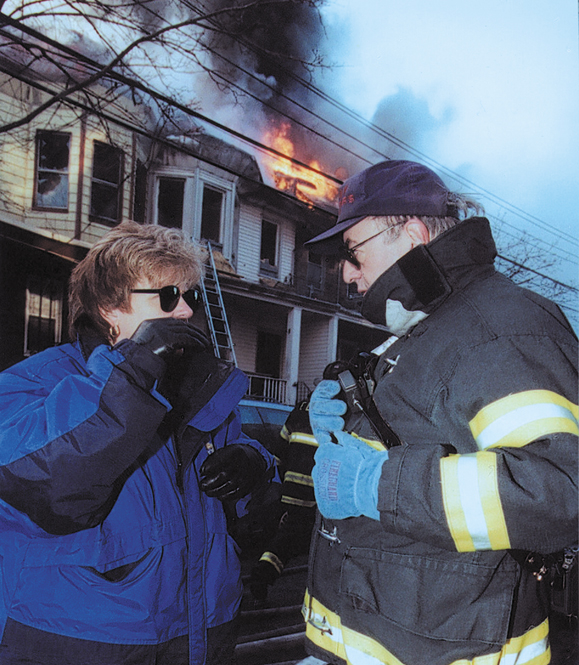 Since September 11, the unannounced job of Official Mourner has fallen largely to Tierney because of her natural sense of compassion. Also, perhaps, because she is the most-visible woman in a fire department that has been criticized for its lack of minorities and women. More than 90 percent of the FDNY's firefighters are white males, and New York ranks last in the number of minority or women firefighters among U.S. cities of more than a million residents. (Of the FDNY's 11,000 firefighters, there are approximately 600 Hispanics, 300 blacks and 35 women.) Critics charge that the entry test is unnecessarily grueling, adding to what some see as the department's discriminatory hurdles. Former FDNY Commissioner Howard Safir once remarked, "The Fire Department is 100 years of tradition, unimpeded by progress." Tierney says: "Of course the test is extraordinarily difficult — it has to be. It is a physically demanding job. But our current class of recruits has more women and minorities than ever before.
"Especially with minorities, our challenge has been to broaden the pool of applicants," Tierney says. "Here, we have an awful lot of fathers, brothers, sons and uncles, so we have had to set up minority recruiters to reach firefighters from outside the usual networks."
In the months since 9/11, the New York papers had listed Tierney among a group of four candidates to succeed Commissioner Tom Von Essen. This could have made her the Department's first-ever female Commish. "I would have been honored, but the truth is I was never asked," Tierney says. The city's newly-elected Mayor, Michael Bloomberg, chose someone else, and Tierney says she is continuing with her plans to leave the FDNY this spring, with an eye toward crisis management consulting in the private sector.
A single woman originally from Connecticut, Tierney is looking forward once again to Ireland, where she frequently visits Dublin, Mayo and her mother's native town of Tralee, County Kerry. "I cry every day that I come in here, and at this point I think it's best that I move on," Tierney says. "We're in suspended animation in the middle of an historic event. The Department has suffered a loss like never before, and it's taken a very heavy emotional toll. Which is why I'm leaving. Sometimes I'm in this office and I say to myself, `I've gotta get out of here. Too much.'"
Tierney is grateful for many things, among them those few minutes she had in the Brooklyn-Battery Tunnel, the few minutes she had before losing her friends.
"Those guys in Rescue 2 used to have me over to their firehouse for dinner," Tierney recalls, red-eyed. "It was a blessing that I was with them like that in the tunnel, because I was able to later tell their kids that with everything on the line, their daddies were brave and calm. And then, they went up." ♦
20 years after the September 11th attacks Lynn Tierney shared Be Not Afraid with Irish America.