Chief Ray Downey, one of the most respected firefighters of all, will be remembered for his courage, passion and commitment.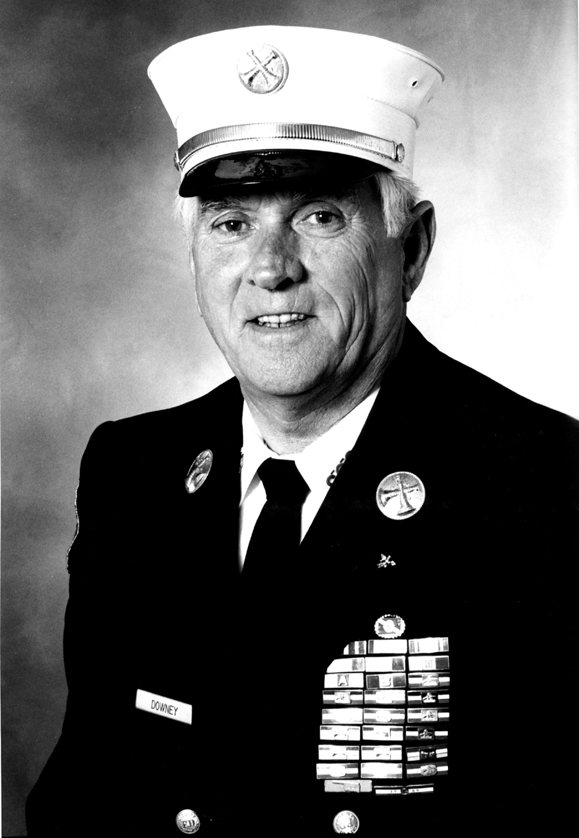 Firefighter Chuck Downey stands on First Avenue in Manhattan and nods his head to the south and west, in the general direction of what used to be the World Trade Center. The silent gesture is instantly understood, a bit of body language that since September 11th has become common to New Yorkers as a way of referencing the unmentionable.
"Every day, one of us is down there," Downey says, standing in FDNY-issue blues alongside his firefighter sibling, Joe Downey. "We're at the firehouse and then it's down to the site, every day, looking for Dad."
Nearly six months have passed and yet the Downeys' father and work colleague — FDNY Deputy Chief Ray Downey, age 64 — is among the hundreds whose remains have never been retrieved from the World Trade Center site. Almost half a year later, and still the Downeys have nothing to bury.
On this chilly Saturday morning, the Downey brothers have come in a van from Long Island with their mother, Rosalie, and their sisters, Kathy and Marie, for what is a difficult visit to the city Medical Examiner's office. In order to better identify Ray Downey's remains from among the mountain of WTC debris, a medical worker would scrape DNA samples from inside each of the surviving Downeys' mouths. The family long ago surrendered items like toothbrushes and combs, but the thinking is that DNA samples from living relatives might work better. It is a grim task, even for this family of hardened FDNY heroes.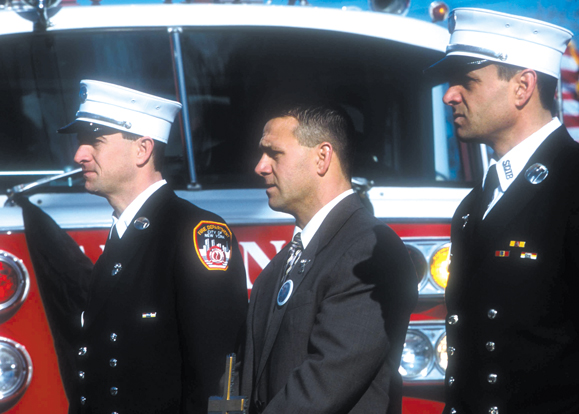 "Ray was so calm, so determined, that I stopped worrying about him on the job years ago," said Rosalie, whose 40 years of marriage to Ray narrowly eclipsed his 39 years in the FDNY. "When our boys went on the job I worried about them all the time and stopped worrying about Ray — he always seemed so in control. But when I saw those buildings go down on TV I knew — I knew he would have been right in there, and I knew he was gone. Now, we just want to get him back."
Ray Downey's professional resume is a staggering list of accomplishments. As the FDNY's Chief of Rescue Operations and Commanding Officer of the Special Operations Command (SOC), Downey became a published authority on the art of urban rescue. He trained and assembled teams for the Federal Emergency Management Agency (FEMA), rushing to oversee rescue operations at hurricanes, floods and also terror attacks at the Atlanta Olympics, Oklahoma City and the first World Trade Center attack of 1993. Downey's 1998 testimony before the U.S. Congress — in which he warned of the dangers faced by "first responders" at terrorist attacks — eerily foreshadowed some of what would happen on September 11th.
"All the firefighters called him `God,'" recalled Tom Downey, the Chief's nephew. "Not to his face, mind you, but everyone in the FDNY knew him simply as `God' because he was such an authority on how the job gets done. I'm sure he knew about the nickname, and he probably got a kick out of it, though knowing my uncle he probably shied away from it."
Tom, a 29-year-old New York City filmmaker, spent eight months among his uncle's rescue squads, filming a TV documentary that had begun shooting in 2001. Tom's own father (Chief Downey's brother) is a retired firefighter, and Tom says the months he spent filming gave him a newfound appreciation for the FDNY's rescue squads and especially the man he previously knew only as Uncle Ray.
"He was absolutely revered by his own firefighters," Tom says. "They saw him as this incredibly tough, modest guy who transformed the rescue units into modern, tech-equipped companies. He was seen by those guys as a firefighter who could take a lot of smoke and lead the way."
From the blue-collar Irish neighborhood of Woodside, Queens, Ray joined the Marines and by the early 1960s was back in New York, with a job at a bank. There, he met Rosalie, a dark-haired Italian beauty from Brooklyn. About a year after marriage, Ray went to the Fire Academy in 1962.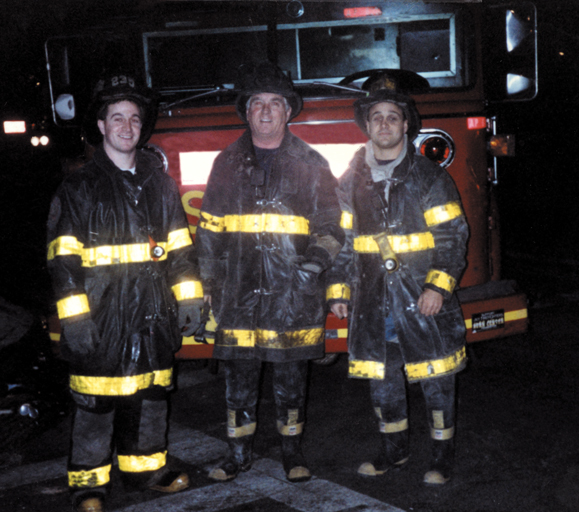 "He told me once about this time he was out at a fire, and there were one, two explosions," Rosalie recalled. "He was nearly killed, and it scared me to death. That was the last time he told me about a time when he was close to death. I was so upset he didn't tell me anything like that anymore. I would hear about what a hero he was from other firefighters — I'd hear how they called him `God' — but he would never talk about any of that himself; he was very modest."
By his mid-thirties, Ray had five kids, a full-time job and a busy class-load at a Long Island college. While working toward his degree, the athletically-gifted Downey also played for the college ice hockey team, competing against players 15 years younger.
"Wrestling, Little League, hockey — you name it," Rosalie said. "He was running the New York marathon a few years ago, but it was the same day as a family wedding. I said OK, you can run your marathon. But then you have got to dance with me all night. And he did! He had blisters from the marathon but he danced all night."
Ray and Rosalie's three sons and two daughters came of age, and while Ray Jr. became a schoolteacher, Chuck and Joe were drawn toward the FDNY. In preparation for the test, their father led them on grueling backyard drills. Joe is now a Captain at Squad Company 18 and Chuck a Lieutenant at Engine Co. 317.
"We didn't work on the same fires too often because the Department doesn't like to have family members together like that," Joe Downey says. "But when we were at the same scene, and Chuck or I would be heading into a burning hallway, let me tell you — there was no better feeling in the world than hearing Dad's voice, hearing him giving out orders. No matter what the disaster, you'd instantly feel safe."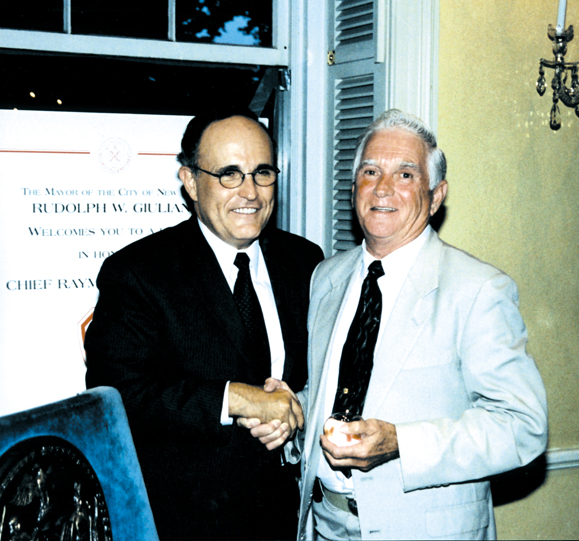 That feeling of safety Was shattered on September 11th, when the Rescue Squads that Ray Downey led were front-and-center.
"On 9-11, I thought about the boys right away," Rosalie recalled. "I called Joe and then Chuck, and I think I was on the phone to Chuck when the second plane crashed. When I saw the building fall, I knew. The boys knew it too. They went in, looking for their father."
Deputy Chief Downey's rescue squads were decimated. Tom Downey — the documentary-making nephew — would eventually learn that 18 of the rescue squad firefighters he had been filming in the months before September 11th were now dead. That documentary's focus has obviously been changed ("It's kind of almost a tribute to those guys now," says Downey) and is due to be broadcast on cable TV this spring.
The trip to the Medical Examiner's office has been completed, and Rosalie Downey and her children are sitting around a lunch table, trying their best to laugh. They reminisce over Ray's affection for his eight grandchildren (a ninth is on the way), and his legendary sweet tooth ("always cookies before bed," Rosalie remembered. "Cookies and milk"). Rosalie has the table laughing when she recollects how she and Ray made their first and only trip to Ireland, five years ago.
"The bus stopped short outside JFK Airport and I banged my head — broke my nose!" Rosalie remembered. "We were with the group from the parish, and Ray had been looking forward to that trip for so long, so there was just no way I wasn't going to get on that plane. By the time I landed at Shannon I looked like a raccoon, I had these two big black eyes! All our lives Ray and I wanted to go to Ireland, and I can never show anyone the pictures because it looks like I have two black eyes!"
These are the memories the Downeys have now, memories in lieu of a father, grandfather and husband. The FDNY is left without one of its legends, and New York is minus one hero whose dedication and teaching saved the lives of untold thousands. Somewhere among the rubble of Lower Manhattan, the diggers are still at work in the hope that at least Ray Downey's remains will someday come home. ♦