After 22 movies Jennifer Connelly is an overnight success. Penelope Dening talks to the winner of the Best Supporting actress academy Award.
A blur of bodies block the corridor, voices muffled to a hum by carpets thick as fur. At the center a slight figure in black (spike-heeled boots, leather trousers, off-the shoulder lace) extricates herself and moves towards me. Like a painting by Georges de la Tour her face glows with a luminosity that defies available light.
"Thank you, but I'll be fine," Jennifer Connelly murmurs, brushing aside a minder's offer to sit in on the interview.
Of course she'll be fine. A heavy cold that went to her chest had prevented her from fulfilling a punishing press schedule the day before. But today she's back on track. Because, although few outside Hollywood knew her name until the recent round of award nominations for A Beautiful Mind, Connelly is no Jenny-come-lately to the showbiz game. With 22 films under her belt she has the self-possession of someone who understands the rules but knows that they need not necessarily apply to her.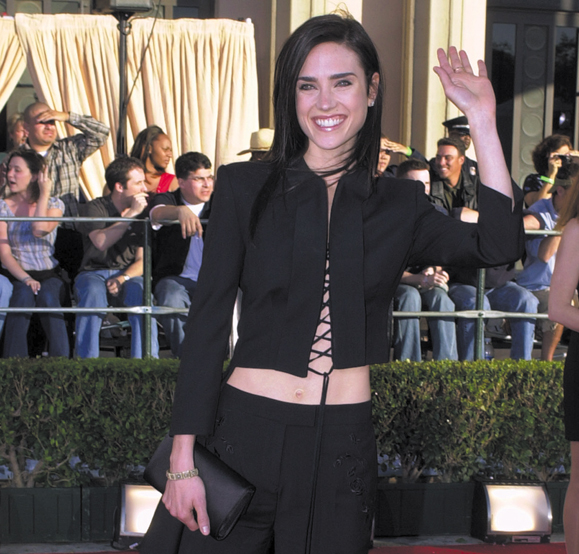 Now 31, Jennifer Connelly first flirted with the camera when she was ten. ("McCall's pattern books, Butterick and these silly things with patent leather shoes and my hair in a little ribbon.") Two years later a sharp-eyed casting director spotted her resemblance to Elizabeth McGovern and cast her as the young McGovern in Sergio Leone's immigrant-Mafiosi epic Once Upon a Time in America where she danced her way into movie myth for no other reason than she wanted to go to Italy.
Not a bad reason for a bright child already being hot-housed at a school for gifted children in Brooklyn Heights (the curriculum included Mandarin in sixth grade). Later choices proved less astute, however — films that have famously been described as either regrettable or forgettable. When I suggest that The Hot Shot, a steamy thriller starring Don Johnson — her first role as an adult — probably fell into both categories, she laughs.
"At least that film could have been good. It was directed by Dennis Hopper, and Dennis can be interesting and is a great photographer, so visually it has its moments. And it had a great soundtrack, John Lee Hooker, Miles Davis, Taj Mahal." More defensive laughter. "Look, I was 18 and a particular kind of 18-year-old. I made choices for different reasons at different times. Like because I wanted to go to Italy when I was thirteen, or because I particularly liked an actor and wanted to work with that actor and didn't spend enough time thinking about the director. I've made choices for different reasons and I've learnt from all those choices over the years."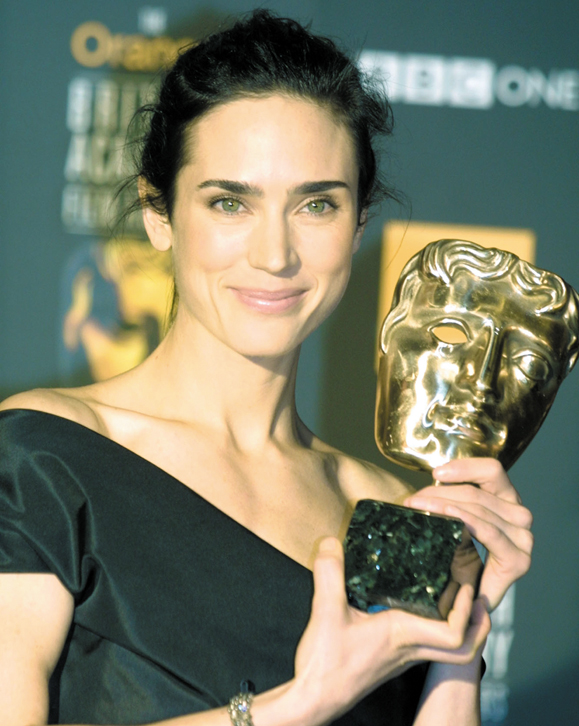 In spite of the bitty education of a child actor (Connelly continued to make at least one film a year while still at school), she exceeded all expectations and after graduating from high school, enrolled at Yale, an experience that without doubt informs her Beautiful Mind performance as the Ph.D student who falls in love with her professor.
Yet Connelly doubts that her college education had any great impact on her performance. "I did have the memories of being in college and how that works. But as I get older I think that everything you do impacts your work, there's that much more to draw upon."
Jennifer Connelly's casting in A Beautiful Mind was in part triggered by her physical resemblance to the wife of John Nash, the genius mathematician on whose life the film is based. Nash overcame schizophrenia and went on to win the Nobel Prize for Economic Science. Photographs of the young Alicia Nash display the same classic beauty. But the similarities go much deeper than that.
"I wanted to meet her before we started working. I went out to New Jersey where she works and sat down and had lunch with her. Alicia was at MIT in the 1950s. Her intelligence was far superior to mine. She was an outsider just by being a woman studying physics. It was much more extraordinary for her to be studying physics at MIT than it was for me to have been at Yale studying what I was studying. Because of her exuberance and vivacity, she was somehow able to bridge that gap for him and re-engage him in the world. But she made enormous sacrifices to help him.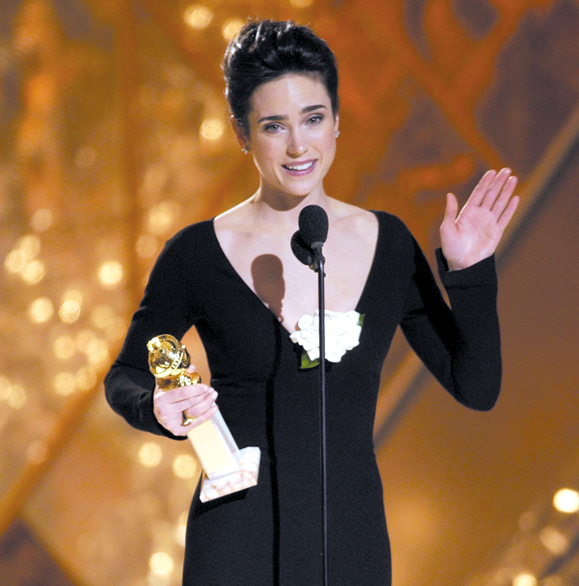 "The challenge is to survive that. How do you preserve something of. your own so you don't turn into a martyr?"
What Connelly undoubtedly brings to the part is a sharp intelligence.
Her research involved trying to understand Nash's work. "I tried to read his papers on game theory and I had copies of all his work sent to me and I diligently tried to make my way through that. But it's math of an entirely different language for me. So I tried to grasp some of the concepts but I could only go so far."
Few actors could even begin to understand the complexities of Nash's work, but it turns out Connelly already had an interest in quantum physics.
"I was very interested in physics when I was younger and I had thought that when I got to college I would major in physics. Yale is quite a rigorous university and I soon realized that I was not going to change the world with my aptitude in physics and that we would be no more enlightened because of my presence. It was on a whole different level from high school physics and although it was fascinating, I struggled with it more than the other kids."
After a year's slog she switched to English. Another year on and she moved to Stanford, adding Drama to the mix. She never graduated. It didn't seem relevant, she says.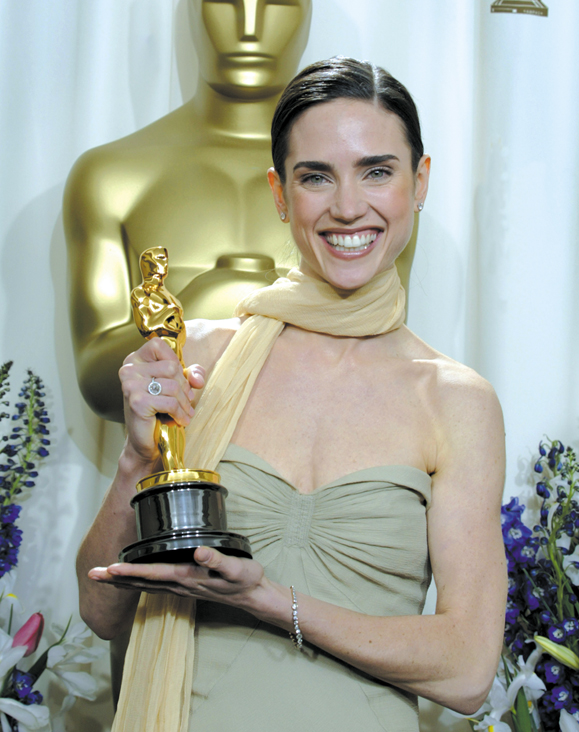 "By the time I graduated high school I'd done a number of movies already and I took it for granted that that's what I did, without having consciously made the choice that that's what I wanted to be, just because it seemed to be going that way. I think I saw college as my own personal time — not for vocational purposes, just for my own edification."
She remains a voracious reader. As her name would suggest, Connelly is of Irish ancestry. Her great-grandparents on her father's side were born in Ireland — Cork, she thinks, though no one is entirely sure.
Her mother's family is Russian/Polish. Her father has never been to Ireland and she is determined to bring him soon, together with her four-year old son, Kai.
"A number of years ago, I was doing a press tour and Dublin was the last city and I just rearranged things, rented a car, drove west and stayed for about a month, just kicking around. I remember thinking at the time, I could live here. It was hauntingly beautiful." While in Ireland she launched herself into a rigorous reading program. Joyce ("Ulysses is one of my all-time favorite works"), poetry and Synge.
As we talk she is suddenly reminded of a curious encounter on a path on Great Blasket Island off the Dingle peninsula. "So I'm walking along and I'm reading — I think it was a book of plays by Synge — and this man comes over to me and says, `What are you reading?' `Synge.' `Oh wonderful, wonderful.' And he talks to me. And he's just a man walking along a path.
"And then he walks off. A little bit further down someone says to me, `That was the prime minister.' Just a man on an island, on his own. It was fantastic."
The birth of her son Kai (the name means ocean in Hawaiian) brought not only a sea change to her personal life but to her career as well.
"Everything has changed since I had my son and I don't think it's coincidental. Because I started so young, there was never a moment where I said `I want to be an actor, this is what I want to do with my life.' When I did Once Upon a Time in America it wasn't as if I had studied, or had aspirations or even watched a lot of movies — none of it. I was like any kid: hanging out, climbing trees — so I kind of slid into it. People kept giving me movies and I kept doing movies. I questioned other things, questioned my school work and whatnot, but not that responsibility of making films. I became on the one hand superficially mature — because I was aware of the responsibility — but on the other hand deeply stunted, because I was shy and wanted to do well and make everyone happy. It was a very peculiar way to grow up. Spiritually and emotionally it was very limiting. I don't think that I became a teenager until I was in my twenties. I don't think I really started to evaluate who was giving these performances, and who was doing this work until I was in my twenties. And then I had to, as it were, re-choose it.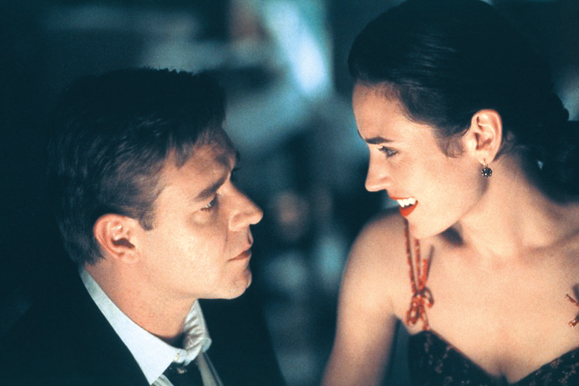 "For someone with a personality like mine, working over those years turns you into a bit of a puppet: people telling you how to be, what to do, how to speak. And me trying to please them all."
The intensity of the emotions that engulf Connelly in her role of the wife of a schizophrenic are more akin to that of a mother than of a lover. That she is able to inhabit this ambivalent emotional landscape, she says, is directly connected to the birth of her son. Mothering him, she says, enabled her to learn to mother herself and opened herself to a far greater range of emotional possibilities than she had thought possible before.
"So I feel connected to the movies that I have done in the last four years in a way that I don't to anything else I've done, really. There are things I like about certain movies that I did before with filmmakers like Sergio Leone who I have immense respect for and Jim Henson [Labyrinth, Henson's fairy tale co-starring David Bowie, which she made in 1986]. But as far as my contribution is concerned, I feel it's like looking back at very old photographs of yourself where you can recognize features but beyond that it's like `What was going on?'"
The films that helped transform Connelly's career were Inventing the Abbots (produced by Ron Howard who directed A Beautiful Mind), Waking the Dead and Requiem for a Dream, in which Connelly gives a brave and harrowing performance as a Coney Island heroin addict.
This last in particular reassured Hollywood backers that she had the weight to balance Russell Crowe's charged screen presence, and the recent Academy Award nomination shows that their trust was not misplaced.
Connelly brings to the role a powerful vulnerability and, equally important, a quality of stillness — the perfect foil for Crowe's unavoidably showy performance as the prickly genius himself.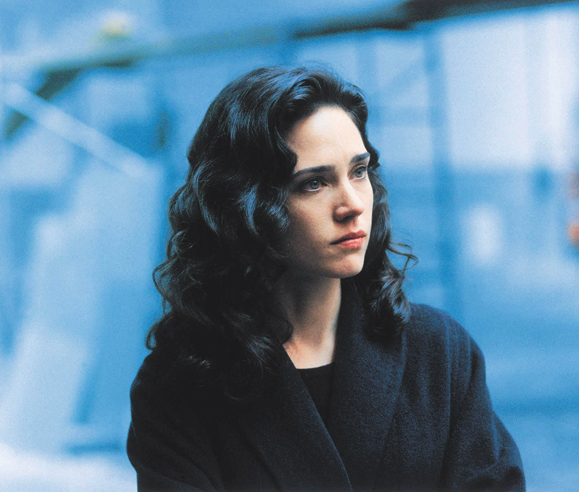 As for the actor's reputation as a similarly difficult character, Jennifer pauses. Dishonesty you sense is not a game she is prepared to play. "He's extremely challenging," she says. "Rehearsals were very exhilarating. We'd go in, up-end the scenes, talk about everything, question everything and put it back together. He didn't take anything for granted. But all in all we had a great working relationship."
The story of the long-serving actor finally getting critical acclaim is not as rare as it once was: Think of Judi Dench, Tom Wilkinson and Jim Broadbent in Britain, George Clooney and Sharon Stone in the States. And the late bloomer has huge advantages, Jennifer Connelly believes, in terms of coping with and ultimately avoiding the downside of megastardom.
"One of the perks of having been around and seen so much for so long is that I've seen a lot of what's on offer. And I have things in my life that are just as important to me, more important to me — my family, my health, my peace of mind — that I am fiercely protective of."
Although she no longer lives with Kai's father — David Dugan a photographer — she continues to live in Greenwich Village in order that her son and his father can remain in close contact. Her son comes with her whenever it seems appropriate — although she has always given him the option to stay at home to be close to his friends and to his father.
"So I feel I am safeguarded by those things and by my support system that I have always had with me: my family and my friends that I have had for fifteen years and who don't have anything to do with this business and who couldn't care less."
The greatest reward of success for Jennifer Connelly, she says, would be a wider choice of roles. This for her is the "ultimate goal."
"I really like to work now. I really enjoy what I do. Finally. It's a passion. I feel blessed to do what I do and I feel like it's just the beginning and I have so much more to learn, so if it gets me more interesting projects with more people who I can learn from, then I'm thrilled. The ultimate goal isn't to be famous, the ultimate goal is to work on stuff that matters." ♦
_______________
Shortly after this interview Connelly went on to win the Academy Award for her role in A Beautiful Mind.