February's Winter Olympic Games were memorable for more than just the judging controversy in me pairs figure skating final. As host country, the United States won its highest ever number of medals, including gold medals for Irish-Americans Jim Shea, Sarah Hughes and Kelly Clark.
Shea, a resident of Lake Placid, New York, won the skeleton competition, which involves racing a narrow, thin sled down an icy track — head-first. Speeds of up to 85mph can be achieved in this not-for-the-fainthearted sport. Shea's victory is all the more significant in that he is a third-generation Olympian whose father James competed in three Nordic (skiing) events at the 1964 Olympics and whose grandfather Jack won the 500m and 1500m speed skating gold medals at the 1932 Lake Placid games. Indeed, Jack might well have succeeded in the 1936 Innsbruck Games but he chose not to participate, in protest against Hitler's actions in pre-war Germany. Sadly, Jack died in January in a car accident, weeks before his grandson took home the gold. After his victory, an emotional Shea pulled out a picture of his grandfather, dedicated his victory to him and proudly wore his gold medal over the one his grandfather won seventy years earlier.
Shea can trace his Irish heritage back to post-famine Ireland — Jack's grandfather emigrated from Annascaul, Co. Kerry to Montreal around 1849.
Sarah Hughes' performance in winning the women's singles free skate captivated the American public and judges alike. The sixteen-year-old showed nerves of steel and came from fourth place in the short program — apparently out of medal contention — to give an outstanding performance in the long, sensationally combining artistry and grace with an athletically challenging seven triple jumps, five of which were in combination.
Hughes, who was featured in the June/July 2000 Irish America as an Olympic hopeful, hails from Great Neck, New York and has skated since she was four years old. As one of a family of six children, she stills attends the local school in between practice sessions and remains refreshingly unaffected by her success. As a fourteen-year-old, she showed maturity beyond her years when she told Irish America, "It's upsetting when you don't skate well, but you always learn a lot, whether it's a good experience or a bad experience. What's good about skating is that you can just keep coming back. There's always the next time to go and prove yourself again."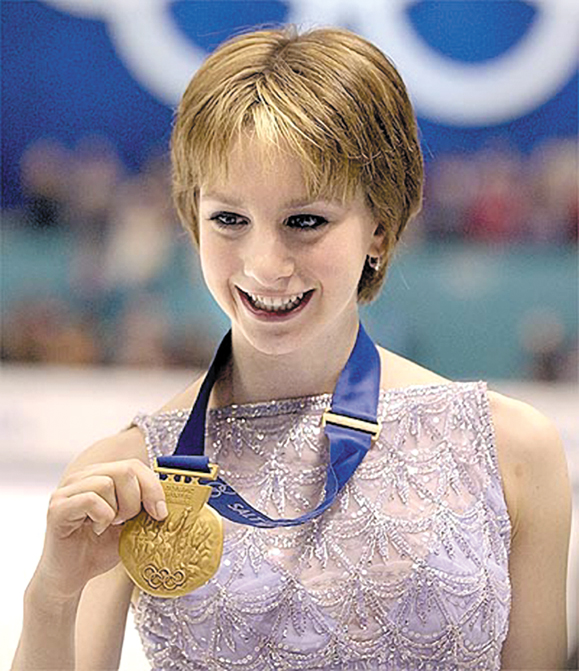 Hughes comes from a sporty family and may owe some of her athleticism to her grandfather John who emigrated to Toronto from Northern Ireland at the age of 19 after a shoulder injury put an end to a promising soccer career.
Snowboarder Kelly Clark's victory in the halfpipe event may go some way towards making the sport a more mainstream event. The International Olympic Committee added snowboarding, a recreational pastime, to the Winter Olympics in 1998 in a move to modernize its image. Eighteen-year-old Clark from Vermont has been snowboarding for 10 years. She won the halfpipe event (so called because it takes place in a 525-foot-long, U-shaped halfpipe snowboard run) with a pair of jumps, one called a 540 Front-Side Grab (a 540-degree inverted spin), and the other a McTwist (a 720-degree spin at the bottom). In the 30 seconds in which she was airborne, Clark jumped higher above the lip of the halfpipe than any of her competitors, gaining more of what they call in the business "amplitude." Afterwards, Clark said, "Snowboarders have their reputations. But my doing this, especially in the U.S., says a lot. Maybe it will shine a light on snowboarding and people will look at it in a different way."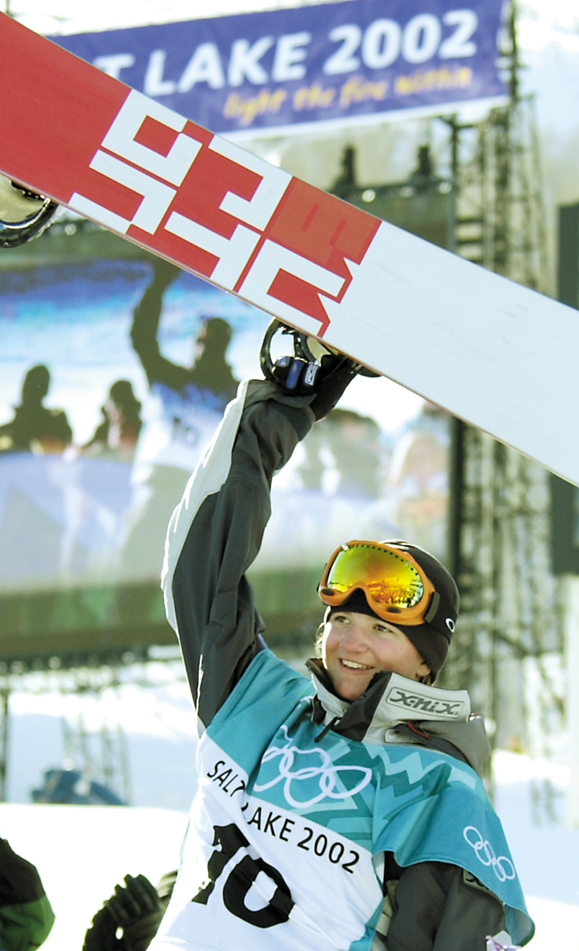 Ireland, not known for its Winter Olympians, almost found itself on the medal podium in the Winter Olympics when Irish athlete Clifton Wrottesley finished fourth behind Shea in the skeleton competition.
Wrottesley had been in a medal position at half-time before being edged out by bronze medalist Gregor Staelhi of Switzerland, but it was still an amazing performance by the Irishman who had hoped to achieve a personal best by finishing in the top ten. Wrottesley took fourth place with very good grace. "No way is it the worst position to end up. For me, this is the best feeling in the world," he said. "The guys on the podium are the rightful winners. I never expected anything like this, so there is no sense of defeat whatsoever."
Wrottesley is an Eton-educated peer who was born in Dublin and spent his early years on a farm in Co. Galway. After the death of his father in a car accident, he moved with his mother to Spain before returning to England for his education.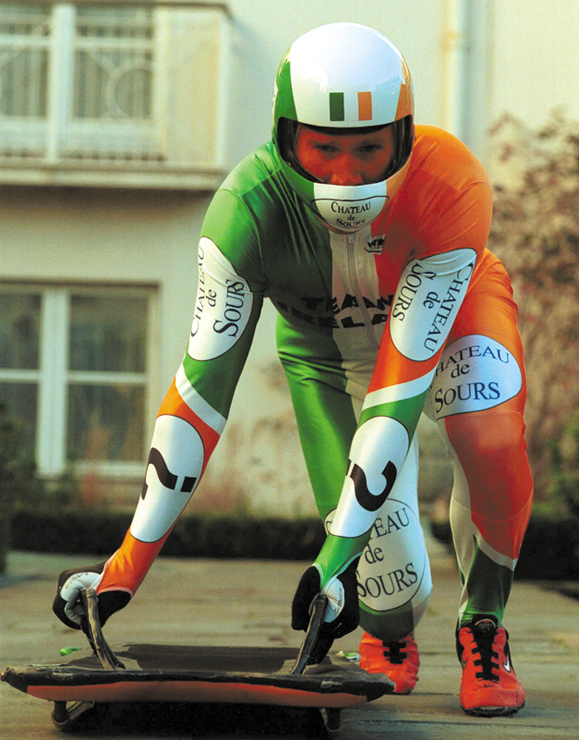 Wrottesley, who holds dual nationality, considers himself to be both Irish and English or Anglo-Irish and hopes his performance will boost interest in winter sports in Ireland, which he feels are inadequately funded. "My hopes are that I will be able to continue representing Ireland in the skeleton up to the next Olympics in Turin in 2006. However, without the necessary funding, we will not be able to continue, let alone better the fourth place we got in Salt Lake City. The Irish Government is slowly coming round to the idea of recognizing winter sports, which means that they may provide funding, though at a very basic level."
Wrottesley recognizes that it is difficult for a small country like Ireland to compete in winter sports events against larger nations that have their own tracks and a history of government and corporate munificence in funding promising athletes and other participants in sporting events. "It was a small miracle we managed to do as well as we did this time round. I hope by what we achieved at Salt Lake that we have, at the very least, managed to open the eyes and ears of Ireland to the fact that if you try hard enough, a little talent can go a long way. All it needs is a little imagination. To use a well known sporting word — Believe!" ♦